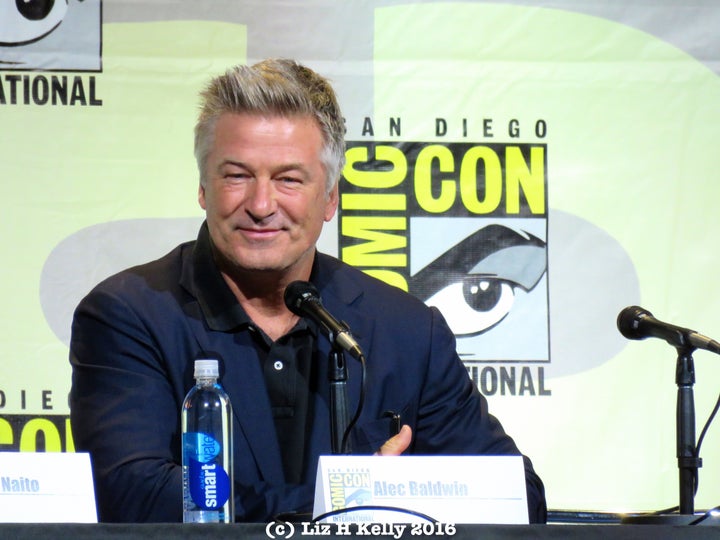 As part of a surprise panel, Alec Baldwin took center stage at Comic-Con 2016 in Hall H as the lead in the upcoming Dreamworks Animation film, "The Boss Baby" that focuses on sibling rivalry. The story will win the hearts of millions who ever had a conflict with a sibling (which means everyone with a brother or sister).
When asked about the sibling rivalry in the Baldwin family by Moderator Chris Hardwick, Alec embraced it with a big grin by saying, "I like to say to myself, I'm here and they're not." Alec has five siblings, including Stephen Baldwin, William Baldwin, Daniel Baldwin, Jane Sasso and Elizabeth Keuchler. Elizabeth is the oldest, and Alec was born second and is the oldest brother.
Alec then expanded, "Oddly enough one of my brothers is at the Republican Convention as a supporter of Trump … and my other brother is there protesting Trump. It's really weird. My two brothers are on opposite ends of this political spectrum, and I'm here wearing a diaper and telling people what to do." When the crowd booed when he mention his brother (Stephen) supports Trump, Alec replied, "that's okay" to acknowledge that we all have our differences with siblings.
Director Tom McGrath then explained the background on this new film that is about a boy who suddenly finds out he has a new baby brother who is "in charge." In real life, Tom had an older brother and confessed, "I was the boss baby in my family, and I tortured him. And we were very competitive. Brothers have an interesting relationship. I'm sure with sisters too where you fight … especially in your teenage years. And then after you get past that, it either makes you grow stronger or separates you."
And then Tom expanded on the personal connection and original pitch for this movie, "In our case, it made us stronger … So this is kind of a love letter from me to my brother, a 50 year apology in the making, about these two brothers who hate each other at first and grow to depend on each other."
Alec previously did "Madagascar: Escape 2 Africa" and "Rise of The Guardians" with Dreamworks Animation, and was happy they approached him to do "The Boss Baby."
We were also fortunate to sit next to Dreamworks Animation Animator Frank Abney ("Kung Fu Panda 3" and "Penguins of Madagascar"). Frank is currently working on "The Boss Baby." Look for this fun and very relatable film in theaters in March 2017, and follow all of our Comic-Con coverage @LizHKelly.
Calling all HuffPost superfans!
Sign up for membership to become a founding member and help shape HuffPost's next chapter