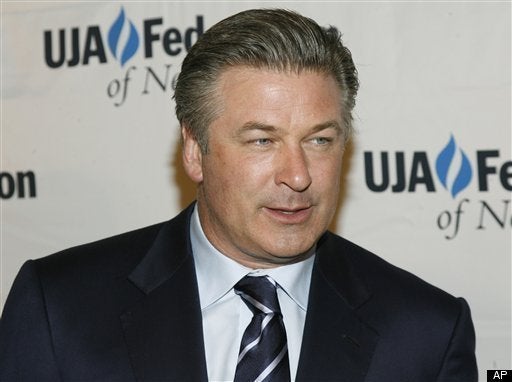 Alec Baldwin, a regular Huffington Post contributor, has been talking about running for political office for years now. It seems he's still considering switching careers someday.
"The desire is there," Baldwin said in an interview with Playboy magazine this month.
Last year, Baldwin told CBS' 60 Minutes that running for office is "something I might do one day."
The "30 Rock" star said that an Ohio law firm has already contacted him about a gubernatorial run, and he added that he would "love to run against Joe Lieberman."
Playboy: Will you run for office?

Baldwin: I'll put it this way. The desire is there; that's one component. The other component is opportunity. A law firm in a liberal Democratic bastion in Ohio state politics sent me a binder with a cover letter that read, "Mr. Baldwin, here's who we represent, the kinds of cases we handle, our credentials in Ohio state politics. We want you to move to Ohio and run for governor. We will launch your career."

Playboy: Could you live in Ohio?

Baldwin: I have sometimes thought I could move to New Jersey or Connecticut and run. I'd love to run against Joe Lieberman. I have no use for him. But it's all fantasy. I'm a carry-me-out-in-a-box New Yorker. Here, anything can happen. Who thought Eliot Spitzer would go down the way he did? Senator Hillary Clinton left to serve as secretary of state. Two of the biggest forces gone. Maybe Andrew Cuomo will run for one of their old seats. How much longer will Chuck Schumer stay as senator? After 2013 Bloomberg will be gone. What happens then?

Do I run for Congress on Long Island? What's Tim Bishop going to do? He represents my district. People get sick, die. They're offered lucrative deals and want to cash in and make money for their retirement. People misstep. Unfortunately, an opportunity for me may mean bad things for someone else. I don't wish that.
If he does decide to enter the political fray, however, Baldwin says his competitors will have a plenty to use against him.
PLAYBOY: Did you turn down any (SNL) sketches for being too outrageous?

BALDWIN: Probably a few. It's hard to remember. I'm often asked if I think about going into politics. If I do, these guys will have a field day. I've given them so much crap to use against me... I'm thinking, If I run for political office, they'll have a forest of material to kill me with.
Popular in the Community