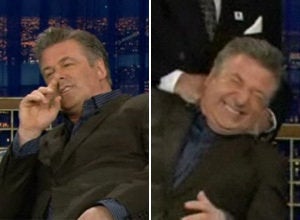 "I'm going to do my Joaquin Phoenix," Baldwin told Conan as he pretended to pass out and then picked his nose.
The two then talked about Conan's impending move to LA, an unnamed London hotel Baldwin loves that he later found out was a hooker hotel, and the Oscars.
At the end of Baldwin's appearance, his last before Conan moves, he announced he would like to be the "first talk show guest to be killed off a talk show."
Out came Paulie Walnuts (Tony Sirico) from "The Sopranos," who then strangled Baldwin and walked off.
WATCH PART 1, WITH LA AND HOOKER TALK:
WATCH PART 2, WITH OSCARS AND THE OFFING:
Popular in the Community