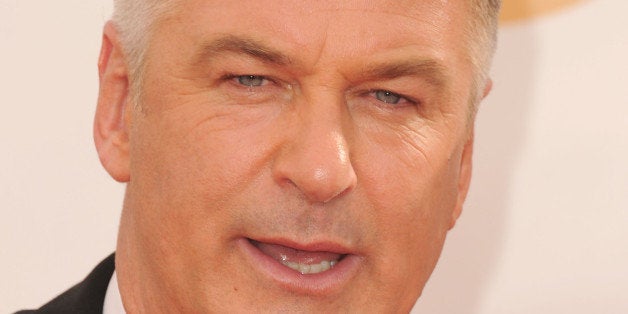 Alec Baldwin wrote a scathing letter about the paparazzi in East Hampton to a local newspaper, likening them to "vermin."
The 55-year-old actor penned the letter to the East Hampton Star on Sept. 29 about the shutterbugs he has encountered in Amagansett. One man has "marauded up and down the village's Main Street in search of photos of my wife and/or our newborn child," while another "slovenly" one stakes out by Ralph Lauren in East Hampton Village waiting to snap a pic. The latter apparently once reasoned, "You people brought this out here. I'm just trying to make a buck off of it."
"What has gone wrong with our society that this vermin has spawned in East Hampton?" Baldwin wrote of the paparazzi. "These are not New Yorkers that have slithered out here. They are home grown. They are locals. And they obviously have no idea about how to live in a community like ours."
"I hope that our local government will address this issue, which has nothing to do with freedom of the press and everything to do with criminal harassment, abuse, and authorizing the intimidation and stalking of one group in our society while protecting the basic rights of all others," he concluded. "That's remarkably like a bill of attainder. And that's unconstitutional."
In August, the former "30 Rock" star grabbed a paparazzo and pinned him against a parked car in Greenwich Village while he tried to snap a coveted "post-baby photo" of his wife, Hilaria, just days after she gave birth. A source said one of the photogs "instigated and even harassed" the new mom by following her into a store.
Baldwin is not the only celebrity fed up with cameras following their families. Jennifer Garner and Halle Berry have been staunch advocates of California's SB606, legislation passed in September aimed at protecting the children of public figures from being photographed or filmed without consent.
Calling all HuffPost superfans!
Sign up for membership to become a founding member and help shape HuffPost's next chapter
BEFORE YOU GO
PHOTO GALLERY
Stars Who've Clashed With The Paps