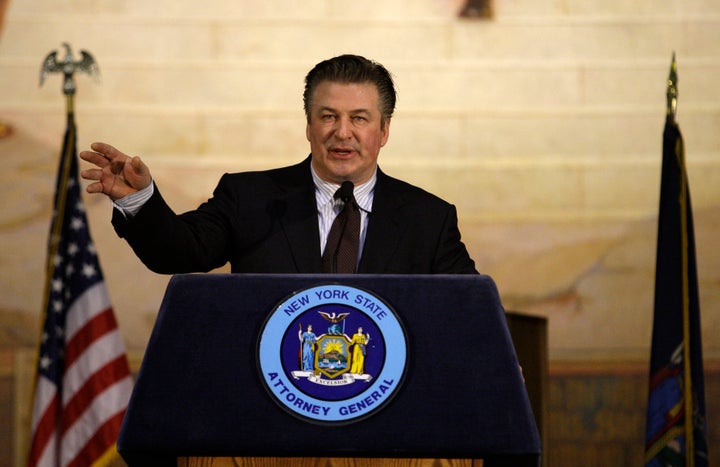 UPDATE: Amping up speculation, Baldwin's rep, Matthew Hiltzik, told The Hollywood Reporter, "I wouldn't rule it out," when asked about the potential run for mayor.
_____
PREVIOUSLY: Politically outspoken and long open about his interest in running for office, the local fallout of the Anthony Weiner scandal may have opened the door for Alec Baldwin to make his electoral move.
A friend of Baldwin's told Richard Johnson of The Daily that the Emmy-winning actor is mulling over a 2013 run for the Mayorship of New York City, following the exit of termed out incumbent Michael Bloomberg. Weiner has long had his eyes on Gracie Mansion, but his sexting scandal makes it much less likely that he'll run, at least successfully.
"Alec said, 'Hey, maybe this changes the race. The dynamics have shifted,'" the friend told Johnson. "The Democrats need a high-profile candidate, and Alec can fill that bill."
"I don't want to say this in an anti-elitist way, but we've had men who are Ivy League groomed running this country since 1988," Baldwin said during his interview on what was then called "Parker Spitzer." "We've had 22 years of Yale and Harvard running this country right now, and the problems aren't getting solved."
Over the weekend, Baldwin took to Twitter to give some national policy suggestions, including clean energy research, investment in infrastructure and higher tolls and single commuter fees.
"Do I run for Congress on Long Island? What's Tim Bishop going to do? He represents my district," he said. "People get sick, die. They're offered lucrative deals and want to cash in and make money for their retirement... Unfortunately, an opportunity for me may mean bad things for someone else. I don't wish that."
Bishop recently won re-election in the final race called in the country.
Popular in the Community