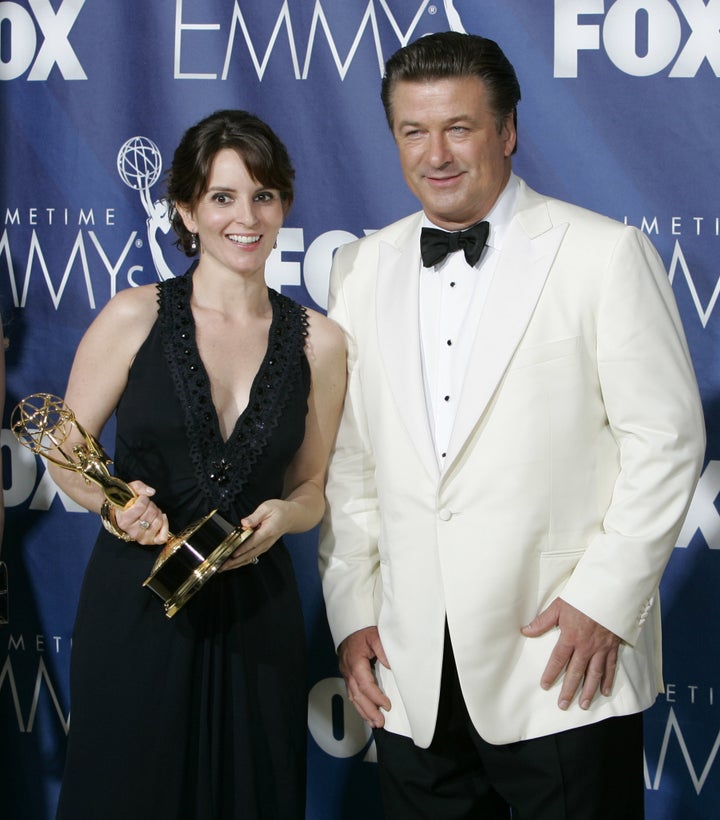 Actor and author Alec Baldwin complimented "30 Rock" costar Tina Fey's impression of Sarah Palin at a Time magazine Q&A Tuesday in New York. Videotaped for an upcoming issue of the magazine's 10 questions and done to promote "30 Rock" (back late next month) and his book A Promise to Ourselves: A Journey Through Fatherhood and Divorce (out next week), Baldwin answered user submitted questions in a room at the Time offices Tuesday morning.
The first question asked what he thought of Tina Fey's impression of Sarah Palin on "Saturday Night Live":
Obviously people jumped on that the moment Palin emerged... she was nervous to get it right. People were sending her ideas, these are her former colleagues at the show, and I was with her at work and they were submitting these suggestions to her and I think she was very nervous to get the right one, and also one that's not too malicious or what have you, you know, to really get the right tone. I watched and I couldn't believe it. I thought that they nailed it!
He added, in an imitation of Fey as Palin from SNL, "I can see Russia from my house!"
You know, she really is an incredible actress. She came into the show for the news segment of SNL, and writing, obviously. And the more she goes out there on the ice the better she can do. I really think she's funny.
Later, Baldwin took a moment from discussing art's importance to compliment Heath Ledger:
Watch a movie like "Brokeback Mountain," which is an incredible movie. You know, Heath Ledger dying was this huge tragedy because he gave one of the greatest screen performances of a male performer in 50 years, literally. Like with Brando. I would never say that, but he was that great in that movie. Forget Batman and all this other crap. "Brokeback Mountain" was just unbelievable.
During the rest of the hour, Baldwin talked politics and divorce, did dead-on impressions of Tony Bennett and "30 Rock" costar Tracy Morgan (whom he named when asked who cracks him up), shared what it's like backstage at SNL and told self-deprecating stories of his Hollywood career, like the failure of "Prelude to a Kiss."
The video should be on Time's website Wednesday and some answers will be in Friday's issue of the magazine.
Calling all HuffPost superfans!
Sign up for membership to become a founding member and help shape HuffPost's next chapter