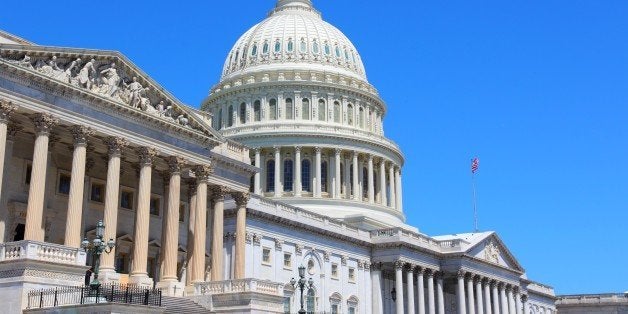 WASHINGTON -- The conservative American Legislative Exchange Council has chosen not to endorse proposed legislation that would chip away at the current system of directly electing U.S. senators, after deciding the bill was not germane to its mission.
The draft bill would have increased the role of state legislatures in the election of U.S. senators, inching back toward the process used prior to the passage of the 17th Amendment in 1913, which established the direct election of U.S. senators. Before the amendment was adopted, senators were chosen by state legislators.
Under the measure, a plurality of a state's legislature would be able to nominate a candidate to appear on the ballot, alongside candidates nominated by the parties through the convention or primary process.
ALEC members, which include politicians and corporations, propose model legislation and send it to a task force for consideration. If the task force gives the proposal its blessing, it goes to the ALEC Board of Legislators for a final vote on whether it should become ALEC-sanctioned model legislation.
But ALEC spokeswoman Molly Fuhs said this week that ultimately, the policy was not adopted.
"The ALEC Board of Legislators determined the model policy not germane to ALEC's mission of free markets, limited government and federalism," she said. "ALEC does not work on issues related to campaigns or elections, and therefore this model policy was outside of ALEC's scope."
ALEC did, at one time, work on election issues, endorsing voter ID laws that have been embraced by conservative legislatures nationwide. But after a significant backlash, ALEC said last year it was dropping its Public Safety and Elections task force to "concentrate on initiatives that spur competitiveness and innovation and put more Americans back to work."
The group also faced scrutiny after the February 2012 shooting death of unarmed teenager Trayvon Martin. Neighborhood watch leader George Zimmerman, Martin's admitted killer, was found not guilty after citing Florida's Stand Your Ground law. ALEC was instrumental in pushing such laws nationwide.
ALEC's decision not to endorse the 17th Amendment bill will likely disappoint some conservatives, namely the GOP politicians and tea party activists who have called for its repeal. But a recent poll by The Huffington Post/YouGov found that even among Republicans, the amendment remains quite popular.
Calling all HuffPost superfans!
Sign up for membership to become a founding member and help shape HuffPost's next chapter
BEFORE YOU GO
PHOTO GALLERY
U.S. Capitol Photos