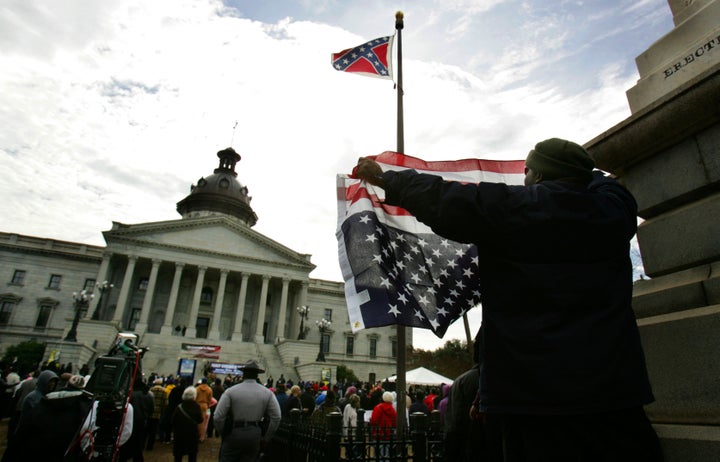 ALEC has insisted that it is the victim of a "well-funded, expertly coordinated intimidation campaign." It also denies accusations that it is a lobbying firm pressing state lawmakers to pass conservative legislation, though ethics watchdog group Common Cause has filed a lawsuit with the IRS, alleging that ALEC is a lobbying group and challenging its nonprofit status.
Yet there's no doubt that ALEC is an influential organization among conservative legislators, and that the extent of its reach is just beginning to become clear. It is such an integral group in some circles, in fact, that South Carolina law actually carves out a special ethics exemption just for ALEC.
The state's lobbying law has a section governing how lobbyists can interact with public officials. They cannot, for example, pay for an official's lodging or transportation. However, there are exceptions, one of which is for functions held by ALEC (emphasis added):
SECTION 2-17-90. Acts prohibited of lobbyists' principals; acts prohibited of public officials and employees; exceptions; disclosure requirements.

(A) Except as otherwise provided under Section 2-17-100, no lobbyist's principal may offer, solicit, facilitate, or provide to a public official or public employee, and no public official or public employee may accept lodging, transportation, entertainment, food, meals, beverages, or an invitation to a function paid for by a lobbyist's principal, except for:

(1) as to members of the General Assembly, a function to which a member of the General Assembly is invited if the entire membership of the House, the Senate, or the General Assembly is invited, or one of the committees, subcommittees, joint committees, legislative caucuses or their committees or subcommittees, or county legislative delegations of the General Assembly of which the legislator is a member is invited. However, the Speaker of the House and Speaker Pro Tempore of the House may be included in an invitation to one of the above groups. In addition, invitations may be extended and accepted when the invitation is extended to all members in attendance at (a) national and regional conventions and conferences of organizations for which the General Assembly pays annual dues as a membership requirement and (b) American Legislative Exchange Council conventions and conferences;
ALEC is the only organization to get an individual carve-out in the section.
The outings that ALEC organizes for politicians are essential to its influence. At these retreats, ALEC officials work with state lawmakers to craft new legislation.
As the Post-Courier in Charleston recently reported, some of ALEC's "model laws" have been making their way into the South Carolina legislature. The state passed a voter ID law last year, for example, which had similar language to a model bill that ALEC had proposed.
State Rep. Boyd Brown (D-Fairfield) discovered the exemption in the lobbying law on Wednesday.
"I am disgusted that this group has been specifically exempted from ethics laws in the state of South Carolina," said Brown in a statement. "I am appalled but not surprised that an extremist group such as ALEC wields such influence in the South Carolina General Assembly."
Brown also told The Huffington Post that he would introduce a bill on Thursday to strike the (a) and (b) exemptions, although he did not expect the GOP-controlled legislature to pass it anytime soon.
House Democratic Caucus Director Tyler Jones said the ALEC exemption was the work of former state House Speaker and ALEC member David Wilkins, who later served as President George W. Bush's ambassador to Canada and as transition committee chair for South Carolina Gov. Nikki Haley (R). Wilkins was the lead sponsor on the lobbying bill and chose the conference committee members. Wilkins did not return a request for comment.
ALEC bills itself as a nonprofit organization that connects state lawmakers and "supports pro-growth, pro-jobs policies and the vigorous exchange of ideas between the public and private sector to develop state based solutions."
Mary Boyle, Common Cause's vice president of communications, said the South Carolina law undercuts ALEC's assertion that it is not a lobbying group.
"Here's our question: If they are not lobbyists -- as they claim, they don't do any lobbying -- why do they need to be exempt from lobbying laws? It's hard enough to figure out what's going on in these statehouses. Obviously, this makes it harder," said Boyle.
Other states also have exemptions for ALEC in their state laws.
Indiana law states that ALEC, the National Conference of State Legislators, the Council of State Governments and the National Black Caucus of State Legislators are not "lobbyists."
Colorado law also declares that ALEC is a "joint governmental agency" of the state. It explicitly authorizes Colorado General Assembly lawmakers to have their ALEC fees paid for by the group when members are "selected by the president of the senate or the speaker of the house of representatives to represent the interests of Colorado at American Legislative Exchange Council functions ... necessary expenses of such members for travel, board and lodging related to such attendance may be paid from appropriations made to the legislative department of state government."
Neither ALEC nor the South Carolina House Ethics Committee returned requests for comment.
Lawmakers pay $100 for a two-year ALEC membership, although the vast majority of the group's revenue comes from corporate support. Approximately 2,000 lawmakers from all 50 states are members of the organization.
Brown has also called on his fellow legislators to end their ALEC membership. On Wednesday, state Rep. Ted Vick (D-Chesterfield) did resign as a member, saying ALEC was "part of the problem."
Popular in the Community