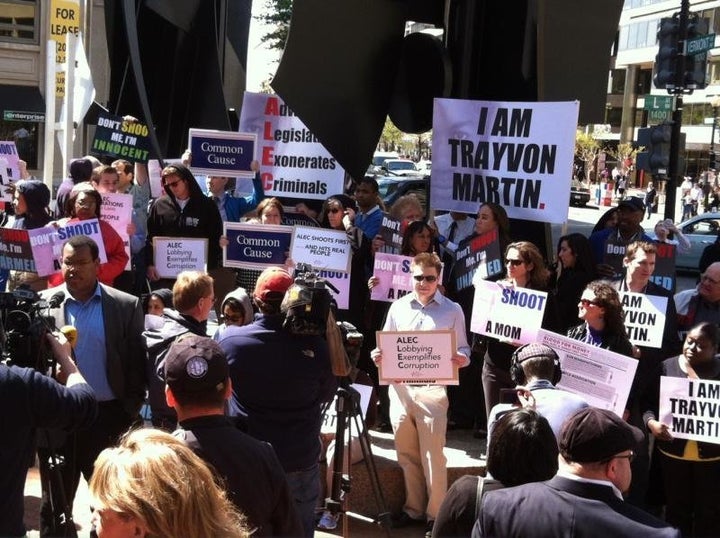 WASHINGTON -- The capitulation by the American Legislative Exchange Council (ALEC) to a grassroots campaign denouncing its positions on gun laws and voting rights may end up being a pyrrhic victory for progressives.
After 10 companies -- including Coca-Cola, Pepsi, McDonald's, Kraft and Intuit -- distanced themselves from ALEC amid growing protests, the group made a carefully measured announcement on Tuesday that it would eliminate its task force on public safety and elections issues, and redouble its efforts on economic issues.
But that could end up making little practical difference to the group, while taking the wind out of the sails of the opposition.
Public interest organizations initially launched a campaign against ALEC last fall, exposing how the group for nearly 40 years now has turned corporate yearnings for such things as massive tax breaks, deregulation and privatization into copycat bills passed by conservative state legislators across the country.
Then civil rights groups started drawing attention to ALEC's advocacy of voter ID bills, which right wing groups claim are necessary despite the absence of any evidence of widespread voter fraud. Colorofchange.org condemned ALEC's attempt "to stop Black people, other people of color, young people, and the elderly from voting."
And then came the shooting of unarmed African-American teenager Trayvon Martin, and news that ALEC, working with the National Rifle Association, had a major role in passing "stand your ground" -- also known as "kill at will" -- legislation in multiple states. Florida's version of the law was cited as a reason why the man who shot Martin, George Zimmerman, was not initially charged.
Grassroots groups recognized ALEC's involvement in "stand your ground" as a powerful wedge with which to separate ALEC and its sponsors.
"That was really the explosive thing that made a difference," said David Halperin, a senior fellow at United Republic, a new group fighting the influence of money on politics.
Rather than be linked in any way to the uproar around the Martin shooting, major companies started announcing they were no longer funding ALEC.
"We're getting absolutely killed in social media venues -- Twitter, Facebook, Pinterest," said Caitlyn Korb, ALEC's director of external relations, at a Heritage Foundation "Bloggers Briefing" after the Tuesday announcement. "So any and all new media support you guys can provide would be so helpful."
Korb declined speak to The Huffington Post on the record about what motivated the Tuesday announcement, or what topics will be off limits at ALEC going forward.
But there's little doubt among progressive groups that ALEC's move was an attempt to defuse the issues that had most inspired the grassroots opposition. And it may work, said Halperin of United Republic.
"It's not clear that we're going to keep having that kind of impact," Halperin told HuffPost. Then again, he continued, it may not work. "This momentum may be hard to stop."
"We're going to keep grinding away at this issue," he said, adding that "ALEC is still potentially in the social policy business and that could still create problems for companies that don't want to take sides in culture wars."
But the fact remains that ALEC has a lot to show for its work already. Time magazine noted that 32 states have enacted voter-ID laws, and 24 have adopted "stand your ground" laws like Florida's.
And ALEC has also been successful in getting bills passed that serve the economic interests of its corporate clients, according to watchdog groups.
Donald Cohen, chair of the anti-privatization group In The Public Interest, calculates that of the 68 large corporations that Citizens for Tax Justice found paid no state income taxes at all in at least one year from 2008 to 2010, about half have a history of supporting ALEC either as members or financial contributors.
"If they're being sincere when they're saying they're going to redouble their efforts on economic issues," said Carl Davis, a senior analyst with Citizens for Tax Justice, "that's certainly not a good thing."
WATCH: ALEC's Caitlyn Korb's talk with conservative bloggers.
Popular in the Community