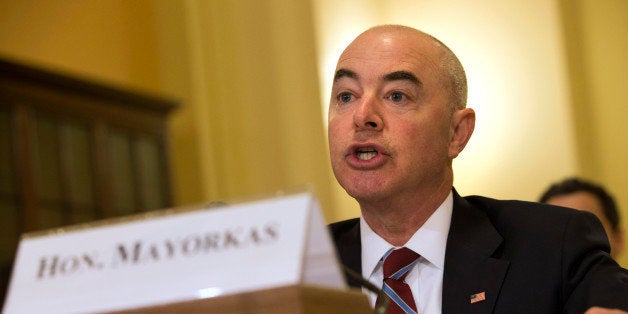 WASHINGTON -- Department of Homeland Security's Deputy Secretary Alejandro Mayorkas said Thursday he regretted that he'd appeared to show favoritism and undue influence over a program that handles immigrant investors, but denied that he had acted improperly.
"Preferential treatment is not acceptable," Mayorkas told the House Committee on Homeland Security.
The appearance was his first before Congress since the DHS inspector general released a report in March about employees' concerns that he interfered with the EB-5 program, which grants visas to foreigners who create jobs in the U.S.
The inspector general's report found that some U.S. Citizenship and Immigration Services employees believed Mayorkas, then the director, was interjecting to playing favorites in three cases that had connections to Democrats, including one involving an electric car company run by Terry McAuliffe, now the Virginia governor. The EB-5 visa program requires foreigners to invest $1 million in the U.S. in exchange for visas, or $500,000 if they are in either a high-unemployment area or a rural area.
"The Office of Inspector General found that employees had a perception that I granted preferential treatment to individuals with an interest in these cases," Mayorkas said. "I am responsible for the perceptions that my employees have of the work that I do. And I bear that responsibility and I regret the perceptions that my work created."
Mayorkas was the director of USCIS from August 2009 to December 2013, and since then has been the deputy secretary of DHS as a whole. He has not been disciplined over the report.
Committee Chairman Michael McCaul (R-Texas) called the findings of the report "troubling."
"These are very serious allegations and ones that, if true, should not be ignored," McCaul said at the hearing. "Although the IG did not allege that these acts were criminal in nature, they without a doubt raise questions about the deputy secretary's judgement."
Mayorkas rejected the accusation that he had favored Democrats. He said all three cases discussed had also been pushed by Republicans, and that it was common for members of Congress and others to reach out to USCIS about specific EB-5 cases.
Republicans and Democrats in Congress made more than 1,500 EB-5 case inquiries per year to USCIS, Mayorkas said. He said that he was involved in more cases, both about EB-5 visas and other matters, than he could count.
"I regret the perception my own involvement created," Mayorkas said. "In the three cases at issue, cases that were the subject of bipartisan support, I did what I did in the many other cases that were brought to my attention."
He said he did not receive any benefit, financial or otherwise, from the three cases.
When the inspector general's report came out, Homeland Security Secretary Jeh Johnson said in a statement he continued to have confidence in Mayorkas, but said the report was a reminder that "[e]ach of us in leadership must be mindful that, when we become involved in individual matters that happen to reach our desk, we risk the appearance of preferential treatment and the suspicion of our subordinates."
Johnson also announced DHS would create a new protocol for the EB-5 program to prevent "reality or perception of improper outside influence." Mayorkas said he strongly supports a new protocol.
Calling all HuffPost superfans!
Sign up for membership to become a founding member and help shape HuffPost's next chapter
BEFORE YOU GO
PHOTO GALLERY
Scenes From 114th Congress And Capitol Hill