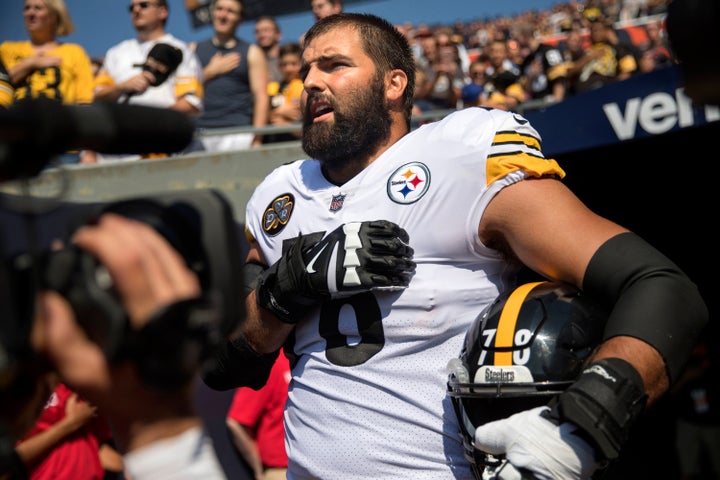 Head coach Mike Tomlin told CBS before the game that the team decided not to step onto the field until after the anthem so that players would not feel compelled to take sides. Villanueva said he had intended to stand slightly ahead of his teammates, at the end of the tunnel that leads from the locker room to the field, so that he could still see the flag without drawing attention to himself. Steelers quarterback Ben Roethlisberger noted in an interview with NFL.com that the team was just 20 feet behind Villanueva when the anthem started playing.
By the time Villanueva realized that he was visible from the outside, he said, it was too late to turn back.
"Do you walk out of the national anthem and join your teammates?" he said. "That would have looked extremely bad."
He said that he fully takes the blame for his "mistake."
"Unwilling I've made a mistake and I've talked to my teammates about the situation. Hopefully they understand it," Villanueva said. 
Villanueva then defended the players who opted not to stand during the anthem.
"What people don't understand is ... we're not talking about the same thing," the 29-year-old athlete told reporters. "People who are taking the knee, they're not saying anything negative about the military … [or] about the flag. They're just trying to protest the fact that there are some injustices in America." 
Admitting that he was "one of the first ones who took offense" when then-San Francisco 49ers quarterback Colin Kaepernick began sitting out the anthem last year to call attention to racial injustice and police brutality, Villanueva said he now better understands the protest.
"I have learned ... I don't know what it's like to be from Dade County [or] from Lakeland. I can't tell you that I know what my teammates have gone through. I'm not going to pretend that I have the righteous voice to tell you to stand up for the national anthem," he said. 
At the same time, Villanueva stressed, if people choose to stand for the national anthem, "it doesn't mean they don't believe in these racial injustices."
He added that he will personally continue to stand for the Stars and Stripes. 
Some netizens reacted to Villanueva's candid remarks with hostility.
Amid the furor, the football player appeared to delete his Twitter account. 
REAL LIFE. REAL NEWS. REAL VOICES.
Help us tell more of the stories that matter from voices that too often remain unheard.
BEFORE YOU GO