At 14 years old, Wek left her native South Sudan during the country's civil war as a refugee and moved to Great Britain, where she was discovered. After finding initial success as a model in London, Wek moved to New York, where her career blossomed in an industry that had (and still has) very few non-white models, and where most other African models have lighter skin.
Since leaving South Sudan in 1991, Wek has returned twice. She recalled her previous trips: "One was back in '98 before the peace agreement and the civil war had taken place, and the other shortly after the peace agreement in 2005. I actually came back with my mother when we were allowed to re-enter the country and made a documentary where we went to my mother's hometown, which I actually never really got a chance to go as a young child." Now that South Sudan has celebrated one year of independence, Wek has returned to the country for the third time with the UN Refugee Agency (UNHCR).
We spoke with the Sudanese supermodel about her experience returning to South Sudan, meeting the country's first lady and how modeling has affected her life.
How do you feel returning to South Sudan after its independence?
It was just so surreal to finally know independence had taken place. It was something that I never thought would really happen as a young child going through the civil war and then coming back and seeing the refugees that had been displaced, and these people that are still displaced. It was just really unbelievable, you could definitely feel it in the air. Even the development that has taken place from last year when they signed the agreement is incredible. It just comes to show you [what] can take place in a year if they keep the same unity and hope. I think that Sudan will definitely be looking towards a better future, but of course there are some major challenges and that's why I came along with UNHCR and to just see the challenges they are dealing with. It's quite morbid.
What was it like to meet with First Lady Mary Ayen Mayardit?
We met with her just before in a town that's actually in the area my father is from and my mother as well. She was just so optimistic and the amount of welcoming I got was quite a surprise -- the dances and the chanting [she shouts "ayeee!"], it was just unbelievable. I was so touched and moved and then she got to say some wonderful words about how now is the time that the South Sudanese people really deserve this chance, that this is the way where they can actually start to think about the future and build and shape and shift. The young people, they are really just tomorrow's future and education is the key. I just thought it was very inspiring.
What has been your most eye-opening experience so far?
I met this older lady, about 83 years old or so, and she just got me all choked up. She lost all of her boys, and you would think that not only should she have been retired by now, but her sons should be taking care of her. She should be enjoying her life by now, but yet she was taking care of her grandchildren and she is living day-to-day. The only thing she had that morning was a cup of tea, and she's a frail girl, 83 years old. You would think she would be complaining and she would be absolutely so upset, but yet she was just so full of wisdom and we had a whole conversation. She said, "I'm just so thankful and blessed that we have our country now and this is our land. We need our grandchildren to be able to learn enough to be able to lead this nation and to go on to say bless all of us." I mean what do you say to that? It was just quite something. Beyond wisdom.
And going into the youth center. I've never even seen so much energy. The kids had a full-on Broadway production and were just doing these plays that were all inspired, after all of their experiences and what they had gone through. Even if your mind is somewhere else, at that moment you could just see each individual what they were acting their part was focused. They have so many goals, whether they want to be teachers, lawyers, doctors, actors or waiters.
You've had so many wonderful opportunities in your life, what are you most grateful for?
The one thing I'll say, of course, is that I've been really very blessed in having longevity in terms of a career and that wouldn't have been possible without the team and my family. They have made me the woman I am and shape the woman I will become moving forward. I have the utmost respect for my mom, I think about her whenever I make decisions and so forth. I always think in her words. And then of course my father. He didn't just encourage the boys, he encouraged the girls to be educated and said you can still be a woman and you could still be a housewife, if you want to, and you'll still be a mother, but you should also be educated because education is the key to so many things, and even in a way of respecting and recognizing others and being able to co-exist with others and respecting each other and respecting yourself. I totally live with that.
My father and mother were really inspiring. I am always saying thank you. When I was young I didn't quite realize how important it was that I had the freedom to enjoy things like art, history, design, at a very early age. I understand now what it would be like if I didn't have that outlet.
Read more about the UN Refugee Agency at UNHCR.org.
Want more? Take a peek at the gallery below to see photos of Alek Wek's trip to South Sudan and keep clicking through to see how her style has changed over the years. Be sure to check out Stylelist on Twitter, Facebook, Tumblr and Pinterest.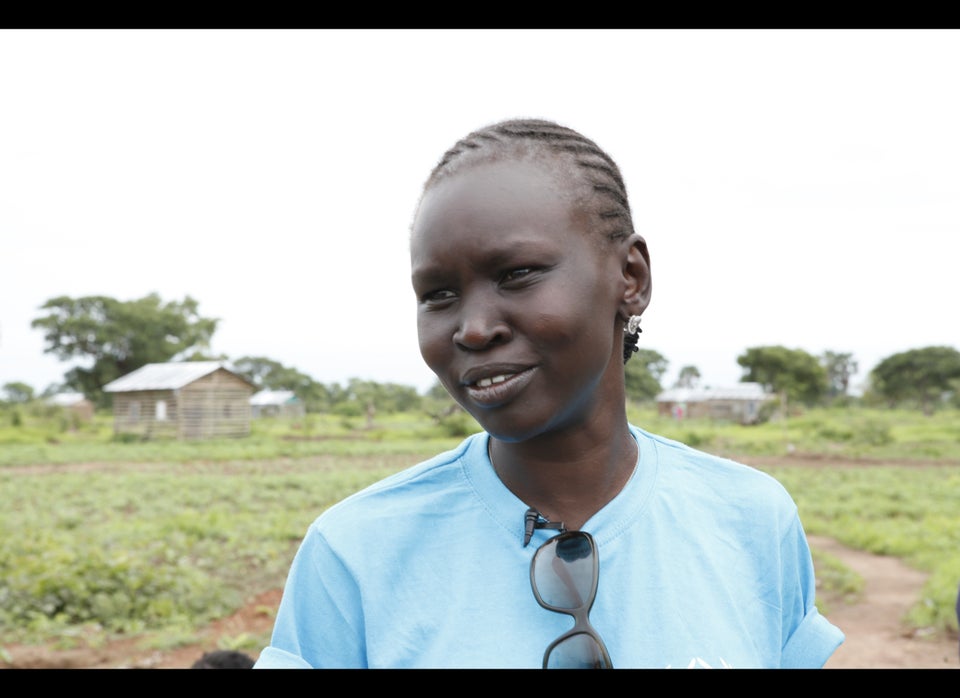 Alek Wek, South Sudan (PHOTOS)