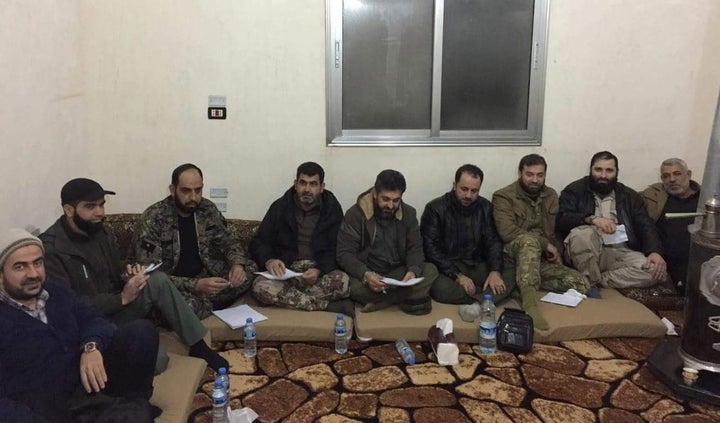 The loss of eastern Aleppo has prompted intensive opposition introspection. Immediately prior to the regime's final ground assault, a spate of inter-factional fighting had ruptured any hope of a unified defense of the city, sparking a flurry of recriminations surrounding individual groups' dedication to the revolution.
Prior to recent developments, Aleppo had been the site of numerous opposition unity initiatives, many of them successful. Since April 2015, the nearly 50 armed opposition groups active in the city (excluding JFS) had operated effectively together under the Fatah Halab umbrella and a number of the city's most powerful groups (such as Al-Jabhat al-Shamiya, Tajamu Fastaqm Kama Umrit, Harakat Nour al-Din al-Zinki and Jaish al-Mujahideen) had all been formed as the result of multiple group mergers. For this reason, the discord that struck Aleppo's opposition at such a critical time – though probably accentuated by the pressure exerted by the siege – has presented Syria's broader armed opposition with an internal crisis.
As Aleppo's last pockets of opposition control fell and external players negotiated a mass evacuation of its population, protests erupted in other areas of Syria in which civilians and fighters alike condemned opposition disunity and called for large-scale mergers of armed opposition groups. Public pressure for such unity initiatives is nothing new in Syria's opposition communities, but the loss of Aleppo starkly revealed the consequences of placing one's hopes in a disunited insurgency operating against a cohesive and determined adversary.
One immediate consequence of this introspection and the questioning of Turkey as an opposition ally was the eruption of divisions within Ahrar al-Sham – a 10,000-man Salafist opposition group centered in Idlib and Aleppo. Only days after its Shura Council had elected a new leader (Abu Ammar al-Umar), one of the losing candidates, Hashem al-Sheikh (Abu Jaber), announced the formation of a "sub-faction" under his command, known as Jaish al-Ahrar. While presented openly as a well-meant attempt to bring 16 hardline fighting units back wholly under Ahrar al-Sham's command, Hashem al-Sheikh was in reality committing a semi-coup: threatening behind the scenes to break-away with his hardline loyalists unless his strategic opinions weren't better acknowledged.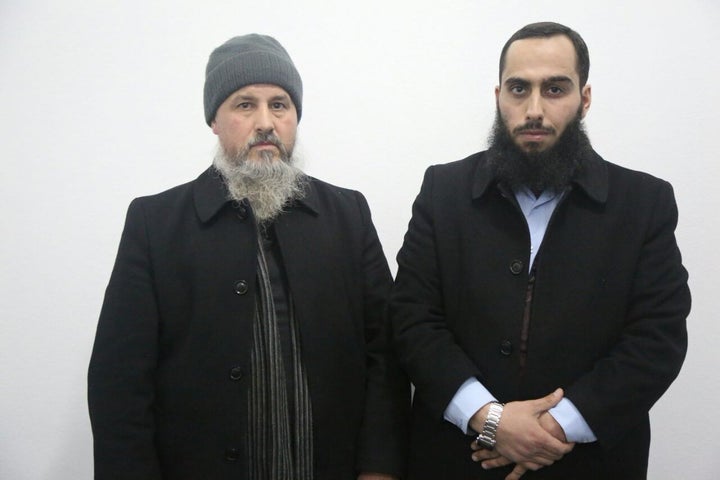 However, ideology was not at the heart of this dispute. Hashem al-Sheikh was driven primarily by a dislike for his new leader, Abu Ammar, and a distrust of Ahrar al-Sham's especially close ties to Ankara. Several senior Ahrar al-Sham figures who sided with Hashem al-Sheikh – like Abu Khuzaymah and Abu Mohammed al-Sadeq – had also been consistent supporters of a future merger with JFS, which Ahrar al-Sham's newly elected leader and his deputies are known to strongly oppose. It is hard to imagine this audacious power-play being carried out in any circumstances other than the intense pressure seen post-Aleppo. The renewed relevance of the debate over whether or not to consider a merger with JFS and for determining the strategic direction of Ahrar al-Sham and its position within the broader armed opposition was also a driving factor. Several days of talks between Abu Ammar and Hashem al-Sheikh appear – for now – to have prevented a structural break, but the group remains internally split when it comes to decision-making.
Divergent Unity Initiatives
What has emerged since are two divergent initiatives for opposition group unity. One has been led and driven primarily by JFS, whose leader Abu Mohammed al-Jolani presented a pitch to at least five other armed groups (including Ahrar al-Sham, Nour al-Din al-Zinki, Suqor al-Sham and Liwa al-Haq) for a wholesale merger and the formation of Al-Haya't al-Islamiya al-Souriya (or the Syrian Islamic Commission; SIC). According to opposition figures involved in these consultations speaking to this author, Jolani presented an assertive proposition in which Ahrar al-Sham's leader Abu Ammar would be named overall 'emir' of the SIC, while Jolani would assume the role of the SIC's 'general military commander.' Harakat Nour al-Din al-Zinki's leader Tawfiq Shahbuddin was tabled as the favored candidate to lead a SIC Sharia Council, while the political leadership would be a position personally appointed by Jolani.
"It is most likely that Ahrar al-Sham would assume the political leadership," according to one prominent Islamist cleric involved in the negotiations, who spoke with this author on condition of anonymity. Although he also added that "this [political] position would lose much of its relevance due to the involvement of Al-Qaeda." Jolani has also insisted that the SIC, if formed, would cease and oppose all support to Turkey's Euphrates Shield operation – effectively ending relations with Ankara. "That we simply cannot consider; it would contradict an intrinsic part of our revolutionary effort," a senior military commander in Ahrar al-Sham told this author.
Although this JFS-led initiative appeared to have reached a consensus on 17 December, it soon devolved back into negotiations when the Chinese Uighur-led Al-Qaeda front group, the Turkestan Islamic Party (TIP), was revealed as a new potential member. Liwa al-Haq and its leader Abu Abdullah Taftanaz were also coming under scrutiny, in particular surrounding months-old rumors that Taftanaz had made a secret pledge of allegiance to JFS's leader Jolani. By 19 December, the negotiations for a broad-spectrum merger had reached a standstill and been suspended due to "insurmountable disagreements," according to another armed group leadership figure involved. However, JFS and amenable figures within Ahrar al-Sham continued to negotiate and as of early Tuesday, those involved in the process told this author that an agreement was "close."
As the broader JFS-led unity process had begun hitting obstacles, a separate and several months-old FSA-led unity initiative re-gained momentum, as several U.S.-vetted groups (including the Free Idlib Army, Jaish al-Nasr, Tajamu Fastaqm Kama Umrit, Jaish al-Mujahideen, Shuhada Darayya, Al-Jabhat al-Shamiya and Kataib al-Safawa) came together with leaders from non-FSA groups Faylaq al-Sham, Suqor al-Sham, Ahrar al-Sham and Jaish al-Islam to discuss an alternative, more intrinsically Syrian revolutionary merger. While JFS was specifically excluded from the effort and Ahrar al-Sham was split between the two, by early-Tuesday, Harakat Nour al-Din al-Zinki had not joined the separate, latter initiative. "Zinki is not trusted after its recent [inter-factional] attacks in Aleppo city," prominent activist Mohammed al-Amin told this author. "Also, [Zinki leader] Taufiq [Shahbuddin] wants to remain [overall] leader and will never give up this position, so any union with Zinki will not be permanent."
As a prominent opposition cleric who posits himself as a "spiritual advisor" to the FSA and as a long-time critic of Al-Qaeda in Syria, Sheikh Hassan al-Dugheim insisted that members of the second unity process opposed any formal relationship with JFS "for two reasons: our objections to their exclusionary policies and our concerns over the continued credibility of the moderate opposition." While advocating for the FSA-led initiative, Sheikh Dugheim nonetheless claimed that the best solution would for "the formation of a national army and the complete dissolution of JFS, so its legitimate members could join us individually."
According to al-Amin, the most likely scenario would be for the latter Syrian revolutionary process to continue, so that opposition groups "will avoid being with JFS." Faced with the collapse of their own unity process, al-Amin claimed that JFS had already taken to threats. "Fateh al-Sham have already threatened to take away the weapons from any group that does not join their merger… But [JFS] didn't anticipate that all of the groups would consider joining another [unity process] altogether," adding sarcastically: "so I give credit to JFS for forcing all the factions to join together out of fear."
While the ultimate outcome of these unity negotiations remains unclear, the loss of Aleppo has clearly catalyzed a process of armed opposition self-assessment and identity clarification. For now, the impetus for a coalescing of Syria's mainstream opposition is unlikely to fade, but the direction chosen by Ahrar al-Sham will be of enormous potential significance. According to Mohammed al-Amin, "Ahrar is another issue – they cannot make a decision… There are people inside Ahrar who want to take [the movement] into JFS, and some others who want to go towards the FSA. So [ultimately], Ahrar will stay as it is or split, with each [current] choosing their merger." That consequential decision was set to be made during a meeting of the group's Shura Council late on Tuesday night.
If some portion of Ahrar al-Sham were to accept and embrace a bilateral merger with JFS, it is hard to imagine its detractors not splitting off and forming a separate movement. The issue has become an especially divisive one within Ahrar al-Sham's leadership and senior command structure in recent months. Prompted by increasingly loud whispers on Tuesday that a portion of Ahrar al-Sham had indeed agreed to merge with JFS, a cohort of activists and Islamic scholars connected to Ahrar al-Sham had begun composing a statement of warning to the group, demanding that it refuse a merger with the de facto Al-Qaeda affiliate "for the sake of the revolution" – according to three of its planned authors.
Jabhat al-Nusra's rebrand to JFS and its claim to have severed external ties to Al-Qaeda had been internally justified by its leader Jolani on the assumption that by doing so, JFS would give sufficient confidence to Syrian opposition groups to merge with JFS and to form an irreversibly powerful Islamic movement in Syria. Jolani's 'gamble' has not worked. Unity talks that followed the JFS rebrand spectacularly failed and Jolani's second attempt to push a merger appears to have met with the same result in recent days. Were that to remain the case, and should the separate, FSA-driven unity initiative eventually succeed, then the likelihood of substantial inter-factional fighting in Idlib in 2017 should not be discounted.
Nevertheless, whatever the eventuality, Syria's opposition faces its biggest military and political crisis since the loss of Al-Qusayr in the summer of 2013. Meanwhile, although supremely confident, the Assad regime is in fact at its heart, profoundly weak and inherently reliant on its sources of external support in Russia and Iran. As the regime takes back territory and grows increasingly secure in its position, the strategic objectives of Moscow and Tehran in Syria may begin to diverge, leaving open the possibility of conflicting pressures on differing Syrian state structures. An incoming Trump administration seemingly determined to strengthen ties with Russia could further encourage such a split in the pro-Assad alliance.
While the outcome of such a dynamic is impossible to predict, its effect would be to further complicate an already intensely complex conflict, likely providing yet more space for extremists and their narratives to thrive on all sides. Aleppo was certainly a development of huge consequence in the context of six years of Syria's crisis, but it has merely set the stage for a new and likely far more dangerous phase of conflict. Policymakers would be wise to determine how best to secure sources of leverage on the ground, to ensure some level of control and influence over the trajectory of what has already given way to the greatest humanitarian tragedy since World War Two.
Charles Lister is a Senior Fellow at the Middle East Institute in Washington DC, where is work focuses on the conflict in Syria and on assessing and combating terrorism across the region. He is on Twitter, here: Charles_Lister
Related
Popular in the Community