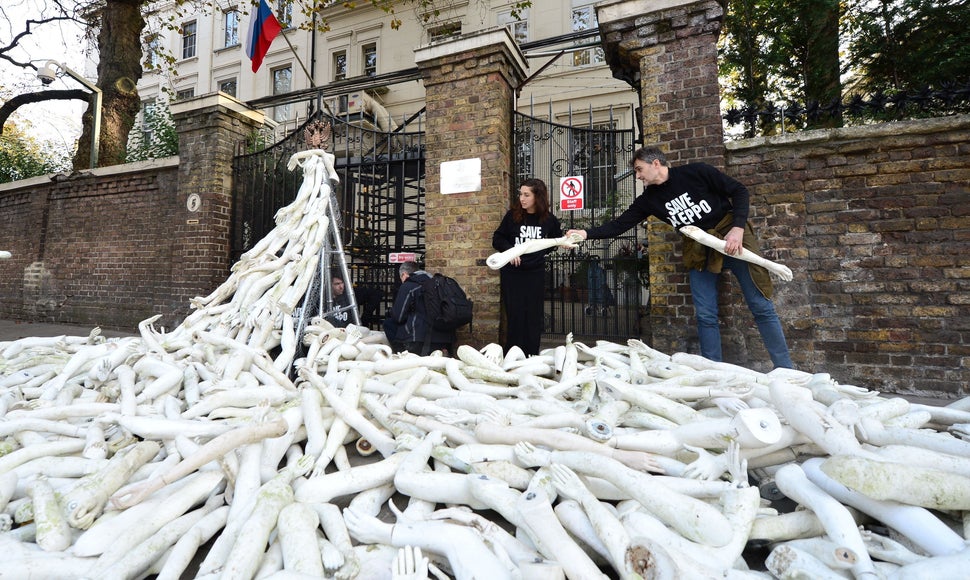 At first glance, London's Russian Embassy appeared to be spewing out a grisly river of human limbs on Thursday afternoon.
A group of 25 peaceful activists from human rights organizations Syria Solidarity UK and the Syria Campaign scattered more than 800 mannequin arms and legs near the front gates of the embassy to symbolize the ongoing massacre of Syrians in Aleppo.
During Syrian President Bashar Assad's time in office, the Russian government has defied international condemnation and continued to pummel Aleppo's rebel-held east, where some 275,000 people are under siege. Aerial attacks have left swaths of the region in ruins as the death toll rises and the war rages on.
"We have the limbs 'flowing out' of the embassy," Bissan Fakih, deputy campaign director of the Syria Campaign, said Thursday, noting that officials inside the embassy were aware of the protesters' presence. "We want [Russia] to stop their war crimes in Syria. We want them to stop bombing children."
Moscow has supported the autocratic Assad regime since the Syrian civil war broke out in 2011. In September 2015, it began its direct military involvement against rebel groups and the militant organization that calls itself the Islamic State. Yet despite its declared targets, Russia has bombed schools and hospitals, and reportedly killed more than 2,700 civilians ― a greater number than those killed by ISIS ― including hundreds of children.
As a permanent member of the United Nations' Security Council, Russia has also repeatedly blocked draft resolutions to impose sanctions and demand the resignation of Assad ― who is accused of war crimes against his own people, including the use of chemical weapons.
"Innocent children are being killed in their beds, while doctors are being bombed just for trying to save the lives of others," said the Syria Campaign's John Dunford, who locked himself to the embassy gate as part of the protest. He called on British government officials to increase pressure on Russia and impose new sanctions against Russian financial interests in the U.K.
Fakih hopes the demonstration will serve as a poignant reminder of the abuse endured by Syrians, and that it will prompt politicians to take action.
"Our message is very clear to the Russian government," she said. "The world is watching."
The Russian Embassy later issued a statement addressing the protest, calling it "a disruption of the work of the diplomatic mission."
The statement accused police officers of remaining "indifferent" throughout the demonstration, and said the protest had compromised the security of diplomats. It also implied that U.K. Foreign Secretary Boris Johnson was to blame for encouraging such protests.
Take a look at some photos from the protest below:
REAL LIFE. REAL NEWS. REAL VOICES.
Help us tell more of the stories that matter from voices that too often remain unheard.
BEFORE YOU GO
PHOTO GALLERY
Aleppo Before The War