In July 2012, Fighters loyal to embattled Syrian president Bashar al-Assad launched a full-scale assault to recapture the northern city of Aleppo, which had fallen into rebel hands. In a banner headline, pro-government newspaper Al Watan predicted the fight would be the "mother of all battles" for the future of Syria. A little over a year later, that harrowing prediction has mostly come true.
Much of Syria's most-populous city now lies in ruin, buildings and lives torn apart by a seemingly endless barrage of missiles, bombs, mortars, and tank shells. In a series of new satellite images, Amnesty International offers a glimpse into the extent of the destruction brought on by a year of fighting between government troops and opposition forces.
The images were taken between September 2012 and May 2013 and track individual instances of physical damage across Aleppo. An analysis of the photos by the American Association for the Advancement of Science concluded that the distribution of destroyed buildings and roads is "severely lopsided" towards opposition-held areas of the city.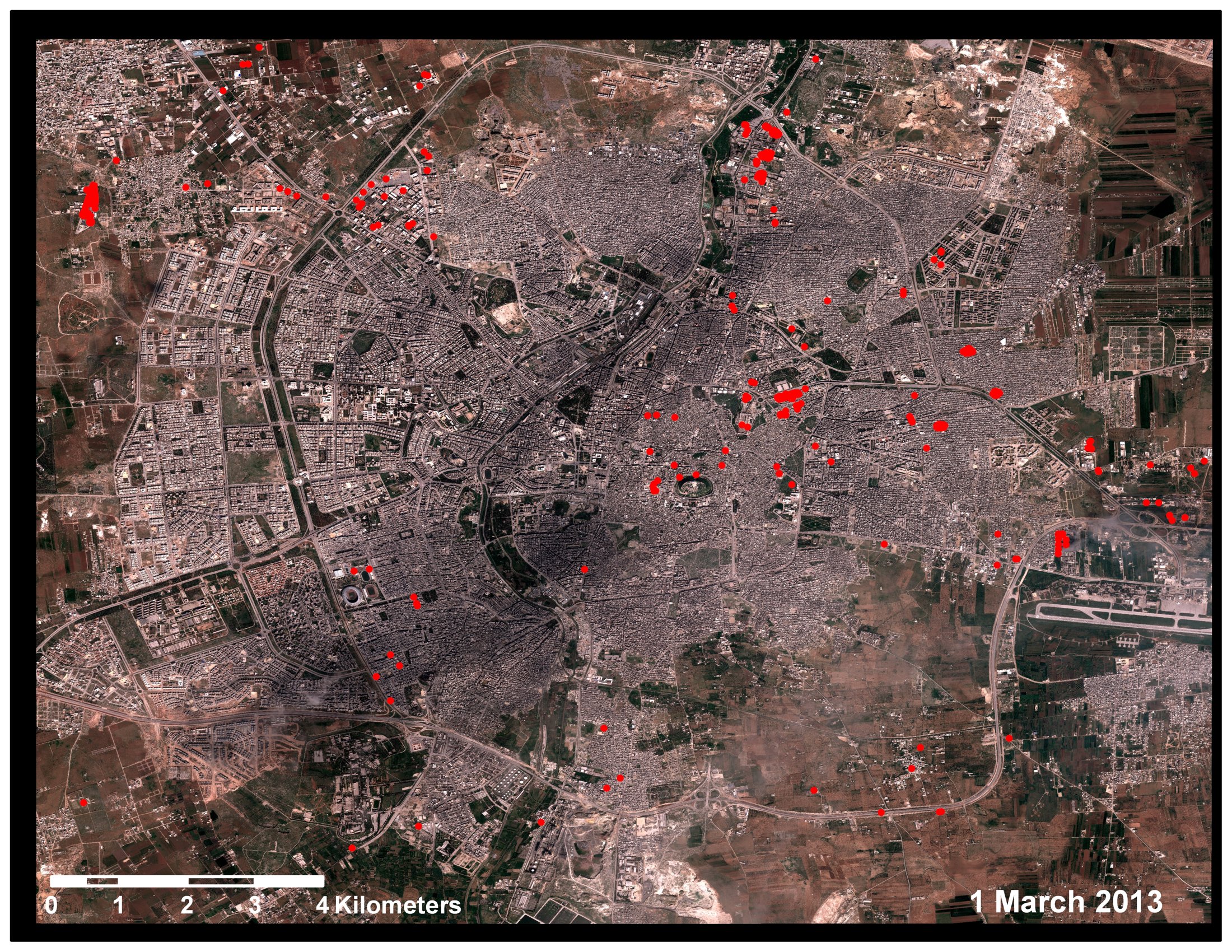 This satellite image shows the city of Aleppo on March 1, 2013, with red dots marking new damage visible since February 24. (Astrium) According to Amnesty International, the new images provide the best evidence currently available of "a campaign of indiscriminate air bombardment by government forces" conducted in violation of international law.
In addition to city-wide snapshots, the images document the damage wrought by three specific government missile strikes this past winter. The attacks, which occurred on February 18 and 23, targeted residential areas in Aleppo, reportedly killing more than 160 people and leaving many more homeless.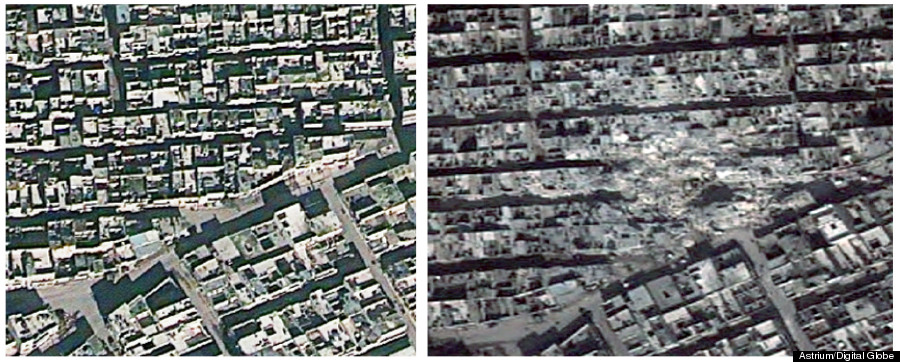 These close-up satellite images show the neighborhood of Ard al-Hamra in Aleppo before and after a Syrian government missile strike on February 22, 2013. (Astrium/Digital Globe)
AAAS also used satellite images to confirm the destruction of Aleppo's historic Umayyad Mosque. On April 24, 2013, the minaret of the mosque collapsed amid intense fighting, with both sides blaming the other for bringing down the ancient landmark. The tower had stood since 1090 AD and was recognized as a UNESCO World Heritage Site along with other landmarks in Aleppo's city center.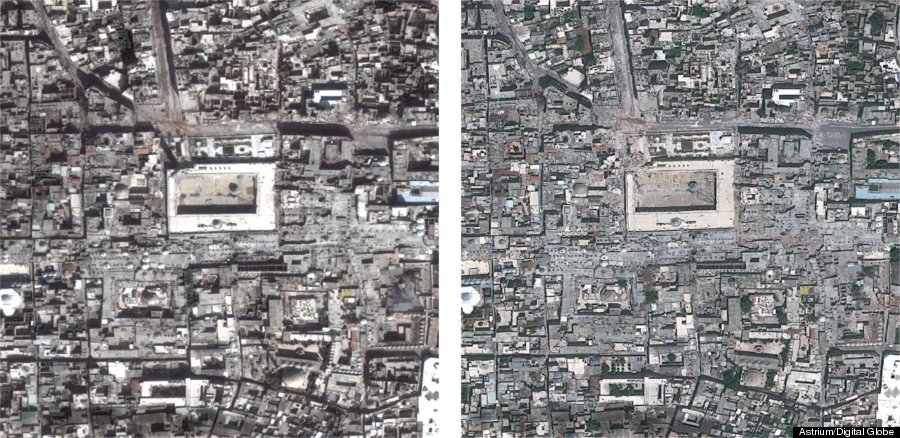 These close-up satellite images show the Umayyad Mosque in Aleppo before and after the collapse of the mosque's minaret on April 24, 2013. (Astrium/Digital Globe)
"The grave violations of international law in Aleppo and elsewhere in Syria are a direct consequence of the international community's paralysis and delay in effectively condemning these crimes, and referring the situation to the world's criminal court of last resort," said Christoph Koettl, emergency response manager at Amnesty International USA.
Drag the bar to compare before and after satellite images of three 2013 missile strikes in Aleppo
CLARIFICATION: This entry has been updated to reflect that the analysis of the satellite images was provided by the American Association for the Advancement of Science
REAL LIFE. REAL NEWS. REAL VOICES.
Help us tell more of the stories that matter from voices that too often remain unheard.
BEFORE YOU GO
PHOTO GALLERY
The Destruction Of Aleppo, Seen From Above