GENEVA (Reuters) - The Syrian government has authorized the United Nations to send an additional 20 expatriate staff to east Aleppo, where they will monitor the ongoing evacuation of thousands of people, a U.N. spokesman said on Tuesday.
"This will almost triple the number of international staff currently deployed to Aleppo," Jens Laerke told a news briefing in Geneva. "The task is to monitor and observe the evacuations."
The U.N. Security Council on Monday unanimously called for U.N. officials and others to observe the evacuation of people from the last rebel-held enclave in Aleppo and monitor the safety of civilians who remain in the Syrian city.
The U.N. staff, already in its Damascus office, will travel to Aleppo "as soon as possible", Laerke said.
Some 25,000 people have been evacuated from the rebel-held enclave of Aleppo since Thursday, including 15,000 on Monday and 10,000 last Thursday, the International Committee of the Red Cross said on Tuesday.
Laerke said that U.N. aid partners checking people arriving in Idlib province put the figure at 19,000.
"We do not have independent U.N. access to the buses, so we are not able to enter and access people; that does not take away from the protection concerns that we do have and continue to have," he added.
Some 43 people were medically evacuated from east Aleppo on Monday, bringing the total to 301 since last Thursday, World Health Organization (WHO) spokesman Tarik Jasarevic said.
"Out of those 301, 93 patients were referred to hospitals in Turkey, others are in hospitals in Idlib and (opposition-held) western rural Aleppo," he said.
The vast majority have trauma injuries, and the sick and wounded include 67 children, he added.
The U.N. refugee agency UNHCR said there was no sign of a heavy influx of people fleeing Aleppo into neighboring Turkey.
"All the borders of Syria are very tightly managed at present. People, we understand, are being allowed to cross into Turkey when they come. But I think this is speculative as we are not yet seeing people move across in relation to Aleppo," UNHCR spokesman Adrian Edwards said.
Some 750 people have been evacuated from the two besieged Syrian villages of Foua and Kefraya so far, where 20 buses headed to early on Tuesday morning, Laerke said.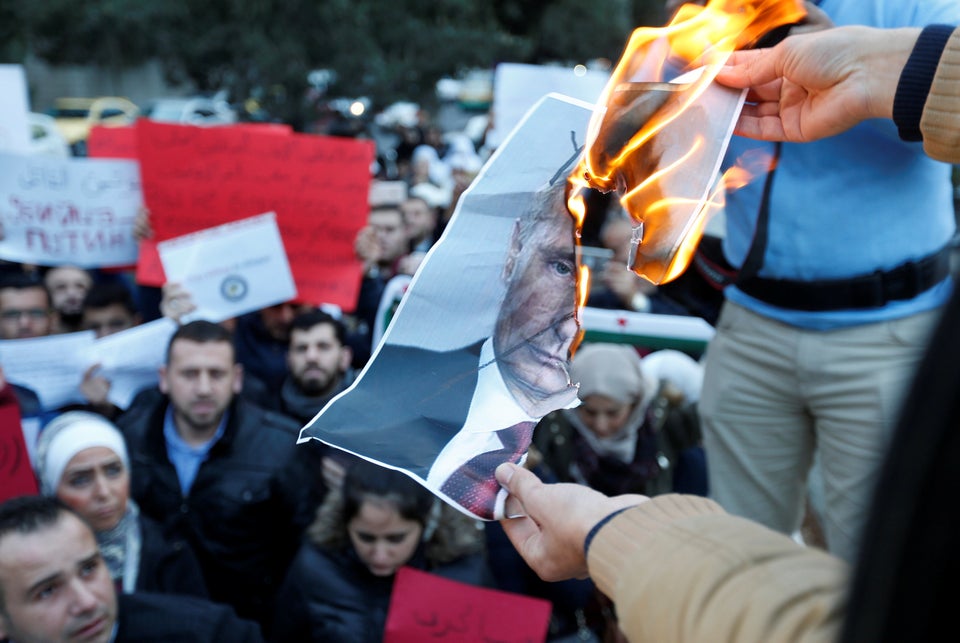 People Around The World Protest Russia's Role In Aleppo Killings
Popular in the Community