Hala Kamil waited as long as she could before fleeing Aleppo with her four children. Now safely resettled in Germany, she said she feels farther than ever from home as she watches the Syrian regime and pro-government forces retake control of her city.
"After this silence from all the world I don't think there is any chance to return to my homeland," she said last week in a video recording from Goslar, Germany, where she now lives. "So I will stay here without any address, without any history."
Kamil and her children, Hammoudi, Helen, Farah and Sara, are the subjects of "Watani," an Oscar-nominated documentary filmed by German director Marcel Mettelsiefen over the course of three years. The title means "my homeland" in Arabic.
I don't think there is any chance to return to my homeland.

Hala Kamil
Kamil and her family lived in Saif-al-Dawla, a middle-class neighborhood in eastern Aleppo. Her husband, Abu Ali Slaibeh, joined the Free Syrian Army, one of the largest rebel factions in control of the eastern part of Aleppo, after war broke out in Syria in 2011. In late 2013, he was captured by fighters from the militant group that calls itself the Islamic State.
Kamil used to harbor dreams of returning to Syria after the war. But three years on, the fall of Aleppo and the major defeat for rebel factions have led her to believe her husband is gone for good, she said.
"We lost hope," she said last week. "I miss my family, I miss my home, I miss my garden. I want sometimes to be in my garden to drink coffee with my husband. But now, I lost this dream."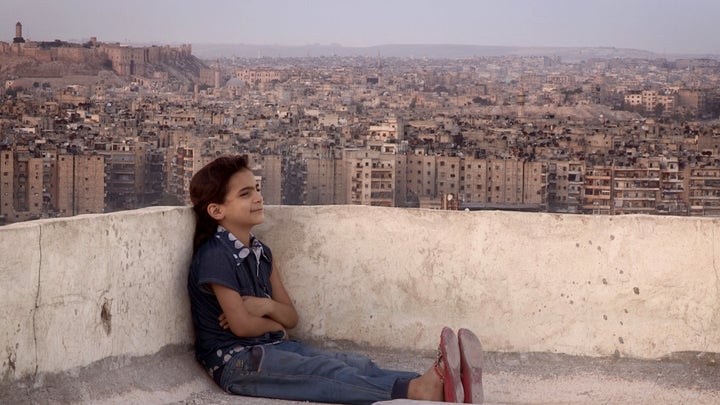 Mettelsiefen was by the family's side before Slaibeh was captured ― they also featured in an earlier documentary of his, "Children of Syria." He stuck with them during the moments when they decided to flee, and was there throughout their journey to Europe and even over the course of their transition in Germany. He traveled to Syria more than 25 times to film the family, he told The Huffington Post.
Kamil made the decision to stay in Aleppo for a whole year after her husband's capture "until she realized that she couldn't stay, it was too dangerous," Mettelsiefen said. 
"The children said, 'We don't want to leave, we want to stay with our father,'" he added. "Everybody was kind of bound to the father, to the country. But a lot of people I talked with said how selfish it is as parents to decide for their children to stay in such a place where they might get killed."
The family made it to Turkey at the end of 2014, where they applied for asylum in Germany from a refugee camp. They were part of a lucky group to have their claims granted, before the swell of migrants and refugees began making their way into the country daily. Germany took in a record 1 million people in 2015.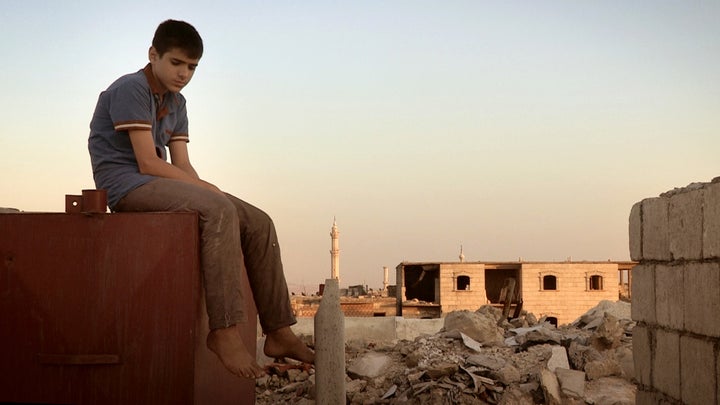 The film shows how each family member tries to cope with the resettlement process. Kamil's three daughters adjust to life in Germany relatively quickly. They pick up German and make friends. Thirteen-year-old Helen, the eldest girl, even stops wearing her hijab, despite her fear that her mother will judge her.
Hammoudi, Kamil's 15-year-old son, hangs on to his heritage a little more tightly, reading the Quran at night and promising to enroll at the local mosque.
"I think we should have stayed in our country," he says at one point. He talks about viewing Germany as a stepping stone, a means to an end. He looks forward to the day when he can return to Syria.
Kamil, meanwhile, still lives in a state of limbo without any news of her husband. 
"I'm now dead," she says in the film. "I've been dead for two years, but anything new must be built on ruins, and on people you've lost in the past. I let something very big inside me die."
Kamil's children understand their mother is in pain. Mettelsiefen juxtaposes shots of the kids socializing at school with solitary shots of their mother, standing at the window and suffering in silence.
"You can see it on her face that she's not happy," Sara, 7, said.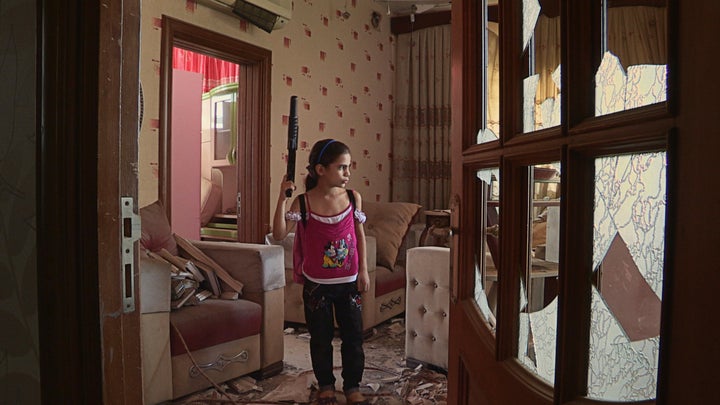 The trials and tribulations of Kamil's family are intended to illustrate the larger refugee experience in Germany, Mettelsiefen said.
"Once people arrive in Germany, everybody is going through the same thing," he said. "They never ever wanted to come in the first place. They were forced to leave."
There is a silver lining. Kamil's family no longer lives in fear of airstrikes and shelling. And Goslar, the central German town where they've resettled, is particularly eager to welcome refugees. 
Kamil and her children could be considered some of the lucky ones, Mettelsiefen said, compared to the hundreds of thousands who had to make the journey to Europe on packed boats across the Mediterranean ― and the thousands who did not survive the crossing. In Kamil's case, the German government offered her and her children plane tickets, a new house and a monthly stipend as part of their asylum package.
But none of that has caused Kamil to forget the life she left behind, Mettelsiefen added.
"The pain is still there," he said. 
Calling all HuffPost superfans!
Sign up for membership to become a founding member and help shape HuffPost's next chapter
BEFORE YOU GO
PHOTO GALLERY
Syrian Regime Closes In On Aleppo