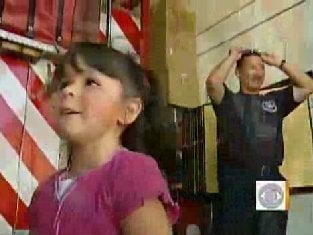 Swift action by 3-year-old Alesaundra Tafoya potentially saved the life of her dad Frank Tafoya on Friday outside Stockton, California.
The little girl walked to a local fire station two blocks away after her father collapsed, and told firefighters he was "frozen," per AOL News.
Members of the fire department were in awe of the sight and quick to react.
"I've been here over 20 years, it's the first time I've had a three-year-old walk up to the fire station," Captain Robert Villalovoz told local media. "She walked us down to her house and there her dad was, sitting in the living room, needing medical care."
The father, Frank Tafoya, had apparently taken a mixture of medication that did not agree with his body, causing the collapse.
WATCH THE VIDEO BELOW TO LEARN MORE:
Related
Popular in the Community