Mornings are often the most coveted part of the day, especially for business executives and startup co-founders. It's the time of day that many find that they are most productive and efficient, as the outside world has not yet had a chance to bombard them with distractions and emails. In the past, most people have looked towards studying how CEOs start their day, like Bill Gates and Richard Branson. The Guardian wrote a post called "What Time Do CEOs Wake Up" showing that not one of the CEOs they interviewed woke up later than 6:20 a.m. and dove straight into either email or exercise -- sometimes both.
However, what we never really get to hear is how young startup co-founders and rising tech wiz kids spend their mornings. Just from asking a few of my entrepreneur friends, it seems like there is no steady pattern of sleep, exercise regimen or "usual time" they get into the office. The whole notion of waking up early in order to be productive and succeed also seems negligible.
Aaron Levie, the CEO of Box, admitted to Geekwire.com in a recent post that he wakes up around 10:30 or 11 each morning and goes to bed at 3 a.m. This is the CEO of a company that is now valued at $1.2 billion. Seven hours is still seven hours right?
Though there may not be any identifiable or obvious pattern of success now, I'm going to try to find out by interviewing a series of young entrepreneurs and go-getters. They are fresh, hungry, college drop-outs, current students or recent graduates that either have their own companies, developed their own breakthrough technology and at the very least, already impressed the world with what they've accomplished at such a young age. I start with Alex Banayan, the 21-year-old author and VC.
Banayan became a venture capital associate at Alsop Louie Partners at the age of 19. According to Fortune magazine, Alsop Louie currently manages over $150 million. Banayan works with the firm year-round to navigate the trenches of entrepreneurship and identify the next big trends and startups in Silicon Valley. It doesn't stop there. Soon after he landed the job at Alsop, Alex became the youngest business author to sign with Crown Publishing Group, the largest imprint within Random House Inc. In the book, Banayan tracks down the world's most successful people in order to learn from them and uncover how they launched their careers.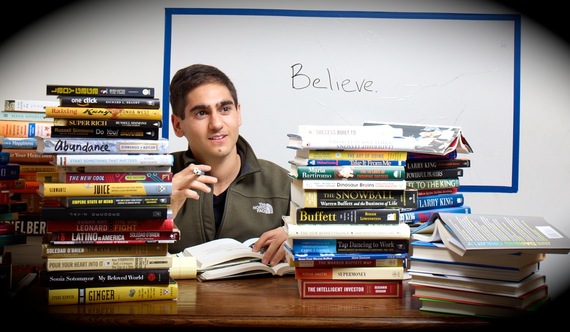 So, how does Alex spend his mornings? In a recent interview, I got the answers:
1) What time do you wake up?
2) What is the very first thing you do in the morning?
I shower, get dressed and go straight to my personal office -- which used to be a storage closet before I converted it.
3) Walk me through a "typical" morning for you.
5:30 a.m.: Wake up and get ready
6:00 a.m. - 11:00 a.m.: Write
11:00 a.m.: Workout
4) If there is one thing you could change about your morning schedule and habits, what would it be?
I wish I could stay away from using my phone in the mornings. At some point in my routine I usually respond to text messages and simple emails, and that really drains my morning bandwidth. It's something I'm working on.
I asked later why he specifically writes from 6:00am to 11:00am. He replied by saying:
The way I like to structure my day is that I put the most creative tasks first (writing, brainstorming, editing, etc.) and I put my most straight-forward tasks at the end of the evening (emailing, in-person meetings, etc.). I've learned that I'm most creative first thing in the morning and I'm more talkative as the night goes on, so I plan my day around my natural style. If you schedule your most important tasks for first thing in the morning and accomplish them -- no matter what pops up later in the day -- you still got done what you cared most about.
Alex is the first look into the morning schedule of a young, high-achieving professional. Stay tuned for more interviews, insights and morning mantras.
Photo Credit to Gregg Segal (http://www.greggsegal.com/)
REAL LIFE. REAL NEWS. REAL VOICES.
Help us tell more of the stories that matter from voices that too often remain unheard.