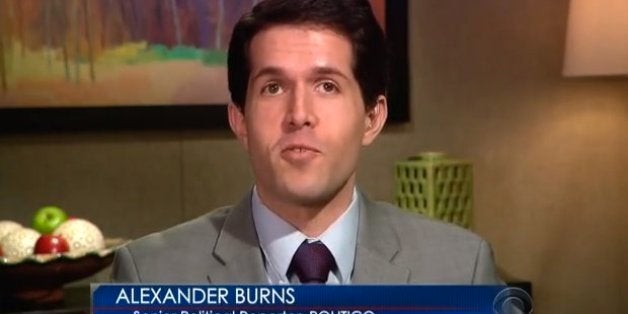 NEW YORK -- Alex Burns, recently a senior political reporter for Politico, has joined The New York Times as Metro political correspondent, according to a memo obtained by The Huffington Post.
In the memo, Metro editor Wendell Jamieson and deputy Metro editor David Halbfinger noted that Burns follows in the footsteps of some big bylines at the paper: Adam Nagourney, Pat Healy, Michael Barbaro and Todd Purdum. The latter now writes for Politico and Vanity Fair.
The Huffington Post reported last month that Burns, who spent six years at Politico, had left the news organization and was in talks with the Times about a job covering city and state politics.
Burns' hire follows that of reporter Maggie Haberman, who was his co-blogger at Politico during the 2012 election. Haberman left Politico earlier this month to become the Times' presidential campaign correspondent. The Times previously snagged Jonathan Martin, another Politico star of the 2012 election, to be the paper's national political correspondent.
Folks:

The job of Metro political correspondent has made some pretty big names at The New York Times – names like Purdum and Nagourney, Healy and Barbaro. We are pleased to announce that, after quite a long search, the job is going to someone whose byline already carries considerable weight in national political circles: Alexander Burns.

Alex comes to us from Politico, where he started during the site's garage-band phase, during the 2008 election. He was hired a week out of college as a researcher-reporter; by 2012, he was covering the presidential race and holding down one half of the powerhouse "Burns and Haberman" campaign blog. As a senior political reporter the last two years, he has focused increasingly on political storylines unfolding outside of Washington, including the rise of Republican power in the states and the Democrats' dominance of (and dependence on) big cities and the mayors who run them.

But Alex was impatient to get into the trenches of politics at the local level, where political reporting can often have the greatest impact and the most direct effects on people's lives. And he was eager to cover the city where he was raised. With Bill de Blasio facing the first big crises of his young administration, Shelly Silver in hot water, and Andrew Cuomo doubling-down with an ambitious vision for his second term, the timing couldn't be better. Although Alex accepted our offer to join us in October, he took some time to visit close family abroad. Now he's all set to dive in.

The son of two educators, Alex grew up in Riverdale, in the Bronx. He attended the Fieldston School and graduated from Harvard, where he was editor of the Harvard Political Review. He also spent close to two years as a researcher for Doris Kearns Goodwin, combing through the papers of a failed New York City mayoral candidate (Teddy Roosevelt) for "The Bully Pulpit: Theodore Roosevelt, William Howard Taft, and the Golden Age of Journalism."

Alex worked in Washington for the first time in 2007 as an intern for National Journal, and has pined for his hometown ever since. He is a supple writer with an agile mind. Just consider his pieces for Politico about how voters are idiots, and for National Journal on how the media should be ashamed for portraying voters as idiots.

Alex is moving to New York along with his wife, MJ Lee, whom he met in the Politico newsroom and who starts this month at CNN. He will start here on Feb. 1.

Please welcome the newest member of Metro's heavyweight political team.

Cheers,
Wendell and David
Popular in the Community