On its face, this doesn't seem surprising. Castellanos previously advised primary candidate Mitt Romney in the 2008 presidential race. He is a staple on CNN, where he frequently opines as a conservative political commentator, and the chairman and founder of the consulting firm Purple Strategies. The super PAC he will lead, called Rebuilding America Now, is backed by real estate investor Tom Barrack, a longtime Trump friend.
What makes Castellanos' latest career move so striking, however, is his past sharp attacks against the GOP's presumptive nominee.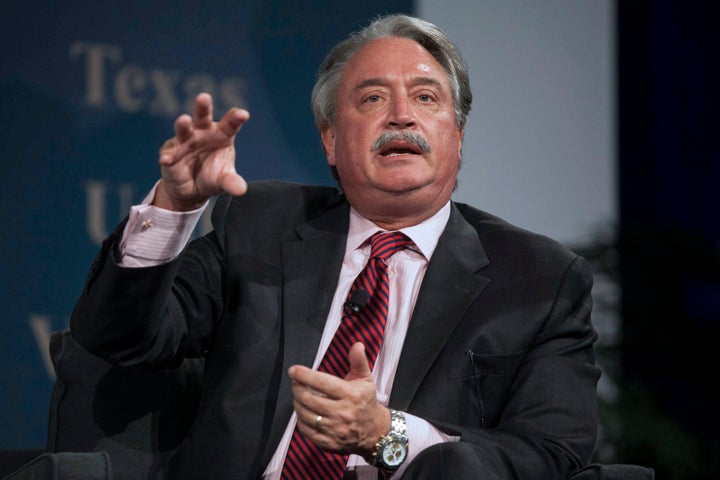 Castellanos, a Cuban American, didn't simply speak out against the corrosive influence of Trump's candidacy on demographic groups that the GOP needs to curry favor with. Last fall, he actively urged top Republican donors to back an anti-Trump campaign, one of the earliest organized efforts to try to deny the controversial real estate developer the nomination. It failed, obviously, but it paved the way for the broader #NeverTrump movement, whose members are still holding firm -- for now.
Castellanos isn't the only member of the GOP establishment to perform such a brazen about-turn on Trump's candidacy. In recent weeks, senior GOP leaders who used to proudly denounce the man and his incendiary rhetoric toward minorities (here's looking at you, House Speaker Paul Ryan) have slowly joined the fold.
But Castellanos' evolution is perhaps one of the best examples of how the GOP is shifting on Trump, from initially dismissing his slurs and calls to bigotry as antithetical to the Party of Lincoln, to celebrating him as the candidate who could retake the White House.
Last August, after Trump rocketed to the top of the polls, Castellanos wrote a searing CNN op-ed in which he called the businessman a "strongman" with no true positions who would execute a mass power grab once elected to office.
"He is not a Republican or a conservative," Castellanos declared. "If we want to keep our future in our hands, we shouldn't put it in his."
That was once a common refrain among conservatives, which Trump's rivals foolishly failed to embrace, focusing instead on infighting amongst each other.
He is not a Republican or a conservative. If we want to keep our future in our hands, we shouldn't put it in his.

Alex Castellanos, opining on Donald Trump last year
Later that fall, Castellanos teamed up with former top Romney aide Gail Gitcho in reaching out to dozens of the party's major donors -- including casino magnate Sheldon Adelson, who is now supporting Trump, and hedge-fund manager Paul Singer -- in hopes of forming a super PAC to take down the former reality TV star. As part of the pitch, Castellanos "produced ads portraying Mr. Trump as unfit for the presidency," according to The New York Times. The two strategists even argued that with Trump at the top of the ticket, the GOP would "lose the Senate, competitive gubernatorial elections and moderate House Republicans."
That, too, was a concern shared by top congressional Republicans. Before ultimately warming to him, Senate Majority Whip John Cornyn (R-Texas) warned in February that Trump's candidacy would be an "albatross around the down-ballot races."
In January, Castellanos blamed the GOP for Trump's rise, telling ABC that "we don't appeal to young people, we don't appeal to millennials, we don't appeal to young women, we don't appeal to minorities. We appeal to only cranky old white guys like me."
After multiple Trump victories on March 1, Super Tuesday, resignation began to set in. Castellanos told The Washington Post that it was "too late" to stop Trump from winning the nomination. "If Trump is going to be our nominee, as I believe he is, it is our mission to support Trump and make him the best nominee and president possible," he added.
But the Post noted helpfully, Castellanos said he had "no interest working for the real estate mogul's campaign."
He still found plenty wrong in Trump's approach in early April. Regarding the candidate's immigration plan and his proposal to build a wall along the U.S.-Mexico border, Castellanos predicted there would be a "cleansing" after Trump lost the primary race.
"And I think you will see a new, and better, and more optimistic, solution-oriented Republican Party going into the general election," he said.
Within a month, however, Castellanos' capitulation was complete. In a CNN interview in early May, he urged fellow Republicans to hold their noses and rally around Trump because Clinton would be a far more disastrous option.
"You know, when nothing is working, the most dangerous thing you can do is more of the same," he said. "And that's the choice I think is going to unite a lot of Republicans to say, look, forget never Trump. This is about never Hillary."
Many Republicans previously wary of Trump have taken this advice with gusto. Ignoring much else, they have talked themselves into supporting Trump by citing his list of potential Supreme Court nominees. They have convinced themselves that Trump would control himself and respect limits on executive power once in office, as Senate Majority Leader Mitch McConnell (R-Ky.) said last week. It is a dubious bet given Trump's penchant for reversing himself on every issue seemingly every week.
That Castellanos is willing to hold his own nose in support of a Republican candidate shouldn't actually shock anybody. He has done it before.
In 1990, he produced an infamously racist ad (see above) on behalf of the late Sen. Jesse Helms (R-N.C.), who was known for opposing all kinds of civil rights measures, from racial issues to gay equality. (Helms even fought the establishment of a federal holiday in honor of Martin Luther King Jr.) The ad, entitled "Hands," featured a pair of white hands crumpling a rejection letter as the narrator intoned that the job had gone to "a minority because of a racial quota."
It was a prime example of the "Southern Strategy," which the GOP has employed to various degrees for decades. Now Trump's campaign makes similarly unapologetic appeals to racial and cultural resentment among working-class whites. 
Calling all HuffPost superfans!
Sign up for membership to become a founding member and help shape HuffPost's next chapter
BEFORE YOU GO
PHOTO GALLERY
Potential Trump VP Picks