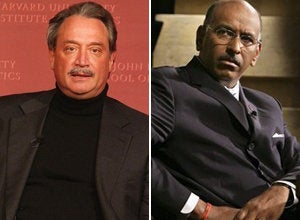 When Republican National Committee Chairman Michael Steele was suffering from one of his earlier political crises -- a series of communications gaffes that had fellow Republicans scratching their heads -- he sought to stem the bleeding by bringing in noted GOP strategist Alex Castellanos as a confidant.
The arrangement was always a bit hazy but the message was quite clear: the newby Steele was turning to the old guard for guidance. The ship, in short, would quickly be righted.
Flash forward four months and one massively embarrassing spending scandal later and it seems quite clear that even Castellanos now views the Steele tenure as unpalatable for Republicans. On Tuesday, the longtime CNN contributor went on air to make it very clear that the chairman should step down for the good of the party.
Here are a few of the (many) choice Castellanos quotes.
"Chairman Steele I think has lost the support of two important constituencies in the Republican Party. One is our most successful candidates, our leaders on the Hill in the House and Senate... But more importantly, he's lost the support of a lot of our major donors, the donors who provide the money, the lifeblood, the oxygen the Republican Party needs to succeed on its mission to take back control of the House."
"This is nothing personal. This is about a party that has a cause, and that is rescuing this country from bankruptcy. And we have a responsibility as Republicans, I think, to provide the support that our candidates need to do that. And right now, I don't think that you're seeing a lot of that money that is frozen, it's not coming into the Party, and perhaps a change in leadership here would thaw that and allow that support to flow."
So, what do you want Michael Steele to do?" host Wolf Blitzer asked.
"I think what you're going to see is you're going to see some of the members of the Republican Executive Committee... are going to have to have a come to Jesus moment... and either come to terms with Chairman Steele on what he's going to do and conduct himself through the next election, or else take a different direction. And I think sometimes a change in leadership would be a good thing."
You want him to resign for the good of the party? Blitzer asked.
"For the good of the party it would be good. And, again, it's not about one person, but without that financial support -- look, we're not going to be as successful as we need to be for the country, and that's important for all of us.... We can't have one hand, the RNC, tied behind our back."
"I do think that without the support of our major donors and without the support of our leaders on the Hill, our party won't be as successful, and I think the executive committee needs to look at this and say we still have seven months to go to pull our act together. Should we suffer through seven months as we or do we, in fact, need to make a change now? I think a change at this moment would be a good thing."
Popular in the Community