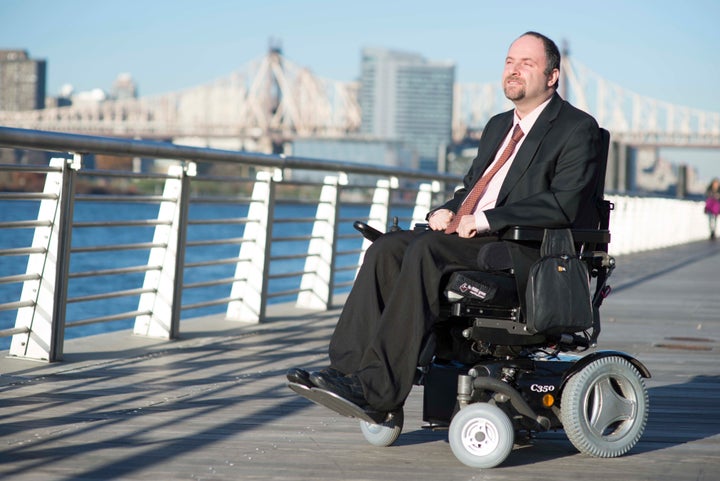 As New York City takes drastic action to fix its ailing subway system, the transit network remains inaccessible to many people with disabilities.
Critics have been vocal about the subway system's lack of elevators, incomprehensible speaker system and inconsistent communication about construction or outages, to name a few shortcomings. And it seems like the Metropolitan Transportation Authority, which oversees the subway, is finally listening.
The MTA appointed Alex Elegudin in June as the agency's first-ever accessibility chief. Elegudin, who uses a motorized wheelchair, is tasked with making the subway better for people with disabilities.
The MTA is notoriously slow to implement change. But just three months into his tenure, Elegudin is already talking with disabled New Yorkers to find out what changes they actually want. One of his biggest goals, as part of the MTA's ambitious Fast Forward plan for rapid improvements to the subway, is to make 50 additional stations wheelchair-accessible within five years.
A former patent attorney, Elegudin switched careers to advocate for people with disabilities before joining the MTA in his new role. "There are thousands of other attorneys in New York City who can do the job that I was doing, but not a lot of people taking on this kind of disability advocacy role," he told HuffPost.
We spoke with Elegudin to learn more about his plans for the New York City subway system.
What are the challenges of using the subway system as a wheelchair user?
I think it's gotten a lot better over the years, but it is a challenge. For power-wheelchair users, one of the biggest challenges is the gap [between the train and the platform]. Sometimes I wait for one or two trains to come through before I feel like the gap is acceptable.
The other big challenge is elevator outages. If an elevator is out, you're not going to make it to wherever you're going. It takes quite a while, sometimes hours, to go to another station, wheeling back around, or going above ground and getting out above.
In your new role as the MTA's accessibility chief, what are some of your top priorities?
We're doing a big review of all trainings and preparing an agency-wide training to make sure that all New York City transit employees are properly interacting with customers with disabilities, and that they have an understanding of disability advocates and proper sensitivity. We think that a lot can be gained in terms of the experience of a customer with a disability in that interaction.
We also want to improve communication about elevator and escalator outages. We want to make sure that people have that information as they prepare for their trip. There's really nothing worse than getting to an elevator when it's not working.
When will those changes be implemented?
We're looking to roll out the full-blown disability etiquette and sensitivity training to all New York City transit staff by the end of the year, or very early in 2019. In terms of improving communication and the way outages are reported, I also believe that will happen within a year, in early 2019.
There have been three class-action lawsuits filed in the last couple years over compliance with the Americans with Disabilities Act. How do you respond to criticism about the subway's lack of accessibility?
I can't comment on pending litigation, but I can say that we are taking a firm and aggressive look at improving accessibility in our system. We completely own up to the fact that we have to do better. We hope that we ultimately end up on the same side as those suing us, in the sense that we really do believe the system needs to be more accessible.
In May, the borough presidents of Brooklyn and Queens sent letters to the MTA about not prioritizing the needs of people with disabilities ahead of the looming L train shutdown between Manhattan and Brooklyn. This construction project will last 15 months and force people to use different subway stops, many of which are not wheelchair-accessible. What's the plan for helping people with disabilities during that time?
Yes, the L train shutdown is going to be challenging, but it's ultimately a project that needs to be done. Alternate paths have been explored and created, including lots of new bus routes, to help facilitate quick access across the Williamsburg Bridge into Manhattan.
Most of the significant portion of the L train network in Brooklyn will still remain active. And whichever stations are accessible along that route will still be available to persons with disabilities. As we're doing some of the L train shutdown work, we're also making accessibility improvements to some stations.
There are a lot of people in New York who may not have physical disabilities, but who have visual disabilities or intellectual disabilities. Are you keeping them in mind when you're working on all these improvements?
Absolutely. I look at everything from the perspective of four categories of disability: mobility impairments, visual impairments, those who may be deaf or hard of hearing, and those who may have developmental or intellectual disabilities.
When it comes to an individual who may be hard of hearing or blind or visually impaired, it's all about communication and wayfinding. For example, if there's an announcement, we need to visualize that — make it something that's readable on a screen. We are looking at using technology in the form of apps and getting messages to folks right on their phones.
For those who can't see, we need to make sure that everything is being read out loud. Are we announcing train stops and bus stops? Are we working on things like tactile pathways? Are we using technology to help people get around our systems? Some of them are long-term, some of them are short-term, but those are on the list in terms of improvements we're looking to achieve.
Since I've been in this role, many organizations, groups and individuals have reached out to me and wanted to talk, and I've been doing that. A lot of these groups have never had a chance to meet with somebody who is at the executive level at the MTA, bring their ideas and ask questions about what's being done.
On a larger scale, this fall, we will have more events open to the public, bringing the community here to hear what they have to say. We also want to make sure that they know what we are doing before we do it. We're very committed to making sure things are previewed and everybody knows everything before it hits the press.
Ultimately, what will success look like to you in this role?
I think one of the biggest points for me would be a cultural shift where accessibility isn't done in a way of what's minimally required. Over my time, if we can raise the prominence of what accessibility means and how important it is, and for the future that it is always considered, I think that would be a huge success.
This interview has been edited for length and clarity.
Related