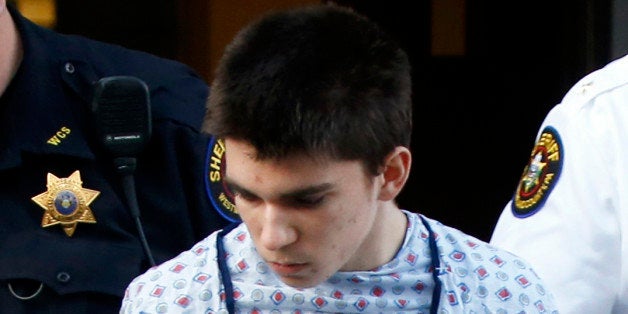 Some of the 21 people stabbed at a western Pennsylvania high school testified on Monday about their horrific wounds, urging a judge to "fix evil" by trying their classmate as an adult.
Alex Hribal, 17, is being held in a juvenile jail on attempted murder charges in the April 2014 attack at Franklin Regional High School in Murrysville, Pennsylvania. Hribal, who was 16 at the time of the incident, is accused of slashing 20 classmates and a security guard with two 8-inch kitchen knives.
Hirbal, who has pleaded not guilty to the charges, suffers from pre-schizophrenia symptoms and suicidal tendencies, according to court documents.
At a hearing to help Common Pleas Judge Christopher Feliciani decide whether Hribal should be tried as an adult or a juvenile, victims testified about the terror they experienced that school morning.
ADVERTISING
"It was wet and I could feel that my lip wasn't attached to my face anymore," said Katie Lonergan, who recalled thinking her attacker was approaching to ask a question when he slashed her face, leaving a scar on her upper lip.
Greg Keener, 17, said he vomited and his liver popped out of his body after he was stabbed in the torso. Repair of his wounds required more than 20 surgeries and he suffered nightmares and flashbacks following the attack, he said.
Connor Warwick, 17, said a knife went through both sides of his stomach, nicked his liver, gallbladder and pancreas and one of his lungs collapsed.
"I looked down and I saw I was gushing blood everywhere," Warwick said.
He urged the judge, who will rule at a yet undetermined date, to send the case to adult court.
"I don't really think they can fix evil with pills, so I think definitely adult court," Warwick said.
Lonergan also said she believed he should be tried as an adult.
"Whenever you do something that bad you can't be let out so soon," she said.
If Hribal is convicted in juvenile court, he could be released when he turns 21, according to prosecutors.
Assistant Principal Sam King testified that he tackled Hribal, who said: "'I am not going to drop the knives, my work is not finished, there's more people to be killed.'"
Hribal's lawyer Patrick Thomassey called several mental health professionals who testified that Hribal's untreated psychiatric disorders were to blame, saying he was obsessed with the 1999 Columbine school shooting in Colorado.
(Reporting by Elizabeth Daley; Editing by Barbara Goldberg and Eric Beech)