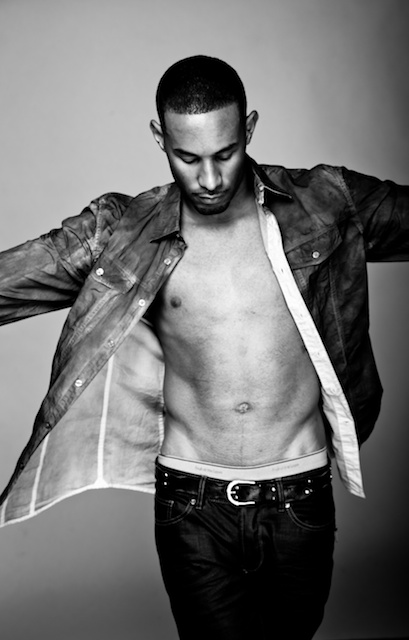 With only two EP's to his name, emerging recording artist and songwriter, Alex Jacke's soothing vocals, enticing lyrics, charm and rapidly growing fan base are enough to give R&B veteran, Trey Songz and newcomer, Travis Garland a run for their money. The summer 2012 release of his first EP, DFM ,trailed by its sequel, DFM Deluxe shortly thereafter, has captured the hearts of listeners worldwide. It is no wonder Jacke has earned a spot as a finalist in Macy's iHeart Radio Rising Star contest. But, behind the angelic falsetto and sensual lyrics, is the story of a man who allowed nothing and no one to stand in the way of his music reaching the world; not school, not his parents and certainly not the mainstream music industry. During our exclusive conversation, Jacke speaks openly about his decision to leave Morehouse College to pursue music full time, what inspired DFM and DFM Deluxe and what lies in store for his career in the near future.
You entitled your first EP Dorm F*ckin Music. Why that name?
My mind works in crazy ways. The songs I was writing were inspired by college relationships, casual and serious. That's where my emotions were. I had just come from college when I was writing in the studio with my team. I thought 'people are going to be [making love] in their dorms to this.' So when I decided on the name, it was romantic and real and provided an image of what that could be.
So, were you aiming to appeal to the college crowd?
AJ: Well, it's definitely intended for a college audience because of the subject matter. But, I think it's relatable to everybody because everybody can feel it. If you're in high school you're looking forward to college. If you're out of college you can remember those things [that happened in college], living in the moment and not caring about whats going on. I wanted to hit everyone with a foundation that would be in the college setting. It was the biggest way for the album to spread.
I understand you were close to the end of your career at Morehouse College when you decided to pursue music full time. What gave you the courage to leave school before receiving your degree?
I realized I was ready to leave around spring semester. I noticed I was never really in class; and when I was [physically] in class I wasn't there. I had to go to summer school to graduate on time. But I was always at the studio. So, my report cards were horrible. My parents were helping me out with money. I felt bad because [school] wasn't where I needed to be. All of my passion was in music. That's when I decided I was going to go full force with my music. I [eventually] came to Laney Stewart and played my stuff and was offered to be signed through Universal Music Group. Once that happened, there was no turning back. I talked to my parents and it all worked out from there.
How did your parents respond to your decision?
They always knew music was my thing. I remember in high school begging to drop out to pursue music. [My parents] thought it might go away. They came up to me about it once when they saw my report card. We had a little bit of a blowout. But, my dad called a few minutes later and said 'school is not for everyone. As happy as I would be to see you walk across the stage in May, I would be just as happy to see platinum records on your wall.'
So, how has your experience in the industry been so far? Have you run into any issues?
Well, moving back [to LA] has been great. But, there are times when things aren't moving as fast as I would like. Sometimes people look at me like 'are you for real?' They can't believe that I'm serious about what I'm doing and feel like its not achievable. Musically, there are days when I feel like I'm super creative and then there are days when I feel like I suck. Those are just the emotions of life. There are good days and bad days. It's always about the journey and the destination.
How do you stay grounded and focused, not letting those things get to you?
Having guidance and help from my team is a big factor in me staying on top of [things] and wanting to be better. I do vocal exercises everyday. Music has become like my religion in terms of me practicing and the things I do to be the best that I can be.
So, what does your daily grind consist of?
This is it. My daily routine kind of starts with making breakfast and working out, running and singing and going over my performance tapes. I study Gene Kelly, Fred Astaire, Usher and The Rolling Stones to see what I can pull and learn from them. It's a 24-hour thing of me focusing on myself and getting better.
What is your writing process like?
I can never plan where my writing is going. The creative writing process for me is always ongoing. It never stops.
I noticed that you sing in falsetto on most of DFM and DFM Deluxe. What influenced your vocal style?
My vocal style just developed through listening to different music. I love [Donny] Hathaway because you can feel his emotions through his vocals. If a song is sexy you want to be soft and delicate. That's how I handle those situations. I listen to a lot of Marvin Gaye and Robin Thicke. Marvin Gaye is who spoke to me at the time [of DFM]. The songs gave me that [Marvin Gaye] vibe melodically and emotionally. I took a lot from Aaliyah [as well]. When I heard "Enjoy the Ride" it all gave me that [Aaliyah vibe].
What did you think of this year's Grammy Awards? Did you go?
I'm not going until I'm nominated. But, I partook in the festivities. I feel like the Grammys is an important thing, something I've been dreaming about since I was a kid. But, the purpose of being there is to win or to be recognized for work that you have put out. I believe it will happen for me soon. Being there would be cool. But, unless you win or are nominated what is the purpose? I'd rather be working.
"It's Time to Get Sexadelic"
How would you describe your personal style and brand?
One thing about me is that I am honest and very true to myself and my work. The DFM body of work was not concerned about going after radio. My brand is to give you quality work. There is a sexual aspect to me, but that is [also] the time and place I'm [in]. But, I'm fearless and ready to go wherever. I am trying to explore different types of music and that is what is next for me.
Do you plan on moving forward with your current team on future projects?
As I grow, everyone around me is growing. My team is the team I started with from the beginning when I was putting out covers. We have good chemistry. I see myself using this team throughout the duration of my career because they know me best. This is more than business. It is family. My team is open to see me going wherever. We all have the same vision.
What we set out to do we are achieving. I'm loving the feedback and how many people are being affected by my music. That is affecting me. I'm so thankful for the fans' appreciation. It makes me want to keep going and that is what is next.
Listen and download DFM and DFM Deluxe at Alexjacke.com
Popular in the Community