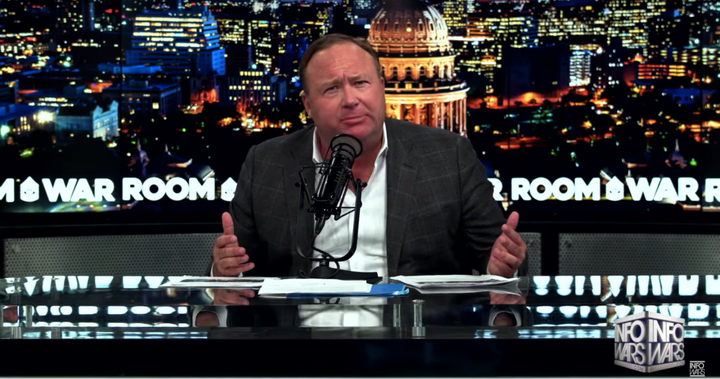 Alex Jones' conspiracy playbook isn't going to work anymore if a new lawsuit prevails.
A defamation lawsuit, filed in U.S. district court in Charlottesville, Virginia, on Tuesday against the Infowars mouthpiece and others, seeks to stop them from launching the kind of character assassinations against innocent people that have led to real-world harassment campaigns, death threats and other violent episodes.
Jones' claim sounds ridiculous because it is. After Gilmore's video went viral, Infowars and other far-right outlets latched onto his occupation ― he is a foreign service officer with the State Department ― as proof that there were "high-level CIA" and other operatives behind the violence in Charlottesville. As it turns out, white supremacists were behind the rallies, and white supremacist James Alex Fields Jr. was allegedly behind the wheel of the car that ran over Heather Heyer. Gilmore just happened to record the killing.
"What we now see is a pattern of attacks that politically motivated outlets like Infowars and the Gateway Pundit launch against witnesses and other victims of tragedies," Gilmore said in a conference call with reporters on Tuesday. "They twisted [my] service into a story that I was a deep-state operative who had a role in organizing the violence that we saw in Charlottesville to undermine the Trump administration."
Ever since Jones came after him, Gilmore has been the subject of all sorts of harassment, both physically and online. He's received death threats and hacking attempts; he's been physically accosted on the street; numerous videos featuring his name have been made about the pseudo-conspiracy; and his parents' address was posted online, after which they received an envelope with a "powdery residue" and a threatening note, according to the lawsuit.
"As all of you know, everybody from the Communist Party U.S.A. to five different individuals that have worked directly for Hillary Clinton have filed completely baseless and frivolous lawsuits against Infowars."
Gilmore is suing Jones, Gateway Pundit owner Jim Hoft, former Rep. Allen West (R-Fla.) and others for "intentionally inflicting emotional distress" on him and his family members. His goal, he said, is to deter them from "repeating this dangerous pattern of defamation and intimidation."
What's perhaps most important about this particular lawsuit is that Gilmore and his legal counsel, Georgetown Law's Civil Rights Clinic, don't plan to back down if Infowars offers a settlement, as others have done in the past.
"There is no amount of money we would settle for," Gilmore told HuffPost on Tuesday, noting that he hopes a judgment against Infowars will set a "legal precedent" for future suits.
Both Gilmore and his attorney emphasize that the lawsuit is not an attack on the First Amendment or journalism.
"The First Amendment does not and cannot protect deliberate lies designed to incite incessant harassment and violence against private citizens," said Andrew Mendrala, supervising attorney at the Georgetown clinic and Gilmore's lawyer. "This case is a simple defense of democracy. A well-informed public is essential to a healthy democracy. But a deliberately misinformed public is fatal to it."
Jones is the megaphone through which numerous conspiratorial internet murmurings have been broadcast to the masses. Pick any American tragedy ― or, on a slow news day, pick anything ― and you'll find videos featuring Jones, rabid and red-faced, pushing a paranoid fantasy dreamed up on anonymous forums. According to Jones, the teens who survived the deadly mass shooting in Parkland, Florida, are crisis actors; Hillary Clinton is tied to a secret society of pedophiles under a pizza restaurant; juice boxes make your kids gay; the Chobani yogurt company was "caught importing migrant rapists"; and so much more.
When Jones is caught out, he claims victimhood, apologizes and then relents, often because he's legally bound to do so. He apologized and retracted his Chobani stories as part of a settlement over his claims that the company was importing refugee workers who had raped a child. He apologized for promoting "Pizzagate," which had inspired a gunman to enter a Washington, D.C., restaurant and fire a semi-automatic rifle. In a custody battle over his children, Jones' lawyer told the court that "he's playing a character" and "is a performance artist," not a raving lunatic.
This time, though, Gilmore insists there won't be a settlement that caters to Jones' preferred method of asking forgiveness later. Has that given the Infowars host pause? Hell no, commies!
"As all of you know, everybody from the Communist Party U.S.A. to five different individuals that have worked directly for Hillary Clinton have filed completely baseless and frivolous lawsuits against Infowars," he said in a new video about the current suit.
He then went full Alex Jones: "It's like 'Pacific Rim' ― you know, it's a good entertainment movie ― they keep sending in the Kaijus to attack. First it's every year, then every month. Then it's like, OK, now we're gonna have five attacks a day. That's basically what it's like. All these lawsuits are run by Hillary lawyers, or people that work for Hillary and the State Department and the CIA. And Julian Assange is in the news from WikiLeaks, who's locked up for years up in his tower, saying Assange warns CIA officers flooding a Democratic Party for 2018 midterms to basically overthrow the country."
Popular in the Community