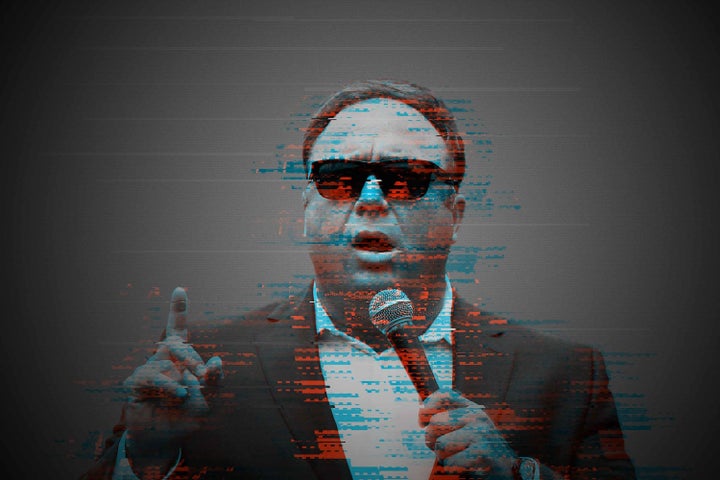 Conspiracy theory Alex Jones continues to deal with the consequences of calling the mass shooting of children a hoax.
Jones, the host of unhinged conspiracy outlet Infowars, was dealt another lawsuit on Wednesday after Scarlett Lewis, the parent of a child killed in the 2012 Sandy Hook shooting, decided to take action.
She is being represented by Mark Bankston of the law firm Farrar & Ball, who has levied several other lawsuits against Jones on behalf of the host's targets. Lewis is suing Jones over what she calls the "intentional infliction of emotional distress" over the last five years.
The court filing obtained by HuffPost cites numerous instances in which Infowars attempted to mislead or outright lie to viewers about the mass killing of 20 small children and six adults at Sandy Hook Elementary School in Connecticut in December 2012.
One 2013 video, "Why People Think Sandy Hook is a Hoax," attempted to explain away the shooting, according to the suit. Other videos and articles cited in the lawsuit include "Shadow Govt Strikes Again" and "Adam Lanza Link To Psychotropic Drugs," referring to the shooter.
The lies, which continued for years, caused multiple Sandy Hook families to become the targets of harassment by those following the conspiracies, the lawsuit says. Father Leonard Pozner, for instance, received threatening voicemails that eventually led to the arrest of 57-year-old Lucy Richards, who was banned from accessing Infowars as part of her sentence.
"Mr. Jones and InfoWars were well-aware of the unhinged community of
'Sandy Hook Investigators' they had fostered," the lawsuits says. "Mr. Jones knew that a large collection of Sandy Hook deniers were coordinating their harassment. Plaintiff and her family have suffered harassment and threats from this community."
Lewis said she came forward with her lawsuit after learning her family had also been a target of Jones.
"After learning that my family was specifically targeted in Mr. Jones' campaign of attacks, I have struggled with how best to address the profound distress he has inflicted," Lewis said in a statement provided to HuffPost. "In the end, I have decided that I must join those who are standing up against Mr. Jones and his despicable actions. I simply cannot allow the threat to my family's safety go unanswered."
Jones is also facing a defamation lawsuit against him brought by Marcel Fontaine. Infowars incorrectly identified Fontaine as the Parkland, Florida, shooter who killed 17 people at Marjory Stoneman Douglas High School on Feb. 14. Bankston is representing Pozner, Heslin and Fontaine in all of those cases.
Six Sandy Hook families in Connecticut have also filed a separate defamation lawsuit against Jones. In their suit, the families, along with an FBI agent who responded to the shooting that day, listed numerous videos by Jones with titles including "Sandy Hook Shooting Exposed As A Fraud."
Finally, Jones is facing a defamation lawsuit from Brennan Gilmore, who recorded the violent vehicular attack that killed 32-year-old Heather Heyer during last year's "Unite the Right" rally in Charlottesville, Virginia. Jones called Gilmore a "deep state shill" and a "CIA asset." (He's not.)
Lewis is seeking more than $1 million from Jones.
Read the new lawsuit below:
Related
Popular in the Community