Conspiracy theorist Alex Jones has apologized for his website's role in spreading a fake news story that inspired an armed man to storm a pizzeria in search of abused children in December.
Jones, who operates the website Infowars, had suggested that Comet Ping Pong in Washington, D.C., was hiding child sex slaves in its basement as part of a pedophilia ring supported by top Democratic politicians.
No evidence ever emerged that such activities took place — the restaurant doesn't even have a basement, as gunman Edgar Welch found out when he searched the premises. Jones cited government emails released by WikiLeaks that some people suggested contained "code words for human trafficking and/or pedophilia."
In a statement posted to his website and read Friday in a video broadcast, Jones blamed other outlets and social media sites for the "not appropriate" level of attention given to the restaurant and its owner, James Alefantis.
"Neither Mr. Alefantis, nor his restaurant Comet Ping Pong, were involved in any human trafficking as was part of the theories about Pizzagate that were being written about in many media outlets and which we commented upon," he said.
Jones further conceded that his "commentaries" about the suspected scandal relied upon "third-party accounts of alleged activities and conduct at the restaurant," as well as upon two unidentified reporters that he said "are no longer with us."
The radio host has endorsed several conspiracy theories, including claims that former President Barack Obama illegally wiretapped Donald Trump, that the U.S. government carried out the Sept. 11 terror attacks, and that the 2012 mass shooting at Sandy Hook Elementary School was a hoax.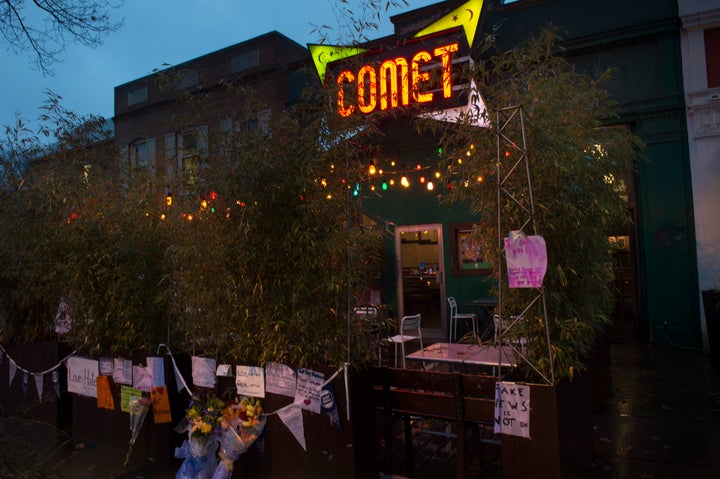 The North Carolina man shot an AR-15 rifle two or three times when he visited the eatery in December, The Washington Post reports. He also had .38-caliber revolver with him when he entered the restaurant.
Alefantis said he has continued to receive threats from people who aren't convinced that the pedophilia ring is a hoax.
On Saturday, one day after Welch entered his guilty plea, protesters outside the White House demanded a formal investigation into the rumored scandal. A similar protest was held outside Comet Ping Pong last week, Alefantis said.
"Honestly I wouldn't wish this on anyone," he told the Times. "These lies and falsehoods spread about me and my restaurant exist all over the place. The damage that has been done to my company and business and my community, all will remain forever."
The timing of Jones' apology suggests that he is more concerned about facing legal action than righting a wrong, The Washington Post pointed out.
Jones said Alefantis wrote to him in February, demanding an apology and retraction of his broadcasts and postings on Pizzagate. Texas law dictates that Jones, who is based in Austin, had exactly one month to respond to Alefantis' letter to avoid facing punitive damages in a libel suit. That deadline was Friday, the Post reported.
Alefantis said in a statement that he was pleased with Jones' apology and admission to having "repeatedly spread falsehoods about me and my restaurant," but added that he wishes this action was taken months ago.
A spokeswoman for Alefantis told the Post that the restaurant owner and his attorney are continuing to evaluate their legal claims.
Support HuffPost
The Stakes Have Never Been Higher
Popular in the Community