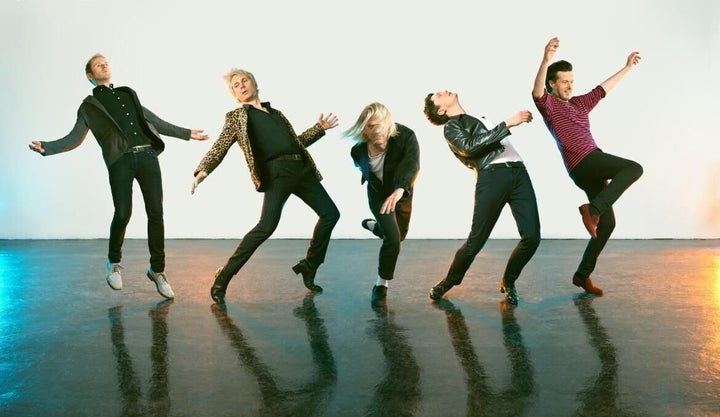 When Franz Ferdinand released "Take Me Out" in 2004, the song came in hot, to say the least.
The track, which appeared on the Scottish band's self-titled debut album, became a radio favorite in the U.K. and soon made its way to the United States. It eventually topped a number of year-end lists, with The Village Voice's popular Pazz & Jop poll naming it the single of the year. NME magazine ranked "Take Me Out" No. 16 on its 50 Greatest Indie Anthems Ever list, and in 2010, Rolling Stone put "Take Me Out" on its 500 Greatest Songs of All Time tally.
"Take Me Out" put Franz Ferdinand on the map, and the Scottish rockers have been at it ever since. Now they are just days away from releasing their fifth album, "Always Ascending." Described as an album filled with "catchy, dance-floor-friendly songs," the upcoming set marks a step forward for the band. 
Franz Ferdinand has a new lineup, too. Guitarist Nick McCarthy left to raise his family, so Julian Corrie (keyboards, guitar) has stepped in to join frontman Alex Kapranos, bassist Bob Hardy and drummer Paul Thomson. Dino Bardot (formerly of the Glasgow three-piece group 1990s) has come on board as well. 
I caught up with Kapranos by phone in January ahead of the new album release. 
Are you in New York right now?
I am, I'm actually backstage at "The Tonight Show." We're doing Fallon tonight, so yes, I'm just sitting in the dressing room here.
Do you ever get nervous about that kind of thing, doing a big national television show?
I hadn't got nervous until you put it like that. [laughs] No, I actually really enjoy the buzz of doing these kind of gigs, because it's so intense. There's a big buildup and it's all day, you have in the back of your mind. You know there's millions of people watching and all that. Then when you actually do it, it quite contrasts to a regular gig, where you spread out the adrenaline over 90 minutes or whatever and it's just over in four minutes at the most, and man ― it's like afterwards, your body is literally shaking with the adrenaline. It's great, it's really good fun. I'd recommend it to anybody... It's like sprinting versus the 1,500 meters. 
I got an early listen of [the album], and I'm really enjoying what you're doing here. You called it a little bit "futuristic and naturalistic"... Can you elaborate on that in terms of the sound you were going for on this record?
I guess, like, we were searching for the sonics, like trying to widen the sound, go to places that haven't been to before, [and] with the songwriting as well, to write in ways that we hadn't, to cover subject matters that we hadn't. Even lots of technical things. I always worry I'm very boring talking about the chord progressions or scales... It's like, you don't need to understand how a clutch works to drive a car. You just need to know when you press that pedal down and it works. I feel the same with songwriting as well. You push yourself into places that you haven't been to before. I guess that's our idea of being futuristic, looking to the future...
It's a rejection of what's going on around about you right then and what you've done before, and trying to take yourself to a new place... That's the futuristic side of it. But the naturalistic side is while you embrace the capabilities of technology, and there's a positive rejection of being subservient to your technology or the technology of the studio... That's at the heart of it. We're not trying to make a record that sounds like something of the past, something of the future, but it's performed in the way that human beings have been doing for thousands and thousands of years, I guess.
You mentioned earlier about tackling a different subject that you haven't tackled before. Can you talk a little bit more about what specifically kind of inspired you this time?
Sure, yes, I'm telling a different story. Some songs, like a song like "Lazy Boy"... I was literally lying in my girlfriend's bed while she'd been at work for a couple hours, and just thinking about how lazy I am and embracing my laziness. Kind of like hugely embracing it, sitting and thinking. Because I do believe that some of it you should embrace. If you're going to be lazy, you should be properly lazy and not feel guilty about it. Enjoy and embrace, make the most of laziness, because as a creative person, laziness is a great opportunity and a great gift because it loosens the fluidity of your mind.
The way that song is different ― I guess the music was different. I feel almost loath to talk about it. When you talk about it, you hear it when you listen to the music. It's in a funny time change. Everything counts in fives rather than fours or twos, which is what most Western music is written in. I guess I had this idea that so much dance music, you refer to as four-to-the-floor. You've got four beats to the bar, sort of four beats to the floor. We wanted to write something that was five beats to the floor.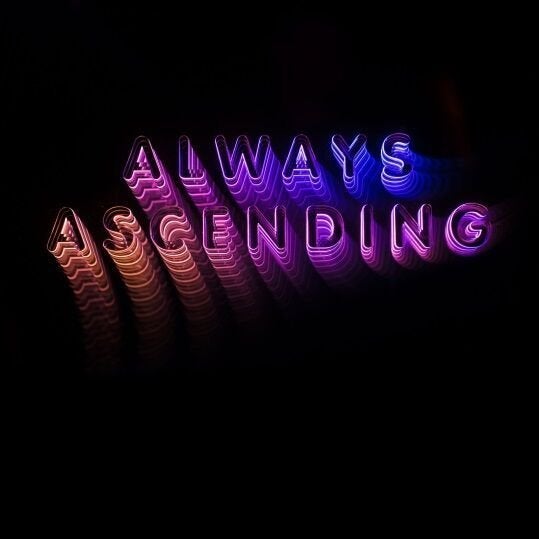 I like the song "Lois Lane." I was going to ask you about that one. 
Great. That was an example of a song where [bassist] Bob [Hardy] and I sat down and created characters. There's two protagonists in the song. We created two personalities, two characters, and a backstory for each of them and how they integrated, in the way that we would if we were writing a screenplay or a short story or a play. Which we hadn't done so much of in the past. I've always drawn upon either our personal experiences or characters that we knew, characters that we'd observed through life. This is the first time we'd sat down to create somebody or a couple of characters who are completely fictional and still searching for that human truth, the understanding of the human condition, but doing it via fictional characters...
We wanted to write characters that were completely opposite from each other... She is a real optimist. He's not. He thinks altruism is motivated by selfishness, whereas she thinks journalism can change the world. We both liked her a lot more.
After all these years you've been so consistently making music, but now you've been in the game for a while. How does it feel now, being that this is your fifth album?
It's our fifth album. Six even ― include the FFS one [a side collaborative release with the band Sparks] as well. It's a long time... We played our first gig in 2002. That's 16 years, shit. That's crazy. It's great that people are into it, people are loving it. Yes, it's the best buzz in the world playing a song and seeing people lose their shit over it. It's really cool. Yes, but we had a lot of fun writing it. We had a lot of fun making this record. If you enjoy making something, the chances are people are probably going to enjoy listening to it, or they're more likely to enjoy listening to it.
Take me back to the time when your debut came out and "Take Me Out" was all over the place. What was that like for you, being at that height?
It was a rapid flip. Our first single, "Darts of Pleasure," came out at the end of 2003 and it got to No. 44 on the U.K. charts. We were blown away. We were so happy to chart, never mind right up to the heights of No. 44. And then a month or two later, at the beginning of 2004, "Take Me Out" came out, and I guess everything went quite surreal for a while. 
So if you're lonely / You know I'm here waiting for you / I'm just a crosshair / I'm just a shot away from you.

Franz Ferdinand, "Take Me Out"
What did you think about when you were writing that song then, versus when you play it now?
I was going to say I don't think of any songs as being special, but there are certain songs I enjoy playing live ― like, there are certain songs that I look forward to in the set. I always look forward to playing "This Fire." Some songs come back into the set that you haven't played for a while. Well, like our third album, "Lucid Dreams." We hadn't played it for a while. Now, we played it in rehearsal the other day with a new lineup of the band... It was like, "Man, this is intense." I'm just really enjoying it. That's the song that I'm looking forward to at the moment. And "Take Me Out" is one of the songs where people go nuts. It's a fun song to play. We're lucky to have it. It's cool.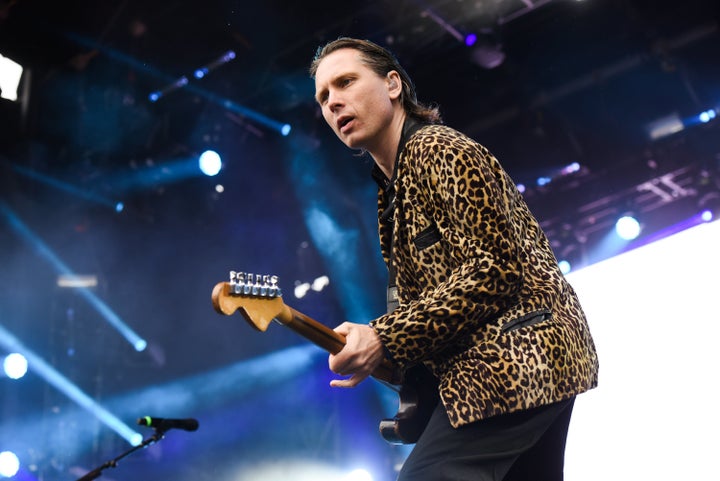 You don't get tired of playing it, then?
I've never written a song, we've never written a song as a band or recorded it thinking it was any more special than any of the others. Actually, Philippe [Zdar], our producer, he adheres to this theory. He expressed it to so beautifully. He said, he refused to talk about singles when we were recording. We wouldn't talk about singles either. I think that's such a healthy attitude. You're a band and you have a bunch of songs. Afterwards, you decide what the single might be, if you're going to choose a single. His theory was you don't talk about it because the other songs will get jealous.
I love that idea that the other songs are going to get jealous... It's funny because I knew that "Take Me Out" was a pretty cool song. But I also kind of knew that "This Fire" was a pretty cool song. I knew that "Come on Home" was a pretty cool song from that record as well... I thought "Tell Her Tonight" from our first album was going to be our biggest single. It ended up not being a single at all. I don't know, you've got no idea. When you write songs, you just write songs because you enjoy writing songs. That's it.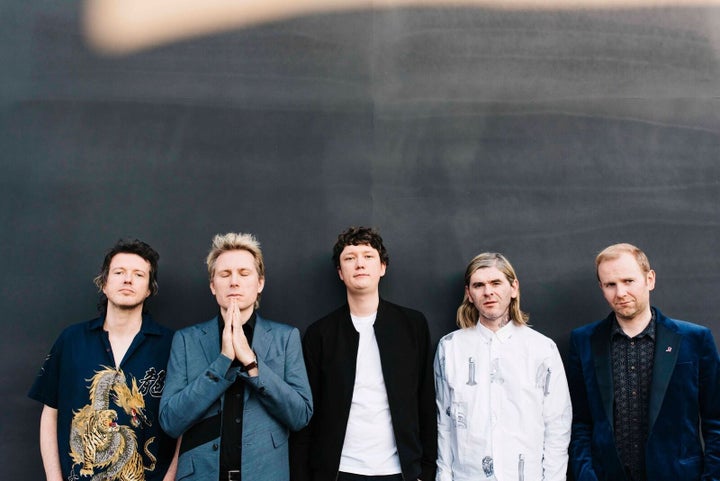 In 2016, you put out the song "Demagogue," an anti-Trump track. We're a year into Trump as president... Does it still speak true today, a year and a half later?
Well, he is a demagogue, so of course it rings true... Somebody asked me recently, "You wrote that song making fun of Trump." It's like, I wasn't making fun. It wasn't humorous. We wrote it because we're fucking terrified... We wrote and released it very, very quickly because it was pertinent to that time...
We talked about it: "This is an election for a leader that we have no part in. None of us are U.S. citizens." Immediately, you think, "We're not U.S. citizens, but that election is going to have an impact not just on the citizens of America but the citizens of every country around the world, us included." Hey, something's going to have an impact on you, you're allowed to have an opinion on it... I just had this horrible feeling of dread right from the beginning of the primaries. You just saw this spectacle in the background and thought, "He is fucking dangerous, that guy." He's dangerous because he plays upon the most primal fears and prejudices...
He's a con man. The most powerful of con men know how to trigger and manipulate people's fear and prejudice. And that is the definition of a demagogue. That's what he is. That's what he's still doing.
I wanted to ask you, also, how the new lineup has infused the music and kind of given you a jolt of energy and how it's changed things for you?
It's been great having Julian in the band, and then Dino joined us after the record was made and joined the tour. Julian's an incredible musician, such a lovely guy... He played electronica. He's an instrumentalist. It's great, because the ideas that we had of making dance music, he really allowed us to execute that in a way that maybe we hadn't before, because the kind of arrangement that a lot of the songs were written in uses sequences... He's playing them live. I love that. And Dino is a very different character. Dino is a proper rock star. I love having Dino onstage. It's like being onstage with Jimmy Page or something. He's a very cool guy.
Would you consider yourself a proper rock star at this point?
Oh yeah, that's funny, isn't it? When you fly into different countries, when you fill out the customs forms and the immigration forms, you have to put an occupation. I always find it difficult filling that in. Then I started to put down "rock star" for a joke... Because it's such a funny thing. Because I didn't really consider myself ever to be a rock star. I don't know. Maybe I'm an accidental rock star. I don't know.
"Always Ascending" comes out on Feb. 9. 
This interview has been condensed and edited for clarity.
REAL LIFE. REAL NEWS. REAL VOICES.
Help us tell more of the stories that matter from voices that too often remain unheard.
BEFORE YOU GO
PHOTO GALLERY
Celebrity Photos