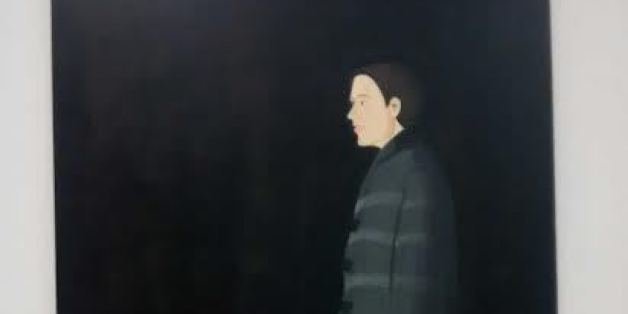 For centuries, portraiture has helped people to both manipulate their own sense of self and to 'overcome' death through their likeness. In this era of technology, portraiture is not longer needed for that since we have photography and film which can do the job faster and less costly. It is the art world which has taken that place as a stage where identity's are laundered and constructed. Art gallery openings and international art fairs have become place where the moneyed of the world rush to look at each other being mutually indifferent and alike.
This never ending quest for a sense of purpose has its roots in a narcissistic culture that edits life not only for others to see but also for ourselves to ease our anxieties. In times of Instagram and Facebook, the visual representation of human complexity is reduced to gestures and symbols. As a result, we have all become incredibly mistrustful of images as instruments for self knowledge. We just prefer not to know ourselves. We just want to smile and party and art is supposed to follow suite. It does not come as a surprise that in times of the 'selfie', portraiture as an artistic genre seems to be a casualty. The thing is that painting portraits takes far too long. We just cannot hold our attention for that long.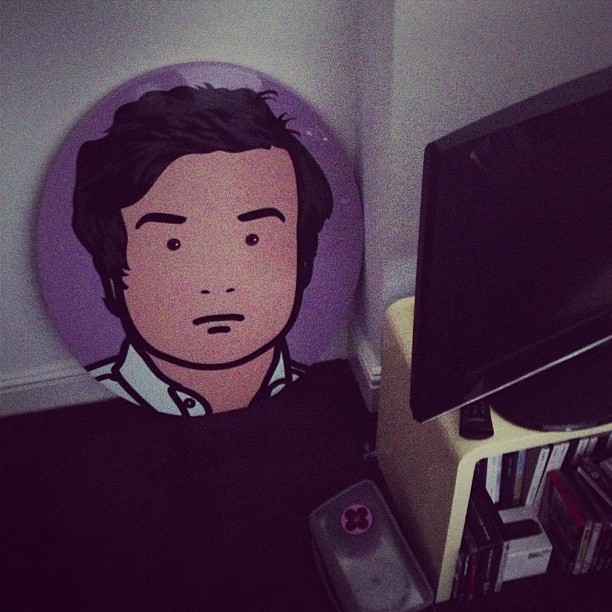 Courtesy of the artist
In recent years, one artist has epitomized this fast representation of the self. His name is Julian Opie (1958) and a few years ago painted my portrait and that of a friend only to realize that neither of them were us. He represented me as a banker and my girl friend as a boy. He was either trying to tell us that we did not matter or that it just doesn't matter anymore. Maybe his art is about the erosion of identity in times of mechanical reproduction. Maybe my identity would have become after being painted by Julian Opie, exactly 'that'.
In the U.S. there is a longer tradition of this kind of portraiture and the unchallenged fathers are Andy Warhol and Alex Katz (1927) who is showing his latest series called Black Paintings at the Timothy Taylor Gallery in London. Alex Katz's art is more painterly than Opie and even more expensive. His economic brushwork and pastel colours emulates make up. It does not come as a surprise that the last time I had seen one of his paintings was in the Meryl Streep blockbuster, The Devil Wears Prada. A double portrait by him appears hanging in Miranda Priestly's New York townhouse and conveying a sense of informed nonchalant Upper East Side-ness. His paintings thematize that world where small talk flows like oxygen.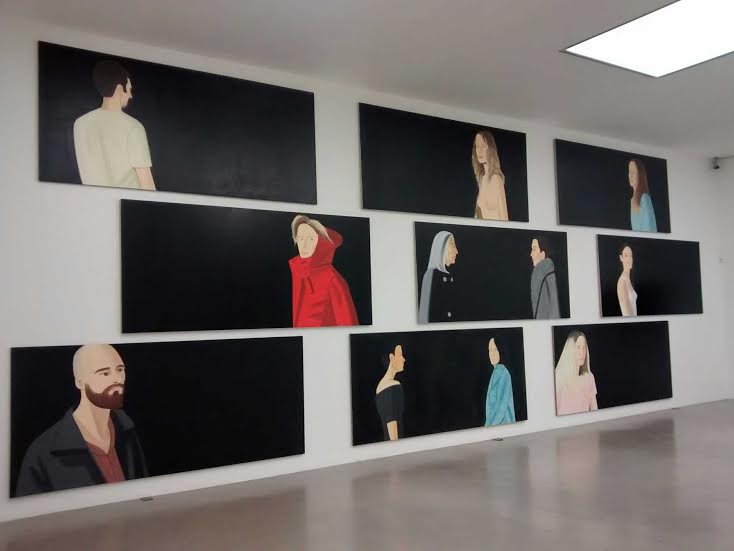 Courtesy of Julian Firth and Timothy Taylor
At the Timothy Taylor's show, while some of the sitters might appear introspective, they never invite us to join them in their thoughts. We are always pushed back and the painting always claims attention to itself as an object of status. The black background of this Black Paintings, however, takes away the candy-like appeal of his previous images and pushes the studio-lit characters forward only to left them in a sort of limbo. On the gallery's huge left wall, nine rectangular paintings ('Don', 'Eve', 'Samantha and Jessica', 'Ariel', 'Jarrett', 'Nicole', 'Elizabeth, Eleanor', 'Rachael and Tarajia'; 'Ada and Vivien', 'Vincent', and 'Dagmar') fill the whole space and hover over the whole gallery. The way these pieces are hung makes the space overcrowded and potentially interactive. However, this is not the case because they are all hanging in a no place of banal and ,somehow aggressive, introspection. This is why, any possible interaction seems soap-operish and forced, to be honest. There is no humanity here but a detached representation of a cold idea of humanity.
This detachment for detachment's sake is briefly interrupted with 'Elizabeth' and 'Elizabeth and Thor' (2014) where Katz gives us a hint of what he really thinks of his sitters and, potentially, of portraiture. In one of them, Elizabeth appears alone. She is the typical New York collector, boringly dressed in the usual Issey Miyake black vest. She is life size and looks leftward to a painting which, unsurprisingly, is not in the pictorial field and one might infer that it does not really matter. In the second painting, Elizabeth has been replicated and by replicated, I mean, cloned. Her demure, look, pose and clothes are exactly the same than in the previous one. She is facing Thor who seems uneventfully dull. The way the two figures are positioned does not communicate a connection but the total lack of it. Their interaction is a collage made of photocopies of themselves.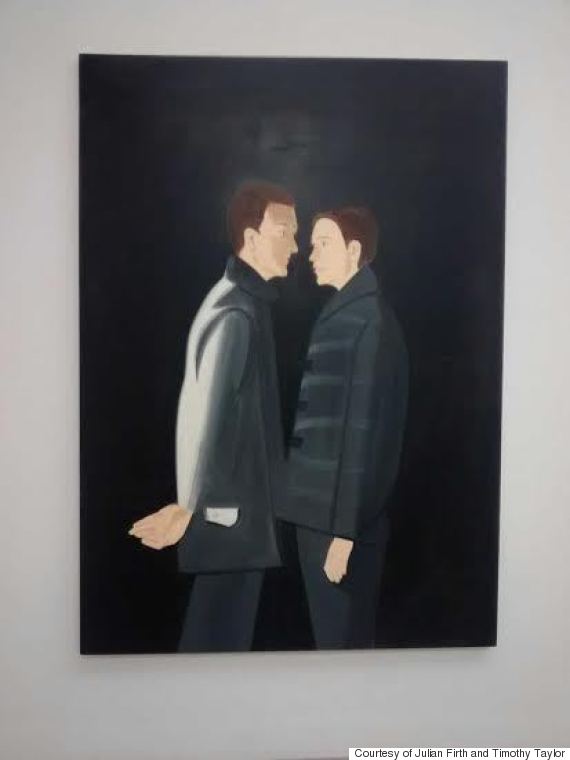 These last two pieces remind of Eric Fischl's last show at Victoria Miro (which ended November 8, 2014) in which a group of collectors appeared, in what seemed to be an art fair, fully self-absorbed, staring into the their cell-phones' screens and no one, not a single one, bothers to look at the paintings around them. I still have my doubts whether Julian Opie is critical of his sitters or plain rude. Having said this, that Brooklyn boy called Alex Katz who has gained fame and fortune repeating the same images over and over for decades might be allowing us to see the cracks in that very expensive and shiny mirror of his career. The problem is that it is not coming as good art.
Calling all HuffPost superfans!
Sign up for membership to become a founding member and help shape HuffPost's next chapter