A prominent federal appeals court judge in California has been accused by several former clerks and junior staff members of sexual misconduct. Six women — two of whom spoke on the record — said Judge Alex Kozinski had "subjected them to a range of inappropriate sexual conduct or comments" over the years, as recently as 2012, The Washington Post reported.
One ex-clerk said Kozinski, 67, a veteran jurist and former chief judge of the U.S. Court of Appeals for the 9th Circuit, repeatedly showed her pornographic images on his computer and asked if she was sexually aroused by them.
"I was in a state of emotional shock," Heidi Bond, who clerked for Kozinski in 2006 and 2007, told the Post. "What I really wanted to do was be as small as possible and make as few movements as possible and to say as little as possible to get out."
Kozinski ― still a judge on the 9th Circuit, the country's largest federal appeals court ― dismissed the accusations in an interview with the Los Angeles Times over the weekend.
Another former clerk, Emily Murphy, told the Post that Kozinski once made a sexually inappropriate comment about her while they were chatting with a group of coworkers. He suggested she exercise naked at the gym, Murphy said, and when others attempted to change the topic, Kozinski continued to belabor the point.
"It wasn't just clear that he was imagining me naked, he was trying to invite other people — my professional colleagues — to do so as well," said Murphy, a professor at the University of California Hastings College of the Law. "That was what was humiliating about it."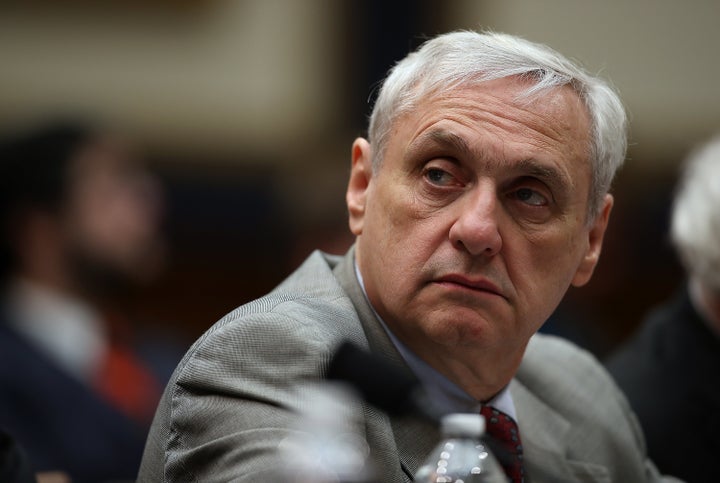 In a detailed blog post, Bond, now a novelist who writes under the pseudonym Courtney Milan, described some of her interactions with Kozinski.
She recalled the judge calling her into his office and asking her to look at "pictures showed a handful of naked college-age people supposedly at a party where other people were clothed and drinking beer. In one of those photos, a man and a woman were sitting naked on a couch."
He asked if she thought the images were Photoshopped (she did). And then, she said, he asked: "Does this kind of thing turn you on?"
"I remember feeling that I needed to not move, either physically or emotionally, that if I just treated this like this was normal it would stay normal and not get worse," Bond wrote. She added that Kozinski showed her pornographic material on at least two other occasions.
Another former staffer told the Post that she, too, had been asked into Kozinski's chambers and shown porn.
Bond wrote of another occasion when Kozinski showed her a "piece of paper listing all the girls that he and his friends had banged while they were in college, tracking their conquests."
"I don't remember everything he told me. I do remember him talking about how terrible the focus on STDs today was, because nobody was willing to just fuck anymore," she said.
In a statement to The Washington Post and The New York Times, Kozinski said it was "regrettable" that some of his former staffers had been offended by his behavior.
Back in 2008, the Los Angeles Times reported that Kozinski kept sexually explicit images and video footage on his private, but publicly accessible, website.
At the time, a judicial council rebuked the judge for being careless in allowing the website to be accessed publicly, and for "exhibiting poor judgment ... [that] resulted in embarrassment to the institution of the federal judiciary."
UPDATE: On Dec. 15, seven more women came forward in The Washington Post alleging that Kozinski had subjected them to groping, sexual comments or other forms of misconduct. Four women told the Post that the judge had touched them inappropriately. The women all had worked with Kozinski or met him at an event.
That brings the total number of women who have accused the judge of inappropriate sexual comments or conduct to 15.
Through a statement read by one of his lawyers, the Post reported, Kozinski disputed the veracity of the allegations. He added, "I deeply regret that my unusual sense of humor caused offense or made anyone uncomfortable."