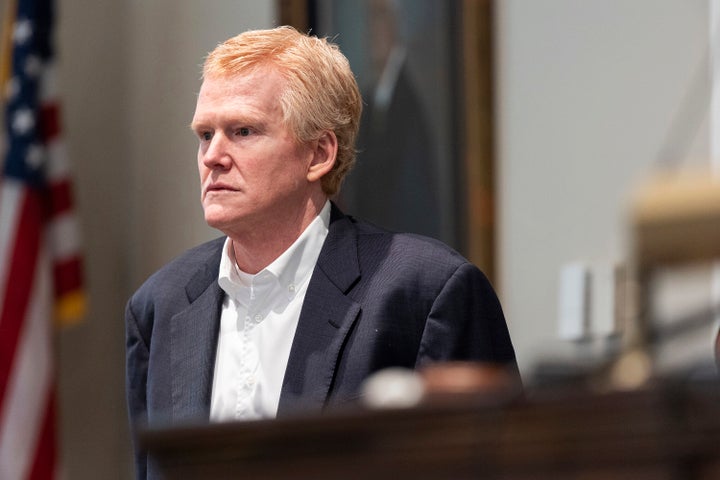 Disgraced former lawyer Alex Murdaugh testified Thursday that he never fatally shot his wife and son but that he did lie to investigators about not being at the dog kennels where the two were killed, a decision that he blamed on drug addiction and paranoia.
"I would never intentionally do anything to hurt either one of them, ever," he said of wife Margaret "Maggie" Murdaugh, 52, and son Paul Murdaugh, 22, who were found dead near the kennels on a South Carolina hunting property on June 7, 2021.
Alex Murdaugh said he lied to authorities about last seeing his wife and youngest son at dinner and lied that he was not at the kennels on the night they were killed. He said he felt overwhelmed by police questioning, his discovery of the bodies and instructions from an attorney not to talk with anyone.
"As my addiction evolved over time, I would get in situations or circumstances where I would get paranoid," he said. Once he lied about not being at the scene at the time of their deaths, he said he couldn't stop and felt like he had to maintain this story.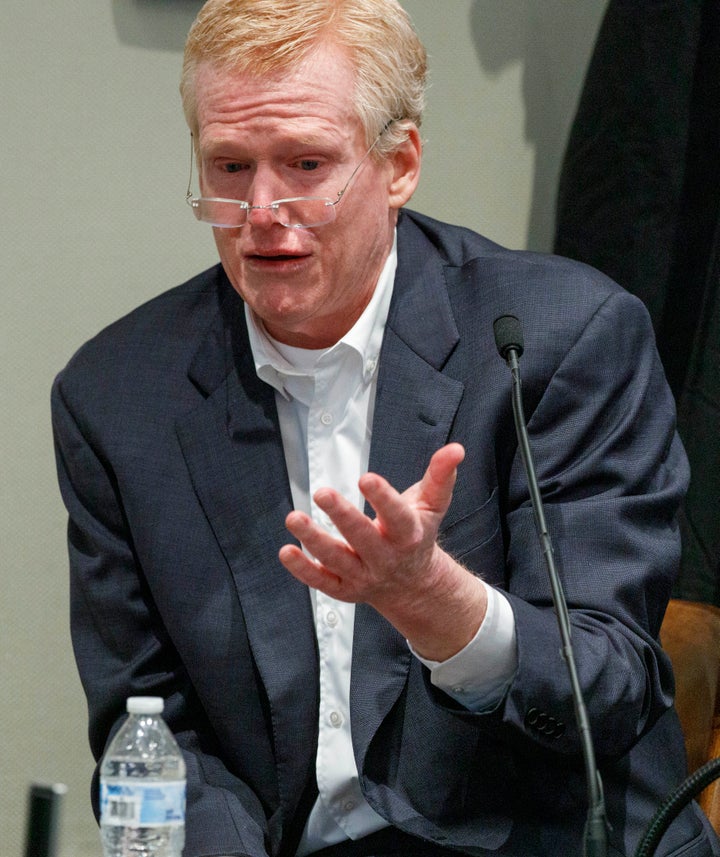 Several witnesses had poked holes in his initial story that he was away visiting his mother around the time of the killings and that he was never at the dog kennels. They said they recognized Murdaugh's voice in a video that was taken from the kennels only minutes before authorities believe the mother and son were shot nearby. A former friend of Paul Murdaugh testified Thursday that he also heard Alex Murdaugh's voice in the video.
Murdaugh said Thursday that he initially declined to go out to the kennels with his wife and son because he had just showered and it was hot outside. He said the opioids he took made the heat worse. He later drove over on a golf cart and helped remove a live chicken from one of the dog's mouths, with audio of the act apparently captured by the kennel video, recorded by his son. Murdaugh said he then went back to the house. Once there, he lay down on a couch and then decided to visit his mom.
Murdaugh said he called his wife twice to share his plans but she didn't answer her phone, and he also sent her a text message.
"At the time, it didn't strike me as anything unusual," he said of his wife not answering.
According to Murdaugh's account, after spending some time with his mother, he returned to the house and looked for his family members inside. After not finding them, he went to the kennels in his car and saw their bodies lying on the ground. Authorities said the pair had been shot multiple times at close range. The firearms believed to have been used in the shootings have not been recovered.
"I could see his [Paul Murdaugh's] brain laying on the sidewalk. I didn't know what to do," he said, sobbing. Alex Murdaugh said his son's phone fell out of his pocket as he was attempting to move his body. He put it back in his pocket.
Murdaugh called 911 and said that he last spoke with his family approximately "a few hours ago."
That 911 call came in at 10:06 p.m., roughly an hour after investigators believe the mother and son were fatally shot. The kennel video was taken by Paul Murdaugh at 8:44 p.m.
Alex Murdaugh told 911 dispatch that his son had been threatened in the past and expressed regret that he didn't take it seriously.
"[Paul Murdaugh] got so many threats I didn't take serious, think twice about," the father testified. He said most of the threats posted on social media were "over the top" and nothing that the family felt they needed to take seriously.
At the time of his death, Paul Murdaugh had been awaiting trial on several felony charges related to a 2019 fatal boating crash. He was accused of driving the boat while drunk, killing a 19-year-old woman.
Alex Murdaugh's surviving son, Buster Murdaugh, testified Tuesday that he found his father completely distraught at the house after the father called him to tell him what had happened.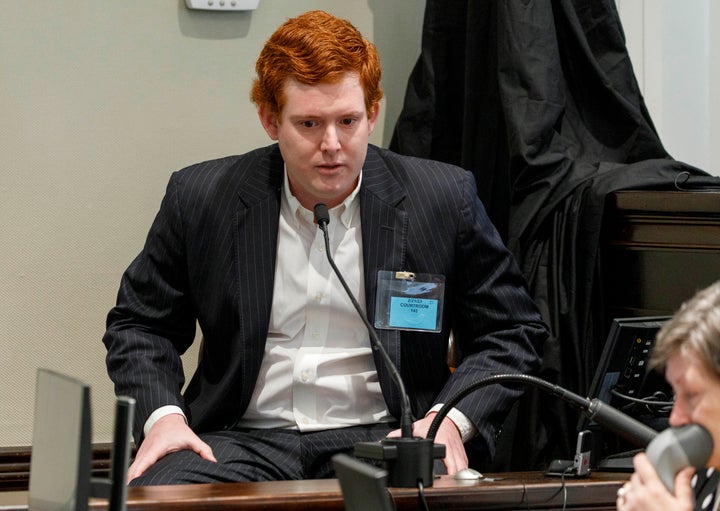 "He was destroyed, his heart broken," he said. "I walked through the door, I saw him and I gave him a hug."
In addition to the murder charges, Alex Murdaugh faces separate financial charges — including insurance fraud, money laundering and tax evasion — that were filed more than a year after his family members' deaths.
A defense attorney had asked the judge Wednesday to limit prosecutors' ability to question Murdaugh on the stand about those other charges. The attorney argued that these are unrelated to the shootings and that questioning him about them could be self-incriminating.
Prosecutors have argued that these charges are related to the killings, however. They say Murdaugh killed his family in an effort to drum up sympathy and buy time for him to cover up these crimes that had yet to be discovered.
The judge said that he would not issue "some blanket order limiting the scope of cross-examination," but that he would consider Murdaugh's privilege against self-incrimination.
In his testimony Thursday, Murdaugh admitted to stealing funds from clients and his law firm. He said it helped fund his opioid addiction, which followed leg surgeries related to his time playing football in college.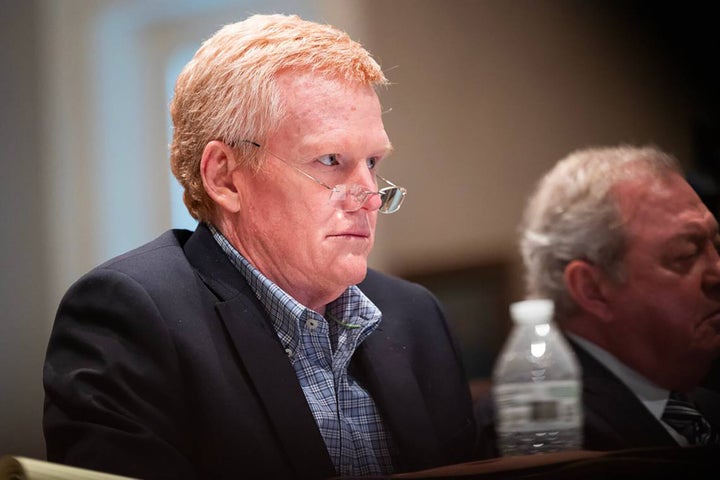 After having to resign from his law firm and the deaths of his wife and son, Murdaugh said that he resolved to kill himself and that he asked Curtis Edward Smith, who allegedly acted as his drug dealer, to shoot him.
"I knew all this was coming to a head. I knew how humiliating it was going to be for my son," he said of Buster Murdaugh. "It seemed like the better thing to do."
Alex Murdaugh called police in September 2021 to report that he was the victim of a shooting by an unknown assailant. He was grazed by a bullet that was fired as he stood in a road. State police later accused Murdaugh of hiring Smith to fatally shoot him so that his son would get a $10 million life insurance payment.
Smith was arrested following the botched shooting and charged with assisted suicide, assault and battery of a high aggravated nature, pointing and presenting a firearm, insurance fraud, conspiracy to commit insurance fraud, distribution of methamphetamine and possession of marijuana.
The judge in Murdaugh's trial ruled earlier this month that the jury wouldn't hear about the alleged suicide-for-hire plot, arguing that it "goes beyond motive."
Murdaugh faces 30 years to life in prison if convicted of murder.
Popular in the Community