A 6-year-old who wrote President Barack Obama a moving letter earlier this year got to meet one of his biggest admirers ― the president himself.
Alex Myteberi wrote a letter to Obama in August to ask if 5-year-old Omran Daqneesh could stay with his family. A photograph of Omran, covered in ash and blood after he was injured in an airstrike in Aleppo, gained worldwide attention and served as a chilling reminder of the devastation in Syria.
"Can you please go get him and bring him to our home?" Alex, who lives in New York, wrote in his letter. "We'll be waiting for you guys with flags, flowers and balloons. We will give him a family, and he will be our brother."
"You being so nice and kind, hopefully it makes other people think the same way," Obama told Alex. "So I was very proud of you."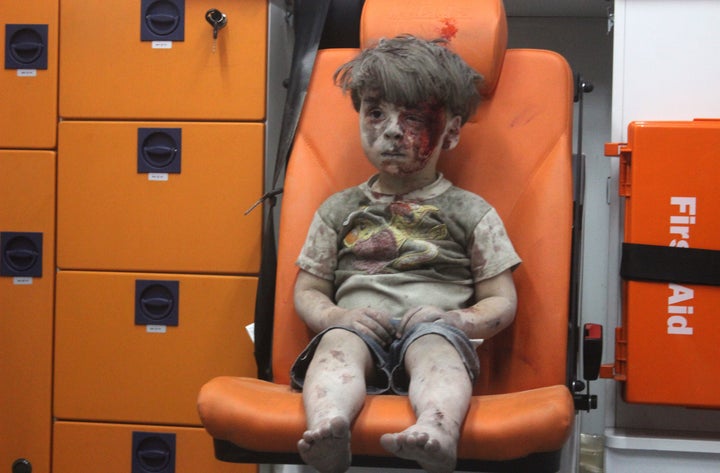 "The humanity that a young child can display, who hasn't learned to be cynical, or suspicious or fearful of other people because of where they're from, or how they look or how they pray ― we can all learn from Alex," Obama said in his September speech. 
"Alex loved the moments with the president," she said. "He is a shy little boy, but when he saw the president, his eyes lit up and he was completely drawn to him."
Dear President Obama, 

Remember the boy who was picked up by the ambulance in Syria? Can you please go get him and bring him to [my home]? Park in the driveway or on the street and we will be waiting for you guys with flags, flowers, and balloons. We will give him a family and he will be our brother. Catherine, my little sister, will be collecting butterflies and fireflies for him. In my school, I have a friend from Syria, Omar, and I will introduce him to Omar. We can all play together. We can invite him to birthday parties and he will teach us another language. We can teach him English too, just like my friend Aoto from Japan.

Please tell him that his brother will be Alex who is a very kind boy, just like him. Since he won't bring toys and doesn't have toys Catherine will share her big blue stripy white bunny. And I will share my bike and I will teach him how to ride it. I will teach him additions and subtractions in math. And he [can] smell Catherine's lip gloss penguin which is green. She doesn't let anyone touch it. 

Thank you very much! I can't wait for you to come!

Alex
REAL LIFE. REAL NEWS. REAL VOICES.
Help us tell more of the stories that matter from voices that too often remain unheard.