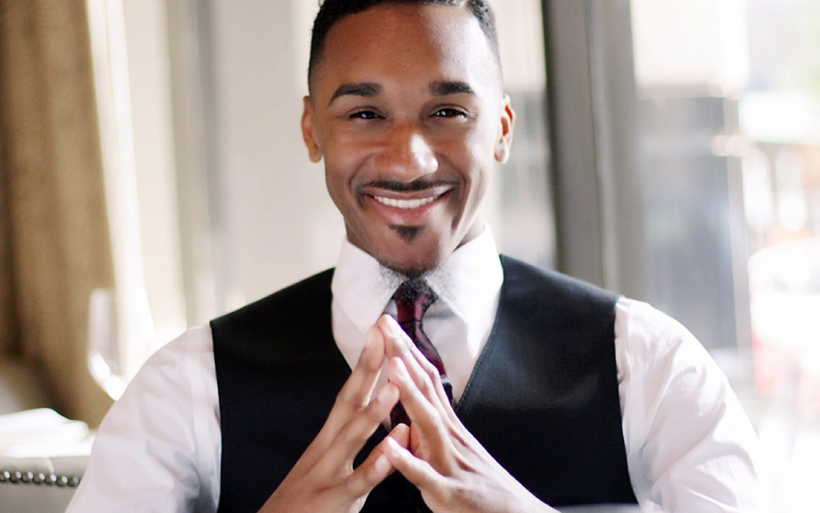 Before entering the world of public relations, Alex R. Hill II had high hopes of becoming an Obstetrician Gynecologist. Following in the footsteps of his mom, Phillis Hill, a former physical therapist, Hill initially applied for the nursing program at Howard University with plans to transfer to the medical school to become an OB/GYN. Unfortunately, he was not accepted into the university's nursing program. He was told to reapply after his first semester. He reapplied for the second time and ultimately did not get accepted into the program.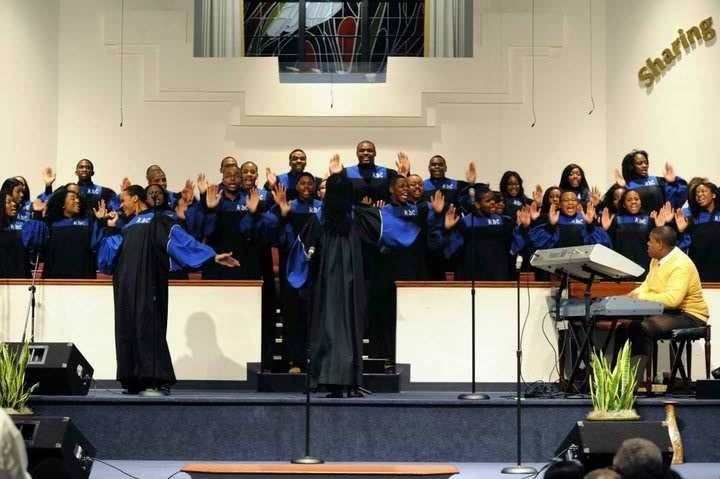 Hill's interest in public relations started on the heels of his freshman year. After joining the Howard Gospel Choir, he was so impressed with the musicality of the renowned choir director, Clifton Ross III; he convinced his father, Rev. Dr. Alex Hill to bring the choir to Detroit for an appearance. Initially, his father gave him some push back until he saw the live stream of the choir's concert in New York. His father eventually agreed, and within two months, he formed a team in Detroit to prepare for the event.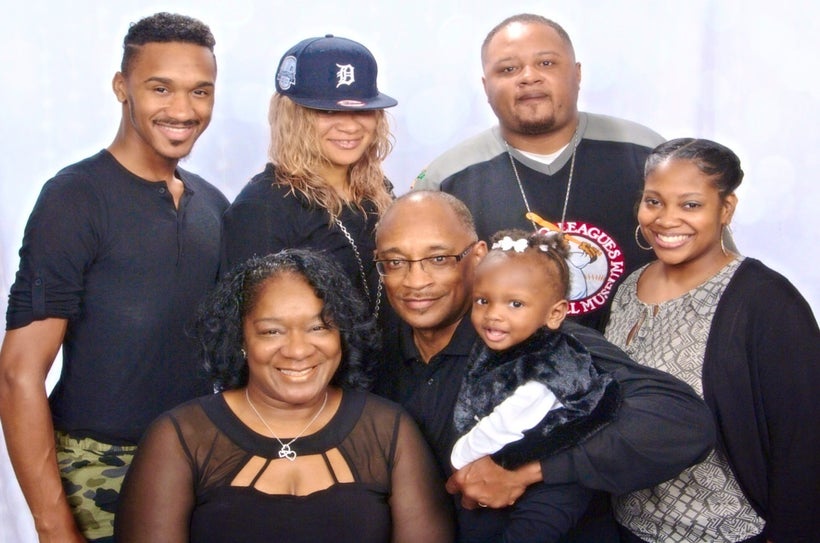 The benefit scholarship concert was presented by his home church, New Mt. Hermon Missionary Baptist Church. For the concert to be a success, Hill knew he had to promote it and get people to attend. With little to no experience in concert promotions, Hill managed to figure out to publicize the event. It was that experience when he realized his desire to pursue a career in public relations. As the summer commenced between his sophomore and junior year, he called Howard University's School of Communications, now called the Cathy Hughes School of Communications to find out how to apply. He wanted to apply for the journalism program with a concentration in public relations. He was advised that entry to the program was closing that Friday and it was already Wednesday; not to mention he was back home in Detroit. The only way he was able to enroll in the program was to physically take the exam by the end of the week. His father drove him to Washington, D.C. They arrived at 11:30 a.m., and he completed the test by 1:00 p.m. After departing Howard, he and his father hit the road back to Detroit. As they drove through Pennsylvania, Hill received an email from the school informing him that he had been accepted into the program.
"This is a prime example of supportive parents," he says. "I cherish my father. He set aside his plans to help me succeed."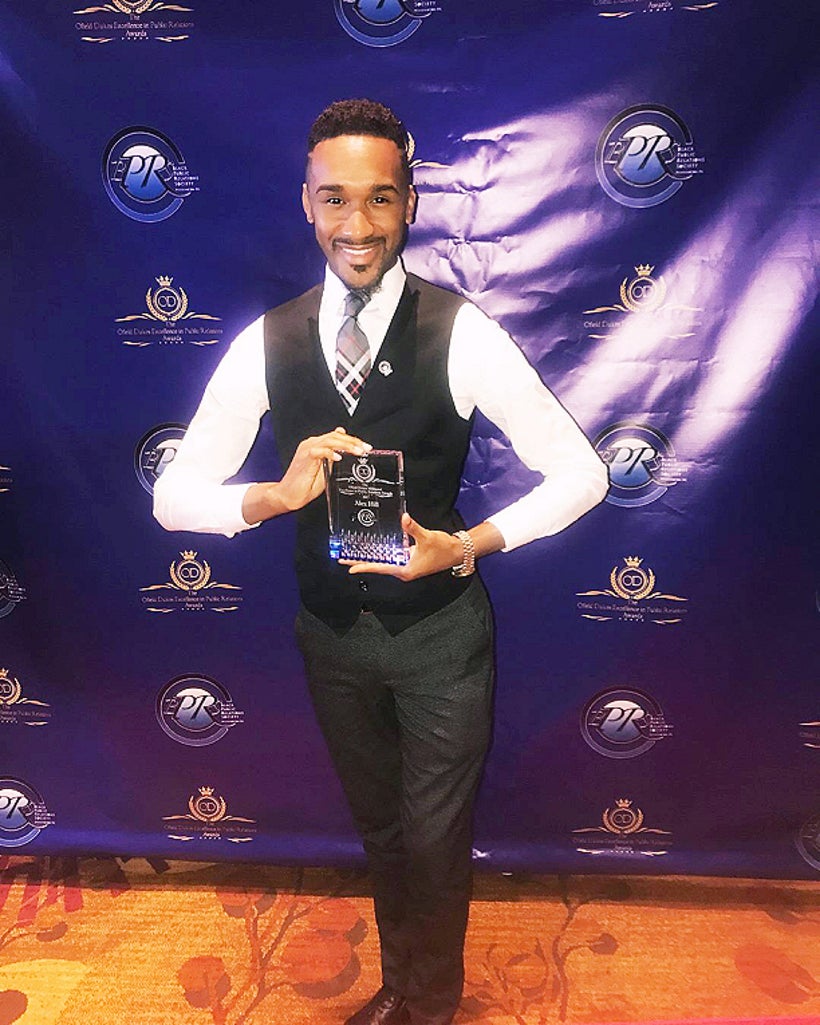 Hill is the recipient of the inaugural Ofield Dukes Excellence in Public Relations Award. "I am honored and humbled to receive the Ofield Dukes Award," he said in his speech about the late PR pioneer and giant. "It was a testament of the sacrifices that I've made in this industry. There are not many males in public relations; females predominately lead this industry. I thank the National Black Public Relations Society's Washington, D.C. Chapter for selecting me for this honor."
Known to many as Humble Hill, Alex R. Hill II is the President and CEO of Humble Hill Public Relations Firm, and the Special Events Coordinator at Miles Ahead Entertainment (MAE), Inc. He says the name derives from his humble spirit and modest nature. "There were times when I received kudos, but my response never reflected arrogance," he says. "I always attribute my accomplishments to God. I chose to include Humble in my company's name to represent the important of being behind-the-scenes. It conveys that I will allow my clients to shine. Thanks to my sister Alexis, we settled on the motto: 'Taking my clients to the top; one hill at a time.'"
Gwendolyn Quinn: How was it growing up in River Rouge, Michigan? Tell us about that experience?
Alex Hill II: I grew up in River Rouge as the youngest of three children. My brother, Felix J. Hill III is the oldest; followed by my sister Alexis S. Hill. There were always high standards placed on my siblings and me because we were preacher's kids. Our classmates in elementary school would look at us differently because they didn't expect us to participate in activities that normal kids do.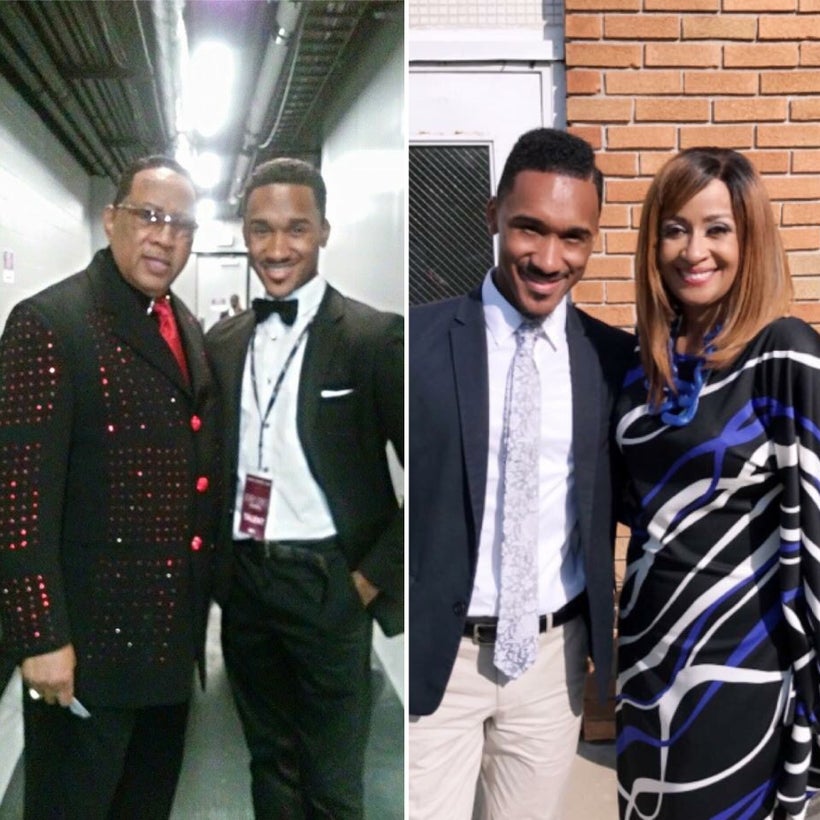 Often, I would be found singing at churches across the community. At three years old, I would stand on a chair in the pulpit and help my aunt direct the choir. My community was supportive of me and my dreams. I was a part of my high school dance company, under the direction of Lisa McCall [Aretha Franklin's longtime choreographer]. One of many highlights included competing in Dr. Bobby Jones' New Artist Showcase [2004]. I won first place and performed on his television show. From that experience, Dr. Dorinda Clark Cole was a judge and invited me to sing for her appreciation service.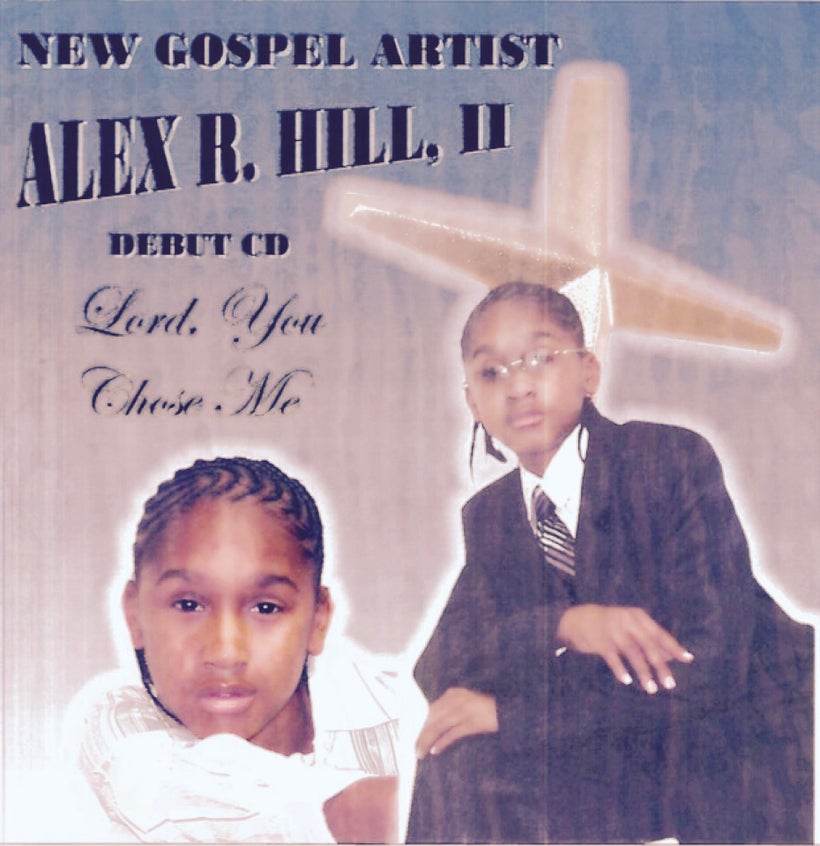 At 13 years old, I recorded my debut album, "Lord, You Chose Me" with the title track written by my father. We sold the album in our community and later in Los Angeles. I headlined a Hurricane Katrina Victim Relief concert in 2006 and recorded on Bro. Steve's television show. On numerous occasions, I performed for the Southern Christian Leadership Conference. Upon entering high school, I set a goal that I wanted to become my class Valedictorian. My grade point average was 4.0 through high school, and I finished with a 4.21 and secured the Freshman Legacy Scholarship for Howard University. Also, I obtained scholarships from Lewis Fenderson, NBC Universal, Congressional Black Caucus Spouses Education, and Louis Stokes.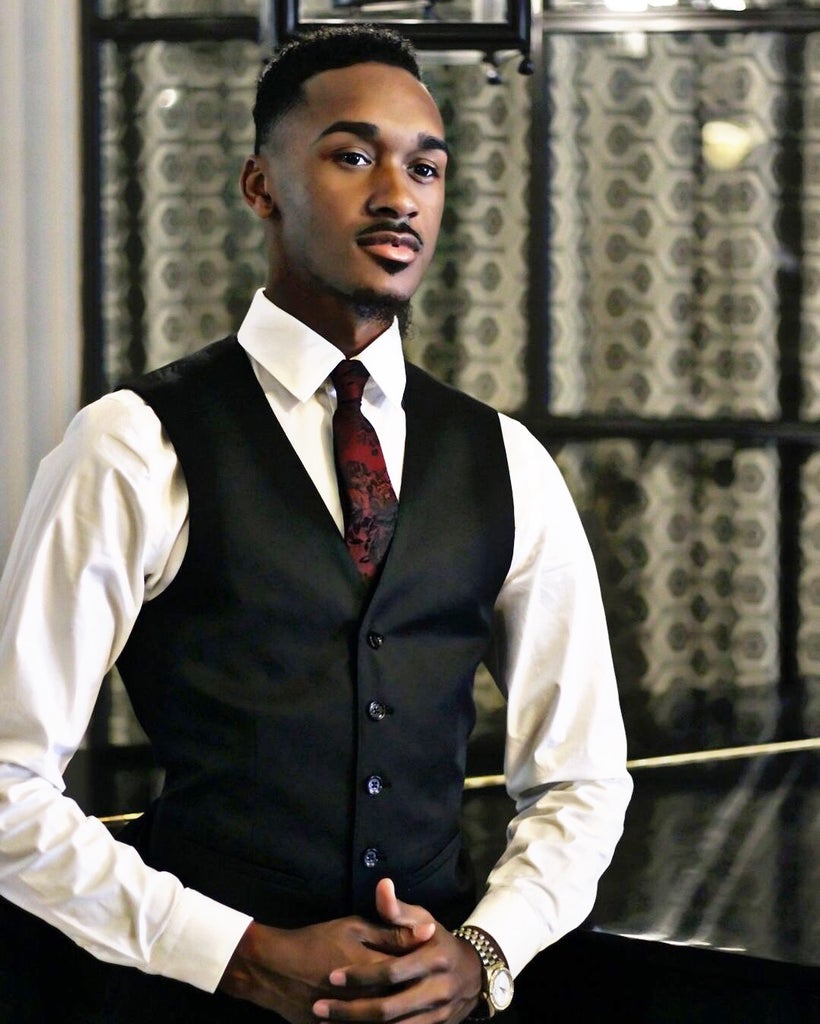 GQ: What do you love about publicity/public relations?
AH: I love to raise brand awareness for my clients. One of the first things I learned in PR class was to establish mutually beneficial relationships between clients and the public. It comes natural to me to build and foster relationships. As a publicist, one of the key assets is to strategize and figure out what media works best for your client and to have the bandwidth to call a writer or reporter and secure placement. I love to communicate with journalists and convey my client's story and how it would be beneficial to their audience.
GQ: In your opinion, tell us the difference between publicity and social media/digital marketing?
AH: Publicity represents traditional media placements [television, radio, and print]. There was a time when digital and social media didn't exist. Publicists would make calls to journalists and pitch their clients. The internet wasn't around, and press kits were mailed to media outlets.
As a young publicist, I have secured more digital and social placements than traditional media. I have trained and learned from the best. Sheila Eldridge has taught me how to implement a little old school in my media campaigns. Often traditional media operates more as a credible source than social media. The various social media platforms doesn't always provide accurate or in-depth information about a story.
New media has become important as everyone has a phone or some form of tablet in their hands. As a PR professional, it's important to brainstorm with your team about which platforms are the best fit for your client. The question is which media outlets best serve your client's brand or how can you angle your client's story to appeal to the audience of that specific media outlet? Just like traditional media raise awareness of messages, social media does the same. Some clients only want social media engagement. It's important to know those key social media influencers. Many companies want this engagement and will pay just for content to be shared on those platforms.
GQ: Which clients and projects do you handle under Humble Hill Public Relations?
AH: Former and current clients under Humble Hill Public Relations have included recording artists Clifton Ross III, Howard Gospel Choir, James Wright Chanel, Amber Bullock, and Mario Wilson.
GQ: Tell us about the firm where you are currently working? What type of PR does the firm handle? What year did you start with the company?
AH: I work with Sheila Eldridge. Miles Ahead Entertainment is a full-service multimedia marketing agency that targets the multicultural consumer via strategic public relations planning, lifestyle marketing, special events production, social media, radio syndication, and audio and video production. I started working with Miles Ahead Entertainment in June 2014.
GQ: Who are some of your current and past projects at Miles Ahead Entertainment?
AH: I assist Sheila Eldridge with numerous projects and campaigns including the Smithsonian National Museum of African American History and Culture, Café Mocha Salute Her Awards [2014-2017], the Essence Festival [2014-2017], My City Four Way (ESSENCE/FORD), Hyundai Smarter, Hyundai Hope On Wheels Gala, Steve Harvey's Disney Dreamers Academy, Steve Harvey's Neighborhood Awards, NAACP Image Awards After Party, UNIFYme.TV, Electric Café European Tour [En Vogue], and Come Back To Me Love campaign [Freda Payne], and Kirk Whalum's The Gospel According to Jazz Chapter: IV tour.
GQ: Tell us about a few of the successful PR campaigns you help to implement at Miles Ahead Entertainment.
AH: Under the direction of Sheila Eldridge, we've had great successes with our projects including Salute Her Awards, which was scheduled in five cities including New Jersey, New York, Atlanta, Chicago, and Washington, D.C. This year, we included Charlotte, North Carolina on the tour, and Fantasia will be one of our honorees [November 18]. Salute Her Awards honors women who make a difference in their communities. We highlight corporate leaders, media trailblazers, community advocates, and celebrities. Some of the honorees included April D. Ryan, Wendy Williams, Yolanda Adams, Tamela Mann, Angie Stone, Harriette Cole, Cora Masters Barry, Kim Fields, Rev. Bernice King, Pam Grier, Stephanie Mills, Cynthia Bailey, Fredericka Whitfield, Sybrina Fulton, Wanda Durant, Audrey Smaltz, and Kim Kimble, and more. Since the inaugural Salute Her Awards, we have generated over 457 million combined media impressions.
Miles Ahead Entertainment coordinates the press junkets for the Essence Festival. This effort requires months of preparation. We work with major sponsors to raise brand awareness during the festival. We've been successful with our media coverage such as EXTRA-TV, People and O! magazines, E! Online, Huffington Post, Madame Noire, Global Grind, VIBE, and numerous others.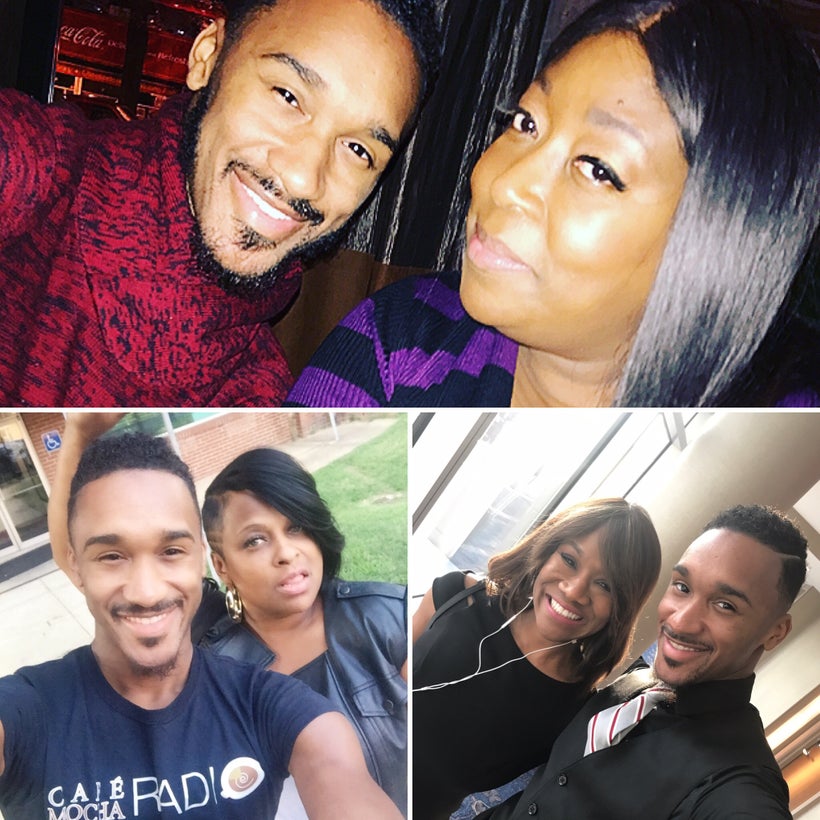 GQ: As a PR professional, please describe your day-to-day duties and responsibilities.
AH: My day never ends. My day starts with sending out emails, and I go to bed sending out emails. During a typical day, I juggle event logistics, book and coordinate talent for the Café Mocha Radio show, book travel, participate in sponsor conference calls, manage and handle day-to-day social media activities, prepare reports, draft and edit media materials, and the list continues. Also, I am the onsite talent manager for radio hosts Loni Love, YoYo and Angelique Perrin of Café Mocha.
GQ: What advice do you have for young people who would like to pursue a career in publicity and public relations?
AH: My advice would be to surround yourself with those practicing PR. At the Ofield Dukes event, JoAnne Williams [a PR legend] said, "Get you a tribe." It's very essential to start developing a team who possess different skills. It's helpful to have people who has expertise in areas that you don't. Also, find ways to network and build up a rapport with media outlets as they will become your tool.
GQ: What are some of the most challenging aspects of your position?
AH: One the most challenging aspects of my position is to secure talent for Café Mocha Radio show. It can be difficult securing A-List talent for a two-hour broadcast. There's always a risk of a guest not calling in for the interview, or moving interviews around at the last minute. It's also a challenge to schedule international interviews. The time/day difference is always a factor. I remember waking up one morning at seven o'clock to countless interview requests and trying to figure out how to navigate and schedule them.
GQ: Tell me about volunteerism and community work?
AH: Most of my community service stems back to my church home, Mt. Hermon Missionary Baptist Church. I have a passion for education for our youth. At New Mt. Hermon, the Tri-City Community Development Corporation employs youth between ages 13-18. It's an amazing program and gives kids the opportunity to gain work experience. One of my most memorable moments was when Tri-City Community Development and Mt. Hermon sponsored 30 youth on a trip to Orlando, FL; the impact was undoubtedly unparalleled to any other experience.
I had the privilege to deliver the graduation remarks and to help usher middle school students to high school. This meant a lot to me because it showed the students that I also walked the same halls. As an alumnus, I had the opportunity to visit Consortium College Preparatory High School to give a presentation on my journey. A few months ago, I organized a small group of my Howard University friends to talk with high school graduating seniors about the obstacles in college and the importance of attending historical black colleges and universities.
I also support YoYo's School of Hip Hop. The program teaches beat production, songwriting, hip hop dance, theater, vocal training, literacy arts, and academics. With Miles Ahead Entertainment, we've done community service takeovers to include female empowerment sessions with Atlanta Children's Shelter, and Tabitha House, and FACES NY via our Mocha Cares Foundation.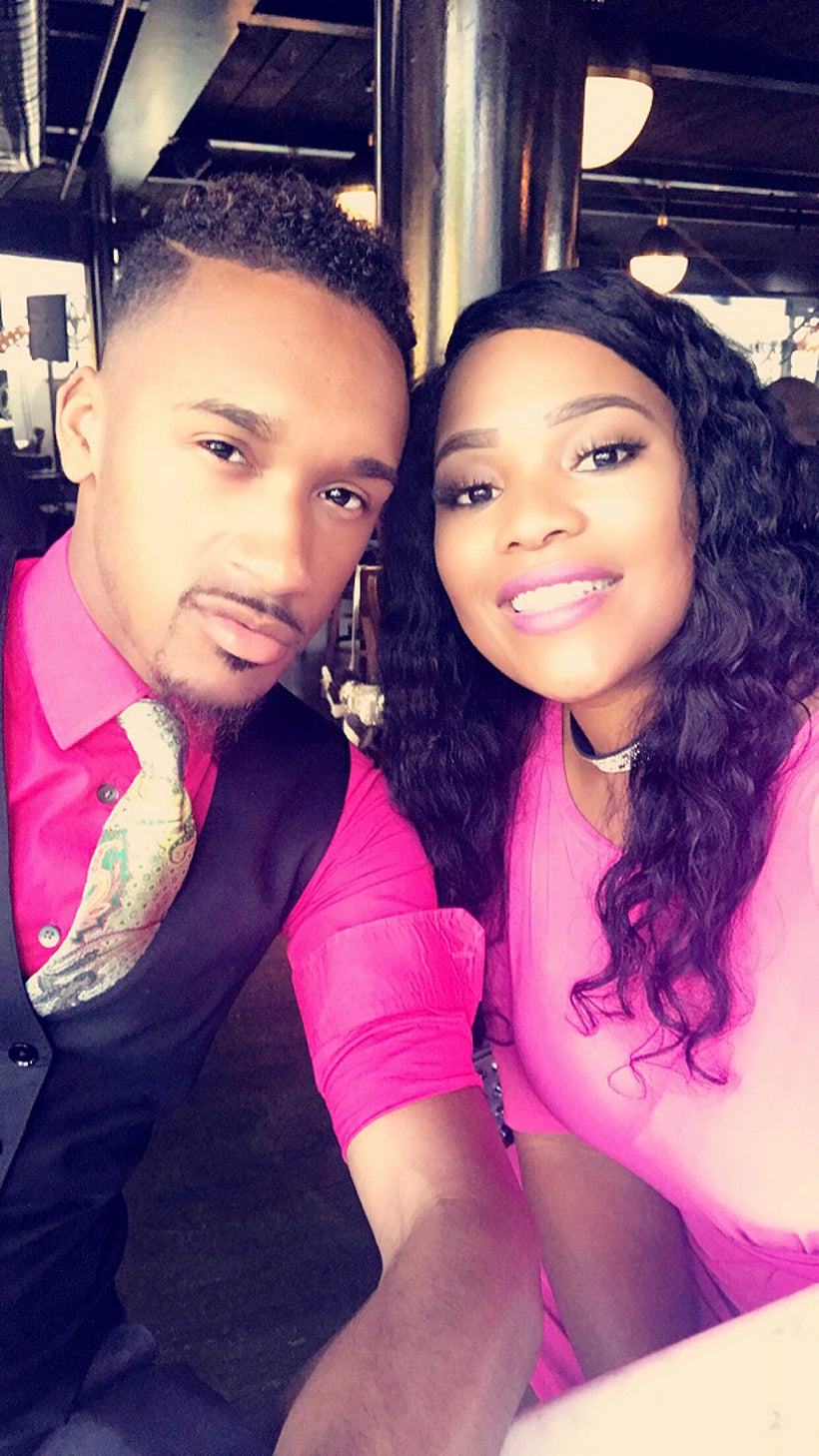 GQ: Where do you see yourself in the next five years?
AH: In the next five years, I see myself in a partnership with Ashley Johnson of ANJPR Consulting, LLC. We were classmates at Howard University. We've been supportive of each other's success and decided that we want to collaborate. We are currently outlining our business model.
GQ: What do you like to do in your spare time?
AH: In my spare time, I like to relax. I always find something to occupy my time; whether it's hanging out with friends, bowling, going to brunch and having a little impromptu gathering. I often fly to Detroit to spend time with family or to Atlanta to visit my best friend, Jordan.
GQ: What were the most important and profound lessons you learned from your parents?
AH: My parents taught my siblings and me that money doesn't grow on trees. They expressed to us that you must work for what you want in life, nothing comes free. I often watched my mother work midnights, and I never understood how much she sacrificed until I worked the graveyard shift at a hotel. I remember calling my mother to thank her for the sacrifices she made. I felt bad when she had to work on holidays.
I also learned how important it is to care for your family. I watched my parents take care of their mothers while making their transitions. The strength that my parents demonstrated during those times was amazing. I had the opportunity to spend the last days with my Granny at her bedside. Seeing the tears roll down my father's face was so heart wrenching. I learned the lesson of family first. I watched my parents put everything on hold to take care of their parents until their last breath. That's love.
Another great lessons is sacrificing a short term for a lifelong gain. I've learned to always think about what could come from a sacrifice. Sometimes it's simply about the experience, hence an unpaid internship. I often tell students to intern and don't worry about the compensation. The experience at the beginning is essential.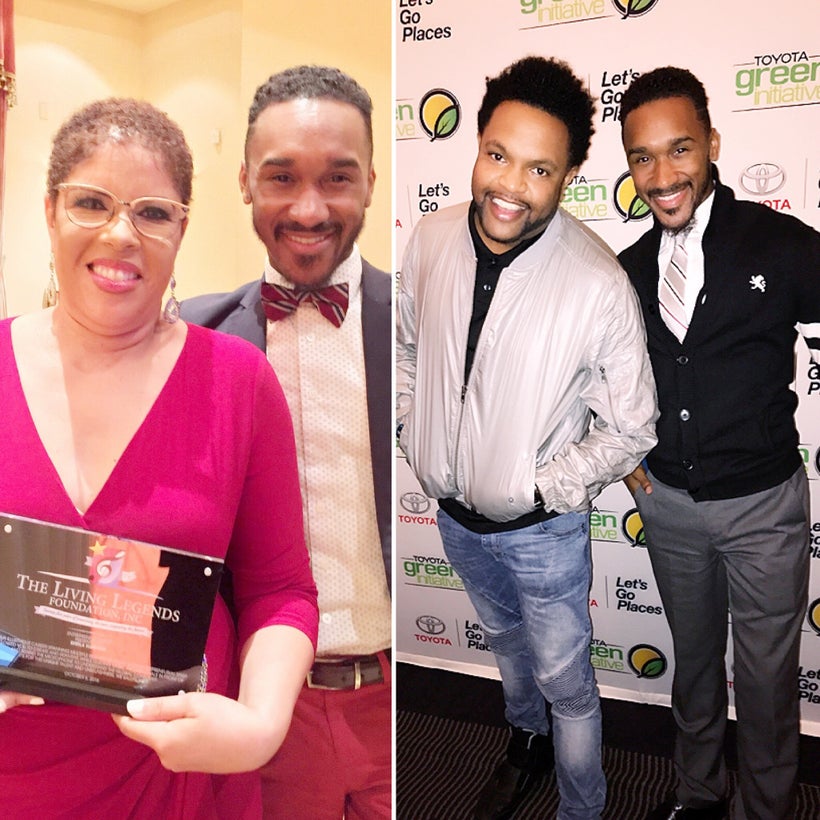 GQ: Who are your mentor(s) and what are some of the most valuable lessons you have learned from them?
AH: My mentors are Sheila Eldridge and Jawn Murray, [pop culture expert and TV personality]. They've taught me how to be successful in entertainment and the importance of fostering relationships. As a professional, I was taught to always acknowledge incoming correspondences; and to follow through. And lastly, no doesn't mean never, just not right now. When one person says no, there's always someone else that will say yes. Just exercise patience but stay on the grind.
GQ: What is the best advice (professional and personal), you have received and from who?
AH: I received some great advice. One is to never devalue your worth and what exposure your service can garner for a client. Another piece of advice I've learned is nothing is confirmed until a contract is fully executed. Business can't be done without both parties agreeing on specific terms. And never share your media contacts; this is your most valuable tool. If you give them away, then there is no use for the client to pay you.
GQ: What is your favorite Bible scripture, quote or catch phrase?
AH: "For as the body without the spirit is dead, so faith without works is dead also." – James 2:26 KJV. I am fully aware that I can have goals for myself, but it takes work to see them come to pass.
GQ: What are some of your pop culture's must haves (music, film, television?)
AH: I must have Dorinda Clark Cole, Beyoncé, Fantasia Barrino-Taylor, Avery Sunshine, Ledisi, Le'Andria Johnson, Clifton Ross III, Beverly Crawford, Tasha Cobbs, Ricky Dillard & New G and anything featuring Lillian Lloyd. More recently, "Girls Trip" is one of my all-time favorite movies. I enjoy the day-time talk show, "The Real."
Gwendolyn Quinn is an award-winning media strategist and consultant with a career spanning more than 25 years. She is a contributor with NBCNews.com/NBCBLK.com, BlackEnterprise.com, HuffPost, and EURWEB.com, among others. Quinn is also a contributor to Souls Revealed and Handle Your Entertainment Business.
Antonice Jackson is the President of the National Black Public Relations Society's Washington, D.C. Chapter. She partnered with Gwendolyn Quinn to produce "The Top African American PR Millennials for 2017" series. Jackson is also a contributor with AllHipHop.com.
REAL LIFE. REAL NEWS. REAL VOICES.
Help us tell more of the stories that matter from voices that too often remain unheard.
This post was published on the now-closed HuffPost Contributor platform. Contributors control their own work and posted freely to our site. If you need to flag this entry as abusive,
send us an email
.