After all, who are we? Just some members of the media, you know? Not public apology experts or anything like that. But then we realized there are public apology experts in the world, and that we could ask them what they thought about the apology. So we did!
But before we go into a bit more detail about what they liked and didn't like, we thought we'd summarize the experts' thoughts by editing the letter itself, according to their notes. So here you go: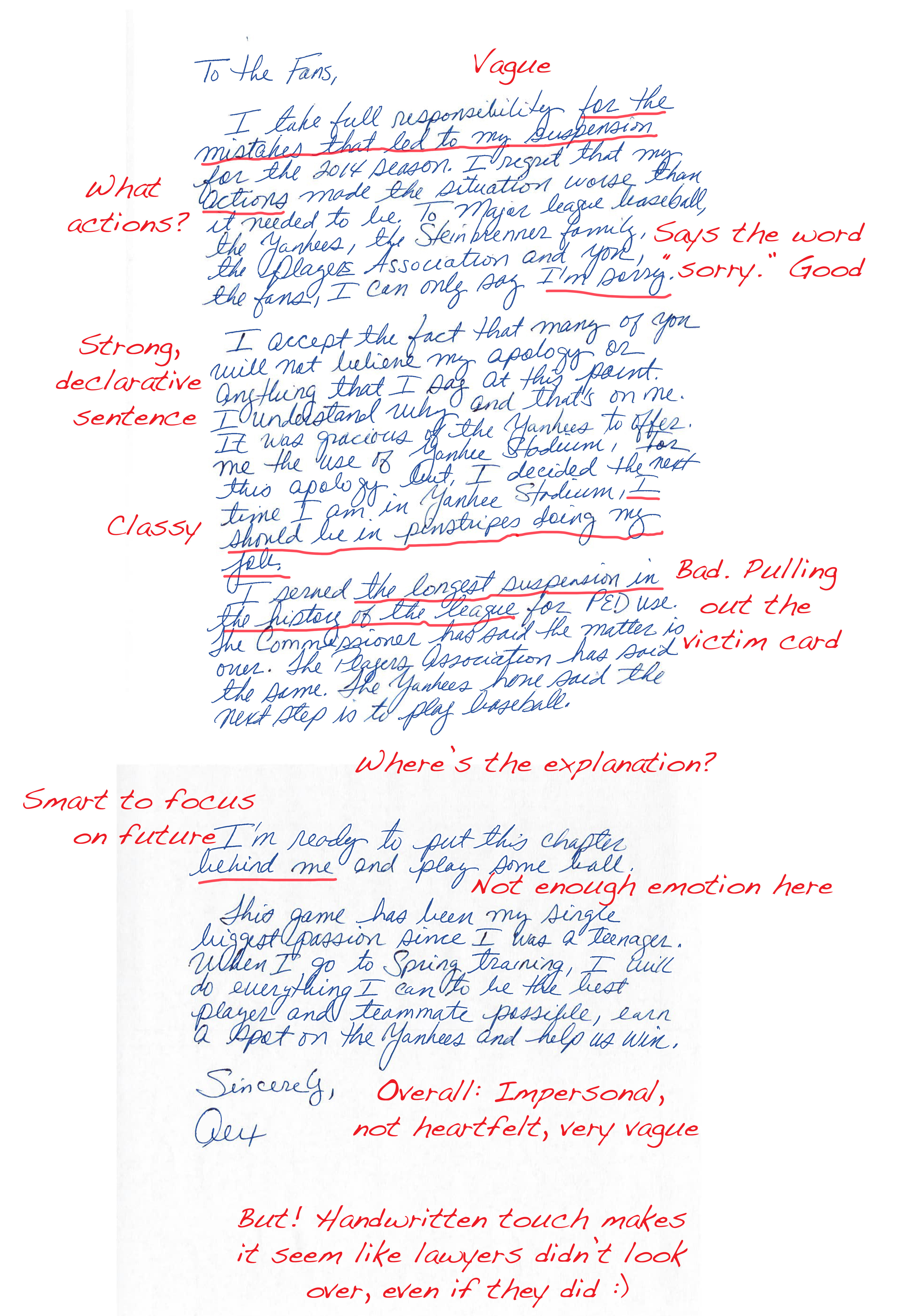 As you can probably surmise, the five experts we talked to were not thoroughly impressed by A-Rod's apology, neither in content nor in form. But some people saw positives. One such person was Jonathan Rick, president of the Jonathan Rick Group, a digital communications consultancy in Washington, DC., who wrote in an email:
The good: [Rodriguez] "takes full responsibility," says "sorry," and expresses remorse. The language is straightforward and the sentences are simple. He writes with nouns without relying on adjectives to drive home his points. He acknowledges his lack of credibility, and, in a nice touch, declares that he doesn't want to further tarnish the pinstripes by apologizing on the field.
But in large part, our expert panel found the language used in the apology not very straightforward. In fact, multiple people said the language was so emotionless and unclear that it made the apology appear basically meaningless.
"The language is vague -- referring to taking 'full responsibility for the mistakes that led to my suspension for the 2014 season,' regretting 'actions' that 'made the situation worse,'" Edwin Battistella, a professor of linguistics at Southern Oregon University and the author of Sorry About That: The Language of Public Apology, wrote in an email. "But Rodriguez never really names what he is apologizing for, which is a requirement of an apology."
"It comes across as very impersonal, not heartfelt, very vague," David Johnson, CEO of Strategic Vision, a public relations agency, agreed in a phone interview. "Why was it so vaguely written? Is there something else that could come out that could be vaguely damaging?"
Rick and another of our experts, Mark Pasetsky, CEO of public relatios firm Mark Allen & Co., specifically took issue with Rodriguez's decision to spend the entire third paragraph (20 percent of the letter) defensively noting that he has already served "the longest suspension in the history of the league for PED use."
"That for me really ruins the letter," Pasetsky said over the phone. "He's just pulling out the victim card again."
"Caveats are the mark of a bad apology," Rick agreed. "A good apology is unconditional."
Then, of course, there was the unusual decision to issue a handwritten note. Almost all our experts agreed the choice was meant to personalize the apology and make it seem like the letter was written by Rodriguez himself, rather than his legal or public relations team, while still controlling the message.
"Rodriguez's apology I think tries to be different by trying to impress upon the public and fans it is not like the typical released statement that has probably been gone over word by word by advisors," Derek Arnold, who teaches communication at Villanova University and has studied public apologies, wrote in an email. "[T]he intention is to again give the fans the impression that he is trying to bypass the typical 'handled' manner other apologies are presented to the public."
But most of the panel said it failed to come across as honest. "He was trying to show that it was personalized, but overall it fails to satisfy anything he needs to satisfy," Johnson said.
Arnold compared Rodriguez's attempt at authenticity unfavorably to another recent public apology: that of Seton Hall basketball player Sterling Gibbs, who was suspended earlier this week for hitting Villanova's Ryan Arcidiacono in the face during a blowout loss.
"Gibbs' apology was immediate (right after the game), and even though it was on Twitter, consisted of multiple tweets and informal language with grammar errors included," Arnold wrote. "[Gibbs' apology] was not, as far as the public comments noted, a prepared statement, carefully worded. It was a sincere apology."
Rodriguez's apology certainly wasn't as immediate as Gibbs' apology, and that led experts to question the reason for its timing, just a few months before the start of the MLB season and well over a year after he was suspended for the entirety of the 2014 season.
"The delay is a big red flag: why say sorry now? Why the sudden and complete change of heart?" Rick wondered.
"It comes across almost like he felt like he had to do it, rather than true contrition," Johnson agreed.
All in all, the experts generally agreed Rodriguez's apology didn't do enough to put the issue away in time for Spring Training.
"It's going to take a lot more than a handwritten letter to get people to the other side," Pasetsky said. "The only thing that's really going to help A-Rod at this point is having a bang-up season."
Support HuffPost
The Stakes Have Never Been Higher
Related
Popular in the Community