The handful of Yankee Stadium infield dirt tucked in his back pocket a was modest compensation for all A-Rod left on the field in a 22-year rollercoaster Major League career. During what was to be his final game in pinstripes, if not any baseball uniform, cameras often cut to A-Rod's daughters, Natasha and Ella, to gauge their reactions to every moment from a run-scoring double, mid-game strikeout and an appearance at the hot corner he called home for 12 controversial years. Throughout the broadcast, their faces reflected the various emotions their dad must have felt during the game.
Considering the drama surrounding A-Rod in the past two years; from a season-long 2014 suspension for his involvement in the Biogenesis baseball scandal, to his resurrection as a dominant power hitter in 2015, to the steep decline that benched him before he and Yankees brass decided on a mutual parting of ways only one week prior to the game, it was easy to forget A-Rod is first and foremost, a father.
In the week prior to his swansong, speculation about A-Rod's status dogged him, his team and weary manager, Joe Girardi. But while Girardi remained swamped by daily media pressure for updates about A-Rod, the player seemed to have found peace when he told reporters he believed he could still be a positive clubhouse presence, or produce on the field, but if not, "I have two beautiful daughters waiting for me in Miami."
After the final out and an ovation more thunderous than the night's pregame storm, reporters bum rushed A-Rod for reflection on his final game. As Meredith Marakovits, Yankees clubhouse reporter for the YES network, began her interview, A-Rod paused to wait for his daughters as they ran toward him. It was clear indication of an immediate shift in focus and priority.
In front of the world, this otherworldly public figure transitioned from potential Hall of Fame player, to dad.
As the girls latched onto their dad, hordes of cameras swooped in and scrutinized the moment like they had so many throughout A-Rod's career, only on this occasion there would be no opportunity for criticism. There would be no questioning his integrity as there was when he distracted opposing infielders while he ran bases in Toronto, or slapped a ball out of the glove of a hated Red Sox player. A-Rod played this moment to perfection, and was beyond reproach. When they reached their dad, the daughters' hugs reflected more emotion than those exchanged with teammates after he led the Yankees to a 2009 World Series title.
Local audiences as well as a national audience watching on FOX saw A-Rod embrace a role far more important than bench warmer on a baseball roster. In front of the world, this otherworldly public figure transitioned from potential Hall of Fame player, to dad. In an instant, a player revered by some and reviled by others became a dad relatable to all. It was a welcomed display of humanity from a man so often described throughout his career as too image conscious.
When his daughters' loving embrace was broken, emotion flooded A-Rod's face; perhaps not because he mourned his career, but because he knew he was free to shift his focus from his job as professional baseball player to vocation as father. He was able to keep his tears in check until the adulation of his daughters brought it out of him. It was a rare glimpse at a private moment experienced by a most public figure.  
In that moment we viewed A-Rod through eyes innocent to the possibility of judgment. His daughters did not care about 696 home runs, three MVPs or a World Series title. For at least a little while, we stopped caring about it as well, and embraced the humanity under the image. They had no interest in debate about whether or not their dad's career was tainted by his role in Biogenesis, or if he will some day be enshrined in Cooperstown. All that mattered to Natasha and Ella was that their father would no longer leave for long road trips, or rely on phone calls and Facetime to communicate. He could go home and embrace a position from which he would never be forced into retirement.
As the interviews ended and crowd noise waned, A-Rod the player morphed into Alex Rodriguez the father. It will be a role the future heroics of which will far supercede any accomplishment on a baseball diamond. There is no question with the storied baseball career of A-Rod now behind him, Alex Rodriguez can rest in the knowledge his greatest achievements are still ahead of him.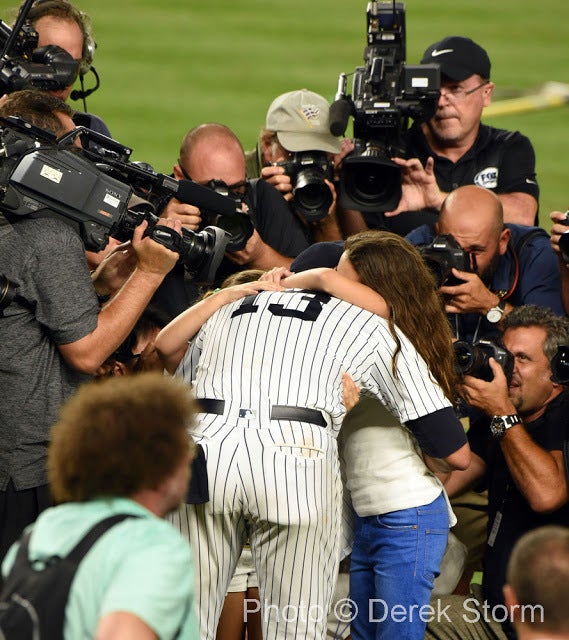 Calling all HuffPost superfans!
Sign up for membership to become a founding member and help shape HuffPost's next chapter
BEFORE YOU GO
PHOTO GALLERY
Best Baseball Quotes