Después de todo, ¿quiénes somos nosotros?, sólo algunos miembros de la prensa ¿sabes? No somos expertos en disculpas públicas o algo parecido. Pero nos dimos cuenta de que existen expertos en disculpas públicas a los que les podíamos preguntar su opinión sobre la disculpa. ¡Y eso hicimos!
Como te podrás imaginar los cinco expertos con los que hablamos no estaban muy impresionados con la disculpa de A-Rod, ni por el contenido, ni por la forma. Sin embargo algunos encontraron puntos positivos, uno de ellos fue Jonathan Rick, presidente de Jonathan Rick Group, una consultoría de comunicaciones digital en Washington DC, quien vía email escribió lo siguiente:
"Lo bueno: [Rodriguez] "asume toda la responsabilidad", dice "lo siento" y expresa remordimiento. El lenguaje es coloquial y las oraciones simples. Escribe con sustantivos sin depender de adjetivos para llegar a un punto. Él asume su falta de credibilidad y en un buen detalle declara que no quiere manchar más el uniforme a rayas utilizando el estadio para disculparse".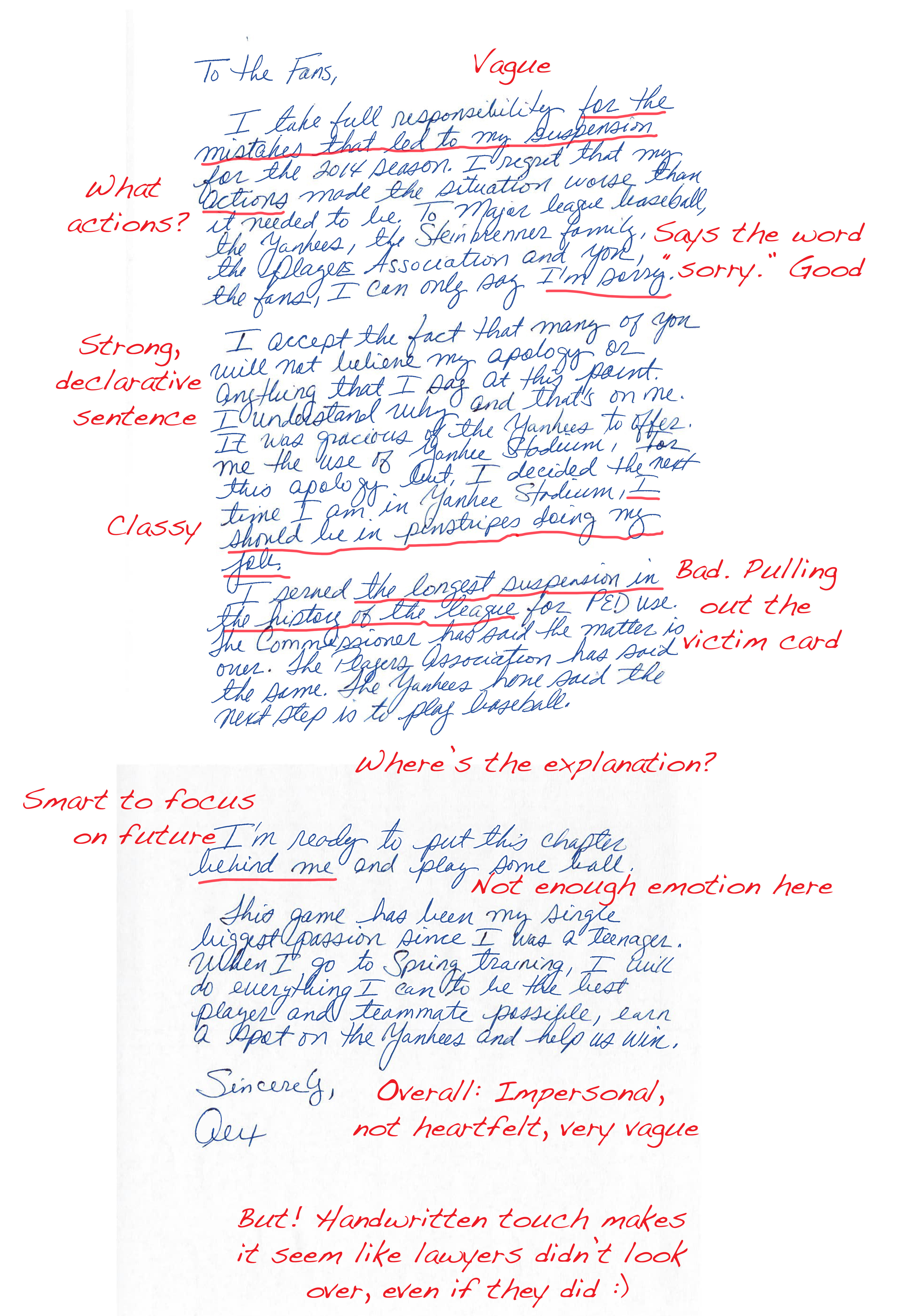 Aquí hay un análisis sobre la misma carta en la que se detallan sus pros y contras (en inglés).
Por otro lado, el experto encontró que el lenguaje no es muy directo, de hecho, muchas personas creen que el lenguaje fue carente de emotividad y poco claro, haciendo que la disculpa básicamente carezca de sentido.
"El lenguaje es vago -- refiriéndose a 'asumo toda la responsabilidad por mis errores, que me llevaron a la suspensión en la temporada 2014'. Lamenta que 'sus acciones hicieron la situación peor", escribió vía email, Edwin Battistella, profesor de lingüística en la Universidad del Sur de Oregon y autor de "Sorry About That: The Language of Public Apology". "Rodríguez no le da nombre a esos errores por los que se está disculpando, lo que es muy necesario en una disculpa".
"Viene muy impersonal, no viene del corazón, es vaga", dijo David Johnson, CEO de Visión Estratégica, una agencia de relaciones públicas, en entrevista telefónica. "¿Por qué es tan vago, será que si hubiera sido más específico, habría salido perjudicado?".
A Rick y a otro de los expertos, Mark Pasetsky, CEO de la firma de relaciones públicas, Mark Allen & Co., les llamó la atención que Rodríguez utilizara a la defensiva el tercer párrafo (20% del total de la carta), señalando que ha cumplido con la suspensión más larga en la historia de uso de sustancias prohibidas.
"Eso para mí arruina toda la carta", dijo Pasetsky por teléfono. "Él se hace la víctima de la situación nuevamente".
"Las advertencias son una muy mala señal en una disculpa", coincidió Rick. "Una buena disculpa es incondicional".
Luego por supuesto está el asunto de que decidió publicar la letra de su puño y letra. Casi todos los expertos coincidieron en que éste fue un intento de hacer la disculpa más personal, que se notara que la escribió el mismo Rodríguez y no un equipo de relaciones públicas o abogados, intentando controlar el mensaje.
"Creo que la disculpa de Rodríguez intenta convencer a los fans de que no se trata de la típica declaración que fue revisada palabra por palabra por un equipo de asesores", dijo Derek Arnold, quien enseña comunicación en la Universidad Villanova y ha estudiado sobre disculpas públicas.
La mayor parte del panel coincidió en que el pelotero falló en su intento de ser honesto, "Estaba tratando de hacer algo personal, pero en general no satisface en lo más mínimo", dijo Johnson.
Arnold comparó el intento de perdón de Rodríguez con otra disculpa pública reciente: La del el jugador de baloncesto de Seton Hall, Sterling Gibbs, quien fue suspendido por golpear a Ryan Arcidiacono de Villanova en la cara.
"La respuesda de Gibbs fue inmediata (justo después del juego), y aunque fue en Twitter, a través de múltiples mensajes con una gramática deficiente, fue efectiva. Se notaba sincera", escribió Arnold.
La disculpa de Rodríguez por supuesto que no fue inmediata. Los expertos cuestionan que se de justo unos meses antes de que inicie la temporada, cuando Rodríguez tuvo todo el 2014 para hacerla.
"La tardanza es una pésima señal, ¿por qué pedir perdón ahora?, ¿por qué éste súbito cambio de parecer?", se preguntó Rick.
"Parece que fue una obligación y no un acto real de contrición", coincidió Johnson.
En resumidas cuentas, los expertos coinciden en que la disculpa de Rodríguez no hace lo suficiente para dejar a un lado todo el tema.
"Va a tener que hacer mucho más que escribir una carta para tener a la gente de su lado", dijo Pasetsky. "Lo único que realmente puede salvar a ARod a estas alturas es que tenga una temporada de ensueño".
La versión original de este artículo fue publicada en HuffPost Sports, y traducida del inglés.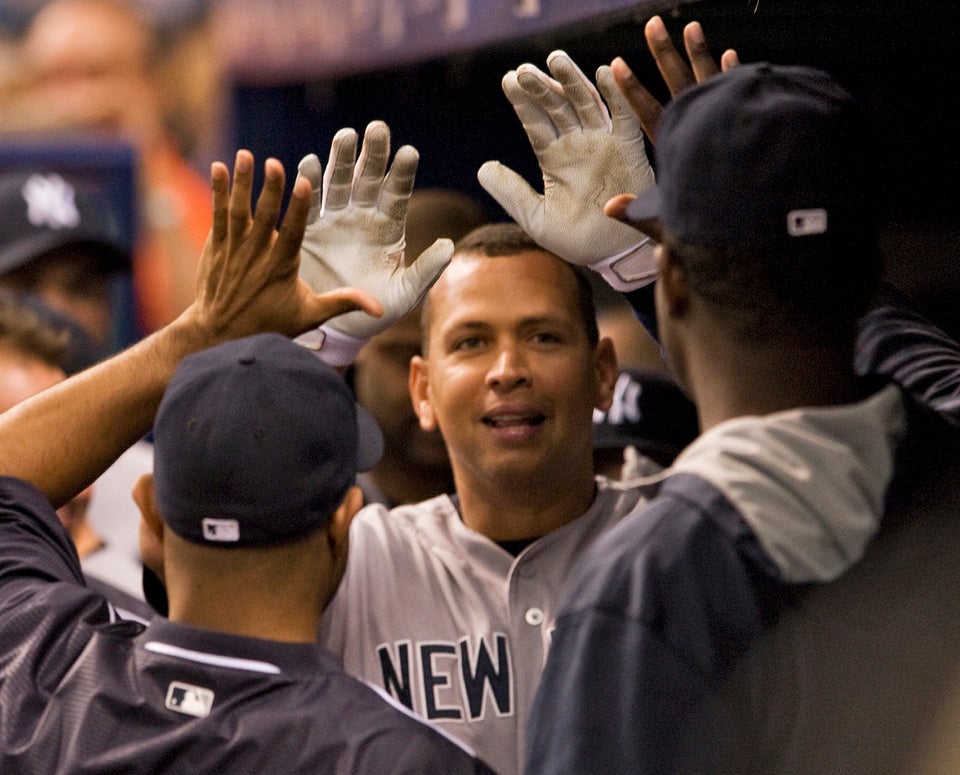 Alex Rodríguez
Popular in the Community