Ahead of his return to the New York Yankees' lineup, Alex Rodriguez spoke with reporters in Chicago. The 38-year-old third baseman said he was "thrilled and humbled" to return to the Yankees but that his involvement with Major League Baseball's latest performance-enhancing drugs scandal had been a "nightmare."
Hours before Rodriguez spoke with the media at U.S. Cellular Field, MLB hit him with a 211-game suspension. The three-time American League MVP remained eligible to play pending his appeal and was set to make his season debut for the Yankees on Monday following offseason hip surgery.
"I want to express to you guys and the fans of baseball that the last seven months have been a nightmare. It's probably been the worst time of my life, for sure. Obviously for the circumstances that are at hand but also dealing with a very tough surgery and a rehab program and being 38," Rodriguez told reporters before taking questions. "I am thrilled and humbled to have the opportunity to put on this uniform again and to play Major League Baseball again."
After his opening statement, Rodriguez took questions from reporters for several minutes but chose not to share details of his appeal or the case against him. He did tell reporters that his camp had seen all of the evidence against him.
"There was a lot. I'm not going to get into any of that today," Rodriguez responded what went into his decision to appeal his suspension unlike the other 12 players punished on Monday. "Obviously, [I was] disappointed with the news today, no question about it But what we've always fought for is the process and I think we have that. And, at some point, we'll sit in front of an arbiter and give our case. That's as much as I feel comfortable telling you right now."
On more than one occasion, Rodriguez refused to flatly deny that he had used performance-enhancing drugs.
"We'll have a forum to discuss all of that and we'll talk about it then," Rodriguez said when asked directly if he denied using PEDs. He would deflect a subsequent attempt to ask a similar question by saying that "there is a lot of things that have been thrown to the wall and I think when the time is right there will be an opportunity to do all of that."
Rodriguez talked about his belief in "due process" and asked that fans have patience. Although he wouldn't seize the opportunity to deny using PEDs, Rodriguez made sure to let everyone know that he is "a huge baseball fan" and that he is "humbled and thankful for the support" he has received. He also spoke about how trying this ordeal has been for him and how high he believes the stakes are for him.
"There is nothing about it that has been easy. All of it has been challenging. I'm sure there's been mistakes made along the way. We're here now," Rodriguez said in what amounts to perhaps his most clear admission of culpability in the Biogenesis scandal. "I'm a human being. I've had two hip surgeries. I've had two knee surgeries. I'm fighting for my life. I have to defend myself. If I don't defend myself no one else will."
Before You Go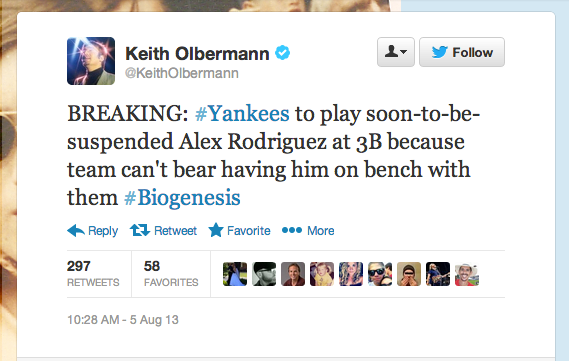 Media Reactions to Biogenesis Suspensions
Popular in the Community