On a 3-0 count with the bases empty Sunday night, Boston Red Sox pitcher Ryan Dempster tagged Alex Rodriguez in the back. In that same at-bat, Dempster threw a ball behind him. His message -- whatever it may have been -- was sent. Not long after, with New York trailing 6-3, A-Rod made his own statement, blasting a near 450-foot home run to dead center field, as if to say, "How do you like these apples?"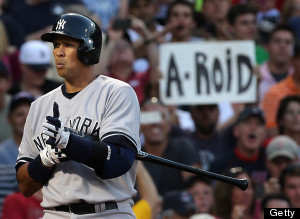 Rodriguez, or "A-Roid," as he has been labeled. (Photo by Barry Chin/The Boston Globe via Getty Images)
"Whether you like me or hate, that was wrong," Rodriguez said after the Yankees 9-6 win. "That was unprofessional and silly. It was kind of a silly way to get someone hurt on your team as well."
In the modern era of sports, our access to athletes puts them under a microscope. Rodriguez, in turn, has become a pariah, though a functioning one who oddly seems to thrive amid remarkable dysfunction around him. He not only may never play baseball after this season, but he also allegedly ratted out former teammate (a cardinal sin) and former Yankees backup catcher Francisco Cervelli. "60 Minutes" apparently has evidence that he identified several players -- including Cervelli -- as PED users when he learned that his name would be included in the Biogenesis scandal. This all adds to the drama of Sunday.
Most striking about the Fenway scene was the sheer vitriol directed toward Rodriguez. "Go home cheater" echoed throughout the crowd during his at-bats. It was loud, it was obnoxious, and most sports fans would probably tell you it was deserved.
Here we have a guy who many thought would break Hank Aaron's home run record and be a top five all-time player. No matter what he does, everything surrounding him will be marked by a gigantic asterisk. He will likely never be on a Cooperstown ballot, and he will probably never regain the fractured trust of the baseball community.
Moments after Dempster drilled A-Rod, when he scored, the camera found him hunching over in the dugout, all alone. It was, in many ways, a sign of the times. We saw the look of a broken player and broken man.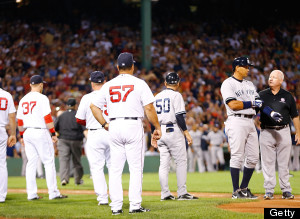 Rodriguez, moments after getting hit by Dempster Sunday night at Fenway. (Photo by Jared Wickerham/Getty Images)
Almost two decades ago, Rodriguez was a five-tool player in his early 20s. He was beloved like Mike Trout or Manny Machado. As a young ball player, he would go to Cambridge by himself and speak to students about why they chose to attend Harvard. He was curious and intelligent. Today, Rodriguez is 38 years old, but he acts like a petulant child in pinstripes.
When asked why the fans passionately boo him like they do, he responded by saying: "I have no idea why." While a dozen other players have accepted 50-game suspensions, Rodriguez is appealing.
While we do not know what's in store for A-Rod's future -- will the suspension be reduced, how much of that $86 million will the Yankees actually pay him, and will he really move forward with the grievance against his team? -- we can rest assured that the media firestorm will continue. Perhaps it will never go away. Perhaps none of this would have happened if George Steinbrenner was still alive. But one thing we can all agree on is how sad the plight of Alex Rodriguez has become.
Email me at jordan.schultz@huffingtonpost.com or ask me questions about anything sports-related at @Schultz_Report. Also, be sure and catch my NBC Sports Radio show, Kup and Schultz, which airs Sunday mornings from 9-12 ET, right here.
REAL LIFE. REAL NEWS. REAL VOICES.
Help us tell more of the stories that matter from voices that too often remain unheard.