 The child migrant crisis on the border has pushed many in the U.S. to consider the complex history that has led to this point. Alex Sánchez's life story offers a dramatic example of how U.S. policy has failed both in Central America and in its own communities of color for decades.
Sánchez was brought to the United States at age 7 to escape the U.S.-funded civil war in his native El Salvador. Once in the U.S, he found himself an outsider and sought protection in what would evolve into a street gang. America's prison system, the world's largest, helped complete Sánchez's metamorphosis into a hardened criminal. When the U.S. government began deporting criminals en masse in the 1990s, Sánchez was sent back to El Salvador.
He found a country mired in violence, poverty and crime, where his American gang affiliations made him a target. Unable to escape his past, Sánchez returned to the United States in 1995. Today, he works to promote a culture of peace with former gang members and other youth through the organization Homies Unidos.
COMING TO THE UNITED STATES
I came as a child immigrant from El Salvador in 1979, just as the war was starting. We were exposed to bodies, witnessing decapitated bodies along the way to school. We were aware that if we heard shots during the night to avoid the [railroad] tracks, which was a shortcut to school.
Our parents left us behind for five years. They came [to the U.S.] in the mid-'70s. We got used to calling someone else "Mom" and "Dad" in El Salvador, so we didn't really want to leave. But at the same time, we didn't have a choice.
We came with some complete strangers. We went through Mexico. It wasn't nearly as difficult as it is now. But I remember crossing the border and being so afraid that if the Border Patrol got us, that we were going to be separated from the people that had us, and from our families -- whoever they were, because we didn't know our mom and dad anymore. All I had was a black-and-white picture of my mother from when she was only around 16. She was in her 30s now. Anti-government demonstrators run for cover Monday, October 22, 1979 in San Salvador as gunmen open fire from a hilltop and nearby buildings. Alex Sánchez left the country in 1979 at age 7 after civil war broke out that year.
We made it to the border in San Diego and came to Los Angeles, where we were exchanged in the downtown Skid Row area. So all of the sudden we were with this couple in a pickup truck -- my little brother, who was 5, and I, who was 7 -- just holding hands and looking at these two people like complete strangers. We thought initially that we had been sold, that we had been given to other people -- we just didn't know what to make of it.
And as we got enrolled into school, we got confronted with another reality -- that it wasn't going to be easy to be an immigrant in a classroom where everybody only spoke English and you were an outsider.
There was a lot of bullies and we became a main target, so it became really difficult for us to adjust. We were confronted with all kinds of things. They pushed us, beat us up and whatnot ... I didn't know how to make friends, and I didn't want to make friends anymore after a while.
By the time I got to fourth grade, it became intolerable ... I couldn't adjust to this culture, and I was just holding a lot of anger inside. One day these bullies started messing with me and all it took was a paper airplane that they crushed that I was playing with. They crushed it and threw it at my face. That blew me up.
I lashed out at that kid. I started punching him until I started crying. And for me that moment was my own therapy, in some ways, to beat up this kid, since there was no alternative for me. I just released all this anger that I had inside on this kid. I ended up getting suspended.
But when I got to middle school, that's when I realized that there was another group of youngsters that were like me, that were Salvadorans, that were Central Americans, that had dealt with the problems that they had experienced differently. For them, instead of trying to assimilate into the culture, to coexist, they created their own culture here in Los Angeles...
And I was attracted to it ... Eventually it became a gang, but initially it was just to protect each other from the other groups that were harassing us.
Once we started getting arrested because of fights, because of minor crimes and other things, we had to assimilate to the predominant culture inside the juvenile hall system, which is the more traditional gang style. Once we were in there, we were forced to cut our long hair and we were basically assimilated. And once people started coming out from juvenile hall, they were bringing this different culture to the neighborhood.
It didn't help us in any way to be rehabilitated. It made us worse. And that turn took me into county jail, and eventually into prison, before I got deported.
I was 22 now, in a country that I didn't know. All I had was a piece of paper with an address. But when I was deported, I had a place to go. Many of the other guys that I knew who had been deported, they didn't have homes. They were homeless, or their families had basically denounced them and didn't want to have nothing to do with them. They ended up living in the street. They ended up meeting other children that were living in the street.
These children were known to be called "los niños huelepegas," or "the glue-sniffer children." And these niños huelepegas were children who had been abandoned, abused, discarded from society, basically. A lot of these kids would come out and ask for food, for money, and they were beaten up, they were abused. They died like dogs in the street...
These kids started getting "jumped in" [to gangs] -- it became a tradition like they do it in Los Angeles and other places, the ritual of a "jump in," which is a 30-second beating [that initiates you into the gang].
These kids were being treated like trash. Now all they had to do was to put a letter or a number on their faces and go ask for money, and people were so afraid of them. Before, nobody gave a damn about them. Police used to beat them up and tell them to "get out of here you huelepega, you glue-sniffer." Now, people were like "Please, don't hurt me"...
At the end of '94, we had the rise of a death squad that was supposedly going to come out and eradicate the problem of gangs ... They wrote to the gangs in these flyers throughout the communities in different parts of El Salvador that they were called "The Black Shadow," "La Sombra Negra." At one point in San Miguel, [police] arrested many that were supposedly members of [the death squad] and some were former police officers, some were former military people that were now getting paid to get rid of the problems in these communities...
But the gangs did not understand that concept of "get in your place because we're going to kill you." They understood that it was another gang that was called "The Black Shadow," and that if they weren't careful then they were going to get killed, just the same way that they were getting killed by the rival gangs...
CROSSING THE BORDER ONCE AGAIN
I myself needed to get the hell out of El Salvador because I was targeted. But also because I had a son over here, and I needed to come back. I never expected to go to El Salvador. I didn't have nothing down there. My family was here. My mother, my parents, my siblings were here. And now I had a son, who I had not seen because I was in prison after he was born...
So I came back and I took the road again as an immigrant, through Mexico, now as an adult, not a child. And I got to experience what it was to be a Central American going through Mexico.
It was the cruelest thing that I've ever experienced. This was in '95. We were kidnapped by the federales and held for ransom until our families sent money. We were fought over by different coyotes [human smugglers] that wanted to steal some of the women from the group that we were with. We were deported twice from Mexico. We were in the detention center seeing many people that had fallen off the trains that were amputees now...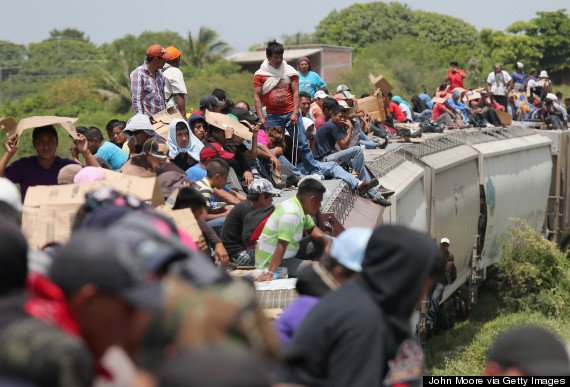 Central American immigrants ride north on top of a freight train on August 6, 2013 near Juchitan, Mexico. Sánchez did not himself ride on the famous train, known as "La Bestia," but during his 1995 journey from El Salvador to the U.S., he met many people who had.
I made it across. I got a little job. I didn't give a damn if I was getting paid under the table and it was less than minimum wage -- at least I was making some money and taking care of my son, trying to become a father and trying to stay out of trouble. And it's difficult. It's really difficult being undocumented in this country, trying to do good. But I knew that it was better than being in my country and having to face what I was facing.
I found out that some of the members that I knew in El Salvador after I had gotten deported had started a program called "Homies Unidos" in El Salvador ... That's how I came to know about this group. I was invited one time here in Santa Cruz to go to a conference, and I went, and that's when I said, "You know what? I had been part of the problem for some time. I think it's time for me to be part of a solution"...
I got support from other people and started organizing, bringing youngsters over to a church that gave us space in Los Angeles. We were having group meetings every week, doing art. And from those meetings, a lot of needs came out. Some of the youngsters were having unprotected sex and they were getting infections. Others had legal issues. Others were victims of police brutality.
We started going to different organizations in the community and asking for help for these youngsters. And that's how we started the organization called Homies Unidos in Los Angeles.
We wanted to keep it with the same name as in El Salvador, although in El Salvador it was really difficult. They were too far ahead of their time, and three of their directors got executed. About 24 others got shot. A grenade was thrown into the office at one point. Their office was ransacked twice. So they really suffered down there, trying to do the right thing...
It took me two years, but on July 10, 2002, I was able to win political asylum. Not only because I was a former gang member, or [because] I was targeted, but because I was also doing activism out in the community and helping the community. And those people in El Salvador had been executed. So we knew what I could expect, and I was granted asylum for my political opinion...
I could see my son grow. He graduated high school, he graduated college. I had two more children and a stepson and I've been married for the last 10 years.
When I went to prison the third time [before getting deported], I really started thinking about what was going to happen to me. I really wanted to change, but I just didn't know how ... I was looking for an alternative to this world, to this life that I had been living for many years before that. So when I came over here and I became a father to my son, it was the opportunity that I had to leave that lifestyle, and I did.
That's why I continue to do this work. I'm giving the opportunity to these youth, who [see] what I've endured, and use it as an example, and say "Look, this is what you can suffer if you continue that lifestyle." And we've been able to help many youth get their tattoos off, been able to get many youth to get their families together -- even help and counsel how to be fathers to their kids. It was difficult for me to become a parent. It's still difficult for me to be nurturing, to hug my son, because I never experienced those moments with my father. So now we're teaching our youth in the community how to do those things.
Calling all HuffPost superfans!
Sign up for membership to become a founding member and help shape HuffPost's next chapter
BEFORE YOU GO
PHOTO GALLERY
How The U.S. Caused A Border Crisis