Hollywood has brought greater depth to its depiction of gay characters as of late, with films like " Moonlight," "Call Me by Your Name" and, most recently, "Love, Simon" illustrating varying aspects of the queer experience.
Though writer-director Craig Johnson enjoyed those movies, he hadn't seen what he described as the "central conflict" of his own coming out journey portrayed onscreen.
"I had a few significant relationships with women growing up and girlfriends, even, where my emotional investment was all-in," Johnson said. "However, there was that one issue that made these relationships never work out, and it was so confusing for me and heartbreaking for the girl."
Johnson harkened back to those awkward teen moments for his new film, "Alex Strangelove," which began streaming on Netflix Thursday. It follows Alex Truelove (played by Daniel Doheny), a high school senior who seems to have it all: popularity, good grades and a girlfriend, Claire (Madeline Weinstein). With graduation looming, Alex and Claire plan to finally consummate their relationship ― that is, until Alex finds himself drawn to the dreamy Elliott (Antonio Marziale), a gay college freshman. (Catch the film's trailer above.)
Johnson began writing the screenplay to "Alex Strangelove" 10 years ago, and peppers his film with deliberate nods to 1980s rom-coms like "Sixteen Candles" and "Pretty in Pink," as well as the raunchy humor of modern hits like "Superbad." Johnson ― who captured a gay man on the brink of a much different crisis in the acclaimed 2014 dramedy, "The Skeleton Twins" ― spoke to HuffPost about why he sees "Alex Strangelove" as a "universal" movie rather than a queer-specific one.
What did you set out to accomplish with "Alex Strangelove" that you hadn't seen on film before?
I'm a child of the '80s and grew up on John Hughes' high school movies. I've also loved some of the more recent sex comedies ― "Superbad," in particular. I've never seen a high school movie where the conflict involves kids struggling with their sexuality, but also embraces a rowdy, sex comedy vibe. I realized that the story was honestly my story, my autobiographical coming out story. That, for me, stretched well into my 20s, but I thought if you condense that into one kid's senior year of high school [and] really anchor it in the sex comedy genre, it would make for a movie that I hadn't seen before.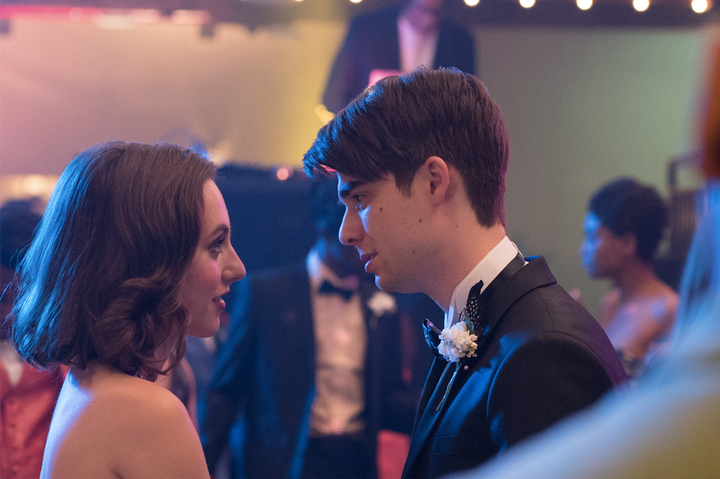 "Alex Strangelove" comes on the heels of "Love, Simon," and a lot of critics have already compared the two films. What is it about your film that distinguishes it from its predecessor, which also centered on a gay teen?
I think we're the rowdy older brother to "Love, Simon." We share some DNA for sure. We're a little more sex, drugs and rock 'n' roll. We're houses on the same block, but there's room for multiple houses. Thank God there are so many perspectives out there to create all kinds of [queer] stories, from "Love, Simon" to "Moonlight."
What convinced you that Daniel Doheny was right for the part of Alex?
He reminded me of me, honestly, when I was a teenager. Also, he has a leading man charm to him. He just has the sweet, beating heart to him that I knew Alex needed, especially because during his journey, he tramples on people to figure himself out. His heart is in the right place, even if he stumbles along the way.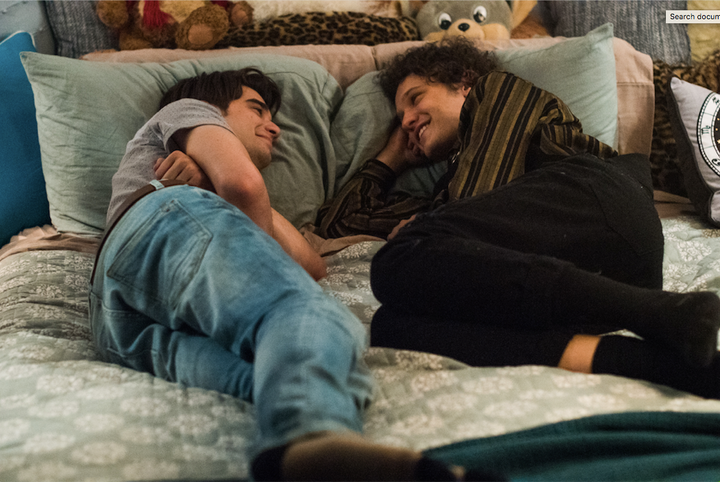 The movie has a pretty incredible soundtrack, too. What were your discussions as far as music is concerned?
I am a music freak. I hand-picked all of the songs … music is so important to me. There's definitely a nod to John Hughes, because synth pop is back in a major way. For Elliott, we made sure he was going back to some iconic music like Dusty Springfield and the B-52s.
Between "Alex Strangelove" and "The Skeleton Twins," do you feel a responsibility to highlight queer themes in your movies?
I wouldn't feel so much a responsibility as just a natural drive to do it, and to integrate them seamlessly into stories that might not be thought of as an "LGBT movie." I want to get to the point where I'm directing a superhero movie and after saving the world, the hero goes home and gives his boyfriend a kiss and we don't bat an eyelash. That's what I'd like to see us become, see us arrive at as a culture.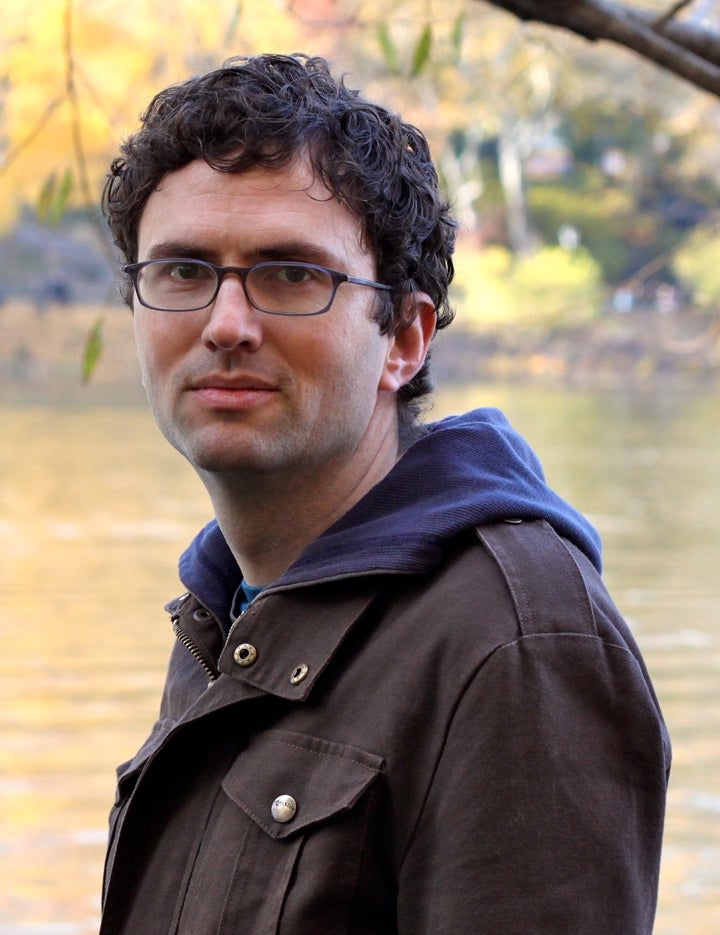 Is there ever a fear that a story won't resonate with those who don't identify as LGBTQ, and if so, how do you address that in the creative process?
I don't worry about that because I think of myself as a storyteller first. The movie's got to be good no matter what, no matter who the characters are. A good movie means that the conflicts feel universal. All teens can relate to awkward sex and embarrassing feelings in high school. You don't have to be struggling with your sexuality to be freaked out by sex. Tons of movies already explore that. "Alex Strangelove" is just another shade of it.
Why did you opt to take the Netflix route instead of a traditional cinematic release?
Quite frankly, we explored all options and what we found was with traditional studios … it would've been a real struggle to finance it because we knew it would be fresh faces and not a lot of movie stars. The wonderful thing about Netflix is that their business model doesn't require an opening box office weekend. They said, "Cast whoever you want. Have fun. Go make it." As a result, we got to make the movie we wanted to make.
"Alex Strangelove" is now streaming on Netflix.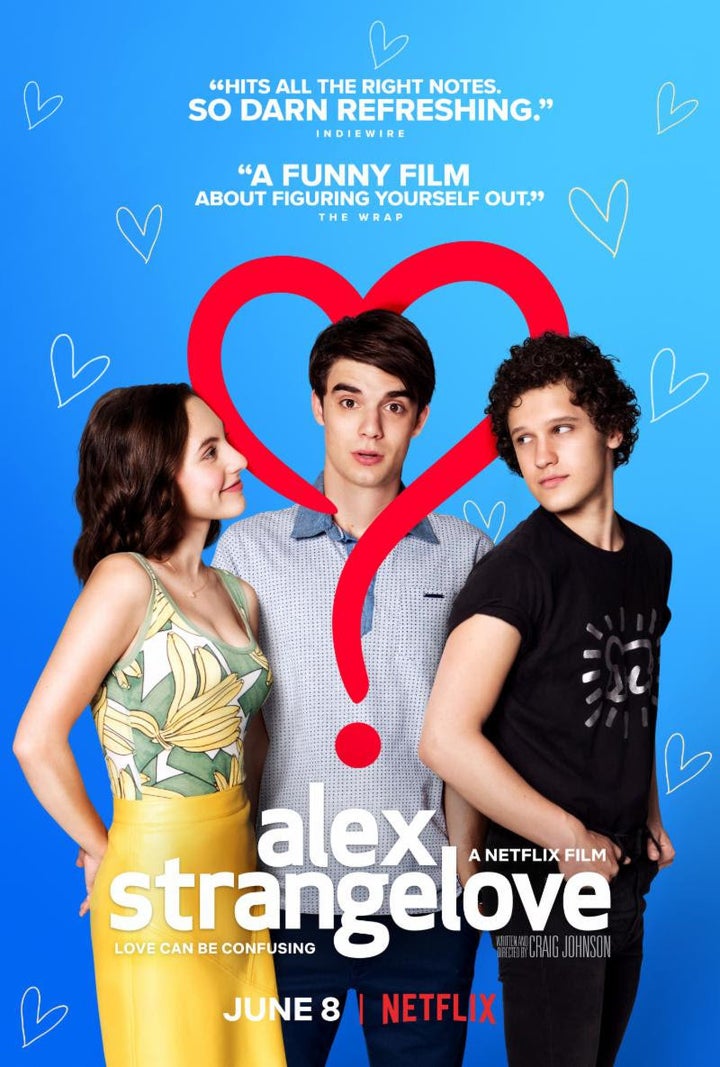 Support HuffPost
Every Voice Matters
Popular in the Community