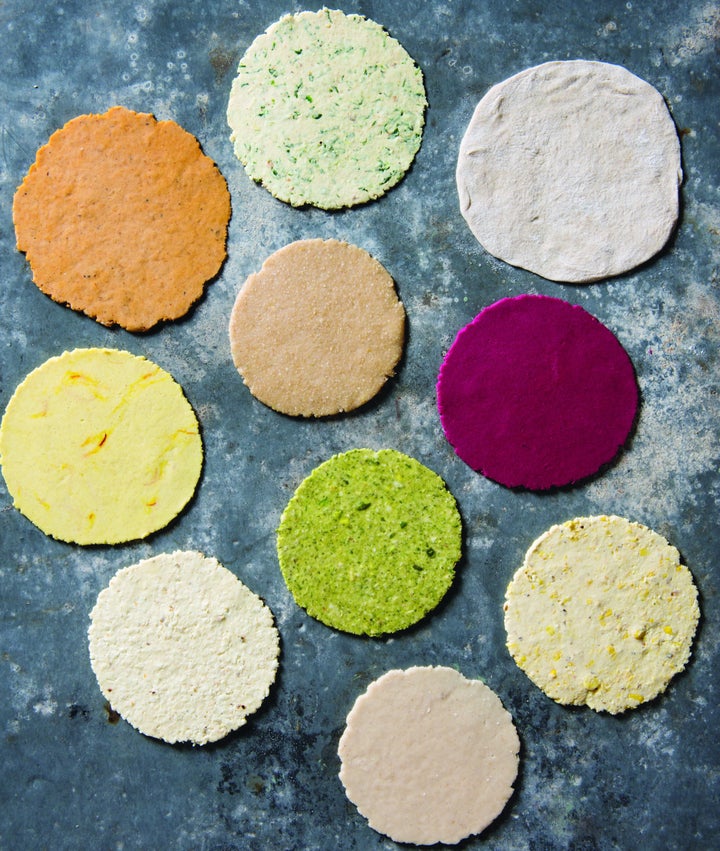 Eaten by hand, possibly while standing in front of the truck from whence they came, tacos are an everyman food. They may be consumed for breakfast and most definitely for a late night snack. They're a street food through and through: accessible and casual. This doesn't mean, however, that they're simple or uninspired -- especially not when they come from the creative mind and deft hands of New York City chef Alex Stupak.
Stupak, chef and owner of NYC's Empellón restaurants, has been called the "tortilla whisperer," and it's no secret why. The celebrated pastry chef -- and self-described "white boy from suburban Massachusetts" -- cultivated his interest in Mexican food into one of New York's most nuanced and forward-thinking restaurant groups. His food is unapologetically inauthentic, because authenticity isn't his goal. The word "empellón" means "to push" or "to break through" in Spanish, which is precisely what Stupak does.
This week saw the release of Stupak's first cookbook, co-authored by NYC-based food writer Jordana Rothman. With its own chile index and list for a proper Mexican pantry, "Tacos: Recipes And Provocations," isn't kidding around. There's an entire section on tortillas -- with flavors like saffron or pistachio -- and a section dedicated to salsas as well.

Tacos can be humble expressions of street culture, or they can be fine-dining ideas wrapped in a tortilla. They can be tradition-bound, or they can be true innovations. For Alex Stupak of Empellón, there is a fine line between taking a cuisine in a new direction and stripping it of its soul. This book is about treading that line.

From sea urchin salsa to smoked salmon tacos with cream cheese, the recipes are as fantastical as they are varied -- and each one tells a story. There's something for everyone in this gorgeous book. Check out some of the standout recipes from the new book:


Pastrami Tacos With Mustard Seed Salsa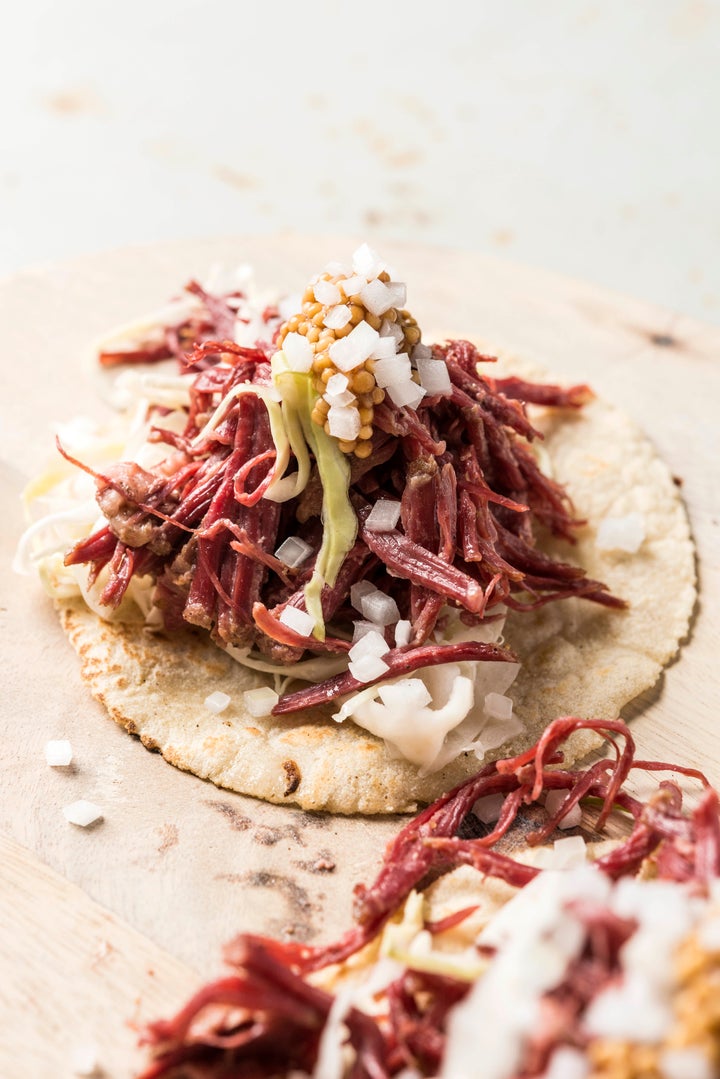 "If Mexican colonists laid down roots among the Old World delicatessens of New York City, I like to imagine that this is the bastard taco they'd cook. A multi-day brine plus a 6-hour low-and-slow roast means this dish takes advance planning. But the longer you let the pastrami cure -- three days is the minimum, but a week is ideal -- the better chance you have at yielding insanely tender, well-seasoned meat permeated with the flavors of brown sugar and honey. The extra time pays off in shreds of coriander-scented pastrami, cut with tart pickled cabbage and mustard seeds."
Chicken Wing Tacos With Salsa Macha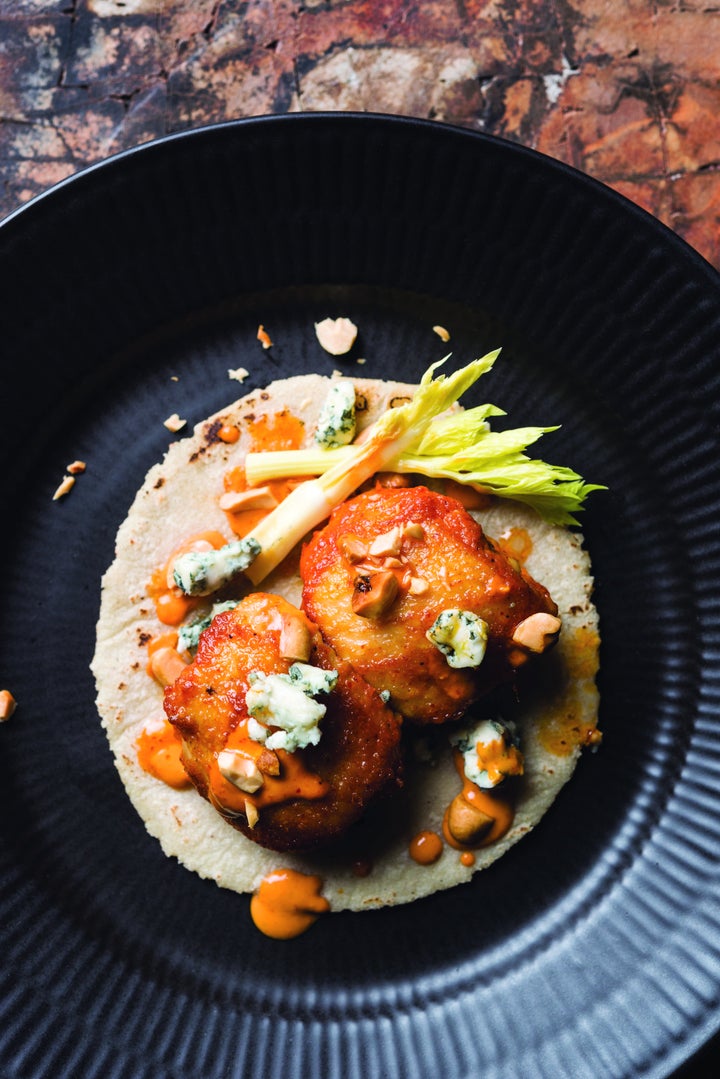 "The first time I tasted vinegary, wicked-hot salsa macha, it made me think instantly of Frank's RedHot sauce and, by extension, of buffalo wings. This taco brings that affinity full circle, with confit chicken wings and a garnish of crunchy celery and blue cheese. If I were the sort of man who didn't vehemently hate football, I'd probably eat a tray of these tacos with a bowl of chicharrones while watching the game with my bros. This taco is delicious anytime, though. Even if you are not a bro."
Cheeseburger Tacos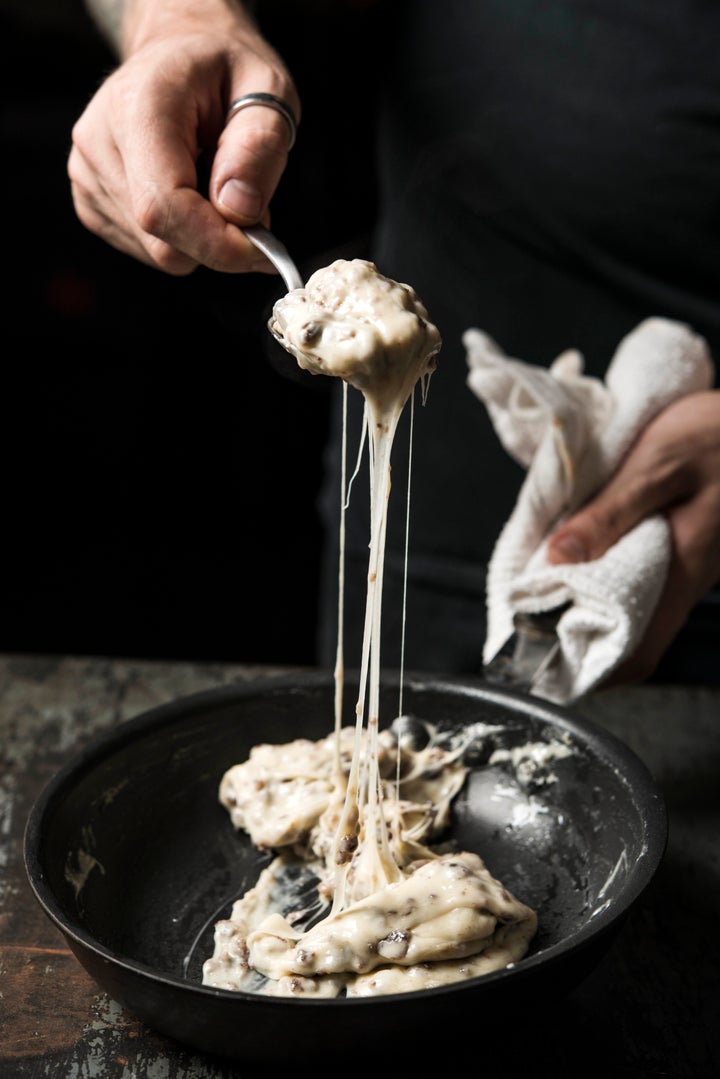 "My wife, Lauren, and co-author, Jordana, discovered the cheeseburger taco together in Mexico City. ... I was checking out the trompo rig at El Rey del Taco in Coyoacon when I saw Lauren and Jordana talking to the griddle cook. There was a line forming around the corner and he was passing plate after plate of the same tacos over the counter. At that time in New York, people were camping out on a SoHo sidewalk to taste a Cronut; in Mexico City, they were queuing up for cheeseburger tacos.
"The women ordered one taco and we all watched as the cook prepped the griddle with lard, added a burger patty and a handful of grated cheese, and attacked the thing with a pair of metal spatulas, chopping and scraping the melty mess as if he were mixing cookie crumbles into ice cream at a Cold Stone Creamery. He swiped a flour tortilla with mayo, piled on the gooey beef, and topped it with sliced tomato and avocado. I really didn't want to like this thing. But I did. We all did.
"My god, cheeseburger tacos. Cheeseburger tacos. The absurdity of it can take your breath away."

Get the Cheeseburger Tacos recipe from "Tacos: Recipes And Provocations"
Recipes reprinted from TACOS: RECIPES AND PROVOCATIONS by Alex Stupak and Jordana Rothman. Copyright ©2015 by Empellon Holdings LLC. Photos by Evan Sung. Published by Clarkson Potter/Publishers, an imprint of Penguin Random House LLC.