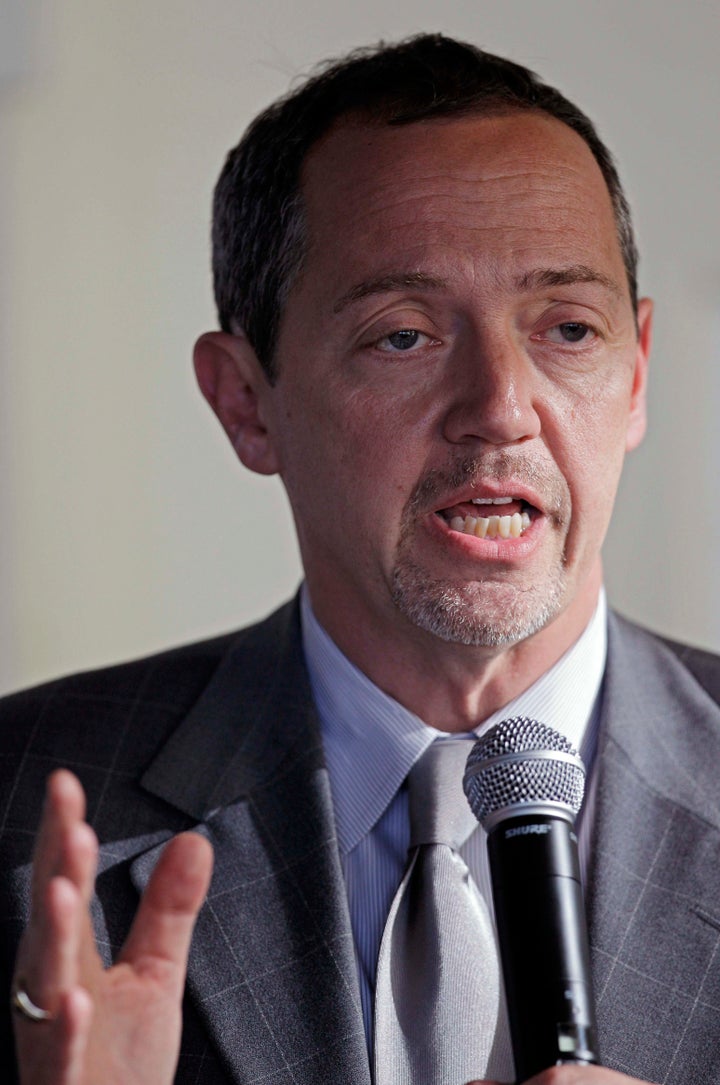 Only months after resigning from two of San Francisco's highest profile electoral campaigns, lobbyist Alex Tourk has signed on to manage the daily operations of Bevan Dufty's mayoral effort.
"Hiring Alex Tourk to run my campaign day-to-day [sic] in the final piece of the puzzle," said Dufty in a release put out by his campaign. "I first worked with Alex Tourk in 1999 when we were both in neighborhood services for Mayor Brown. He is a veteran of many hard-fought, successful campaigns in San Francisco. I am thrilled to have his leadership, experience and talent managing my campaign."
As the city's electoral campaigns were starting to ramp up earlier this year, Tourk was right in the center of the maelstrom. Not only was Tourk a senior advisor on Dennis Herrera's mayoral campaign, but he held a similar position in police chief-turned-District Attorney George Gasćon's re-election effort. In addition, his political consulting firm, Ground Floor Public Affairs, lobbied on behalf of clients like the California Pacific Medical Center and the San Francisco Police Officers Association.
Tourk served as a campaign manager and top aide for Gavin Newsom (until the former mayor was very publicly revealed to have had an affair with Tourk's wife) and was a driving force on a diverse array of issues like Project Homeless Connect, the Sit-Lie ordinance and the redevelopment of the Hunter's Point shipyard. In short, Tourk is a much of an insider in San Francisco politics as someone can be without getting their own weekly column in the Chronicle.
Tourk's political fortunes started to unravel in early May, and it all began with a fight over a little boathouse tucked into a bucolic corner of Golden Gate Park.
Bruce McLellan's family had operated the Stow Lake Boathouse for well over half a century; however, officials at the city's Recreation and Parks Department had grown frustrated with McLellan's continued refusal to invest in the significant capital improvements that officials felt were necessary. McLellan, then operating the facility on a month-to-month lease, didn't want to put any more of his own money into the boathouse until the city gave him a longer-term agreement. It was at this point when the Recreation and Parks Department officials decided to put the contract for the management of the boathouse out to bid.
When all the bids came back, the department's selection panel preferred Ortega Family Enterprises. Officials liked Ortega because the New Mexico-based firm offered to sink $233,000 into the project, whereas McLellan's number was a scant $20,000.
Department officials, quite presciently, figured that ripping the operation of the boathouse out of the hands of a long-time, locally owned small business owner and giving it to a larger, out-of-town firm would raise hackles. Department officials told Ortega to hire a lobbyist to assure their bid sailed though the rest of city government. The lobbyist they suggested was Alex Tourk.
Once hired, Tourk successfully steered control of the boathouse into Ortega's hands but, in the process, became ensnared in a lawsuit filed by McClellan alleging improper conduct in the way the city awarded Ortega the contract. The trial exposed a number of documents that, to put it charitably, didn't cast Tourk's firm in a particularly positive light.
"We won because of our back channeling with commissioners," Tourk wrote to Ortega after they were awarded the boathouse contract. Tourk's firm also managed media outreach, telling Ortega that, "if you can't explain it in a paragraph, it can't be explained. We will be concise and to the point as reporters need to be fed, are generally lazy and we can't ramble on." Touché.

Additionally, the Chron reports that an organizer was hired to set up an astro-turf campaign of "volunteers" supporting Ortega's bid at public meetings. "[It'll cost] $500 for the first 30 individuals and $500 for another 15," wrote one of Tourk's employees in an email.
After these revelations, additional scrutiny was paid to Tourk's lobbying efforts and that scrutiny, in turn, led to even more damage.
A measure passed by the Board of Supervisors in 2004 mandated registered lobbyists report every conversation they have with a public official on behalf of a lobbying client. The measure also prohibits them from lobbying one of their clients on behalf of another.
Tourk, as it turned out, had done both.
He met with three Recreation and Parks Department Commissioners (including the commission's president) pushing Ortega's bid but neglected to report any of these conversations as lobbying visits. Conversely, Tourk reported conversations with Herrera, whose campaign he was also advising, as lobbying activities on behalf of the Police Officers Association and the California Pacific Medical Center.
The interval between these improprieties becoming public and Tourk's resignation from both the Herrera and Gasćon campaigns was, unsurprisingly, very short.
Even though Tourk resigned from Herrera's campaign, one of his top lieutenants at Ground Floor, Maxwell Szabo, remained on Herrera's staff in an advisory role.
For his part, Dufty seems unconcerned with any unsavory taint an association with Tourk may have on his campaign, as SF Weekly reports:
Besides, Dufty continues, the situation that entangled Tourk with regards to Herrera and Gascón doesn't apply to him. "What doesn't concern me is that I'm not an officeholder. And I'm very conversant with my responsibilities," says the mayoral candidate. "To wit, when I'm elected mayor, there'll be a five-year period that Alex will not be able to lobby me for a paid client. I'm very aware of what my responsibilities are."
In his column this week, Willie Brown wrote, "not only is Alex well liked by many in the city, but he is also one of the best field organizers to work the city's streets in quite some time. Now Alex will be working for former Supervisor Dufty, a guy who obviously is not afraid of giving someone a second chance."
Calling all HuffPost superfans!
Sign up for membership to become a founding member and help shape HuffPost's next chapter