Artist Alexa Meade paints on top of real people and 3D environments. She masks skin, clothes, walls and furniture in nontoxic acrylic paints that imitate the colors and textures of the world beneath them. Then, she photographs or films the scenes, creating a hallucinatory effect in which real spaces appear like painted canvases, alive and kicking.
Meade's most recent piece, a video called "Color of Reality, " features movement artists Jon Boogz and Lil Buck covered head-to-toe in Meade's signature camouflage. The powerful short video, written, directed, and choreographed by Boogz and produced by Animi Design, is both a tribute to the black men and women who've lost their lives to police brutality as well as a call to action, pleading for an end to violence.
In "Color of Reality," two painted figures are shown watching TV, listening to news anchors report on the murders of unarmed black men at the hands of police. A broadcaster begins to describe "graphic body cam and dash cam video of an officer-involved shooting where an unarmed black teenager was killed by police" before Boogz flips off the television set in anguish.
The two dancers then proceed to channel their frustration and heartache into movement, their bodies undulating, jerking and floating as if possessed. The men eventually leave their painted room to enter the outside world, producing a visual clash between Meade's tinted reality and the society outside of it.
The piece ends when Boog and Buck are stopped short as the sound of gunshots rings out. Red paint gushes from their bodies as they crumble to the ground. The message is simple: Senseless violence must come to an end.
See the entire video below.
Related
Before You Go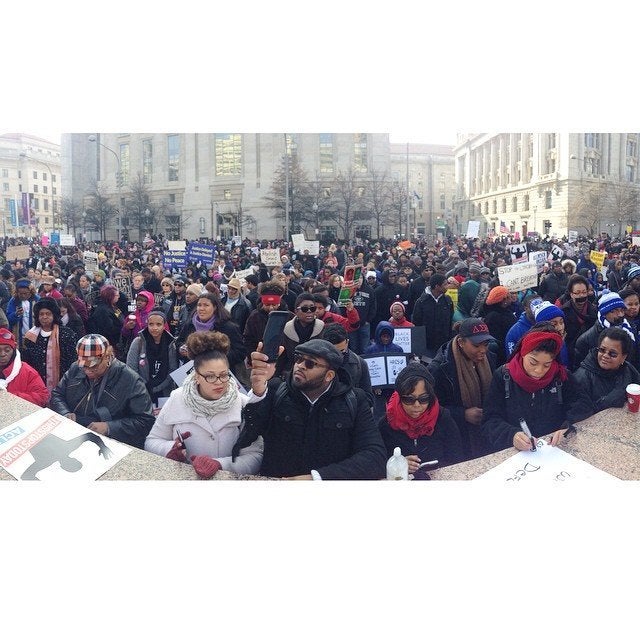 Powerful Black Lives Matter March In Washington
Popular in the Community