 NEW YORK -- When ordinary members of the public want to read up on the case of Bradley Manning, the U.S. Army private who has pleaded guilty to sending classified documents to WikiLeaks, there's no official court website to visit. No number to call. Not even a semi-accessible file cabinet tucked away on the grounds of Fort Meade, Md., where his trial is scheduled to start in June.
The paper trail that usually follows a federal court case is shrouded in secrecy. Pretrial hearings have by and large been open to the public -- but there are no recordings and no official transcripts. So the job of assembling a public docket and transcripts for the case has been undertaken by one independent journalist, Alexa O'Brien, who has transformed herself into a virtual, unofficial court records system.
"She's a national treasure," said Jesselyn Radack, the national security and human rights director of the Government Accountability Project, a nonprofit whistleblower group. "The Army owes that girl a paycheck."
Manning, 25, is accused of giving WikiLeaks hundreds of thousands of sensitive State Department cables, as well as a video of a 2007 U.S. helicopter attack that killed a Reuters photojournalist and 10 others. He has pleaded guilty to lesser charges in the case that could put him in prison for 20 years, but the military is still prosecuting him on more serious charges that could carry a life sentence.
Within the context of this officially "public" court-martial, the government is seeking to keep the proceedings as hidden as possible. But the authorities didn't reckon on O'Brien.
An IT professional-turned-independent journalist in her 30s, O'Brien has been a player in a number of major protests against the Obama administration. She's a plaintiff in a lawsuit launched by journalist Chris Hedges against the Obama administration over a law mandating indefinite military detention for suspected terrorists. Starting in January 2011, she covered WikiLeaks' release of the State Department cables.
By August 2011, her work with an organization called US Day of Rage had led her to Occupy Wall Street. Before the latter group's protests even kicked off on Sept. 17, 2011, she was a vocal and divisive figure in tactical debates. Her sharp -- some said too sharp -- style did not always go over well in the consensus-based confines of Occupy.
But ultimately, O'Brien said, the work that led her into the Occupy movement was "just sort of a side project." Since December 2011, when she first attended a hearing at Fort Meade, her real passion has been the Manning case.
"It seemed like there was no serious coverage of it, of the kind I remember as a child with large, serious cases like the Oliver North case," she said. "There were some serious investigative journalists who were covering, mapping out the movement within the U.S. government of who knew what when, and we knew nothing. It bothered me."
And when something bothers her, it really bothers her. O'Brien now spends 14 hours a day on the case, "minimum."
The transcripts, assembled from notes she takes in real time, are something of a wonder. The judge in the case, Col. Denise Lind, had until last week refused to release her rulings on paper, instead reading them out in court. One reporter calculated that a February ruling ran to 23,000 words, which Lind read at a rate of 180 words per minute. The transcript of that is listed on O'Brien's website as "coming soon," but another of a pretrial hearing in November, which runs more than 52,000 words, is online.
Along with several other independent reporters who have oscillated between advocacy and journalism, O'Brien is a Manning supporter. But she is adamant that her meticulous transcripts are just the facts -- and even mainstream reporters seem to agree.
Josh Gerstein, a reporter covering the courts for Politico, said he has consulted O'Brien's transcripts when other assignments kept him from Fort Meade. In their one or two in-person encounters, he said, she "seemed pretty intense, but you'd have to be intense to even attempt to transcribe the volume of material that she attempts to."
The military has compounded the difficulty of O'Brien's task: Army officials release even basic court documents only in response to Freedom of Information Act requests, and some of those releases have gone so far as to redact the judge's name, which is no secret.
"If you look at the docket that I've created, you can see that most of the trial is in the dark," O'Brien said. "It's that kind of secrecy where you're almost forensically reconstructing the court case."
She thinks the military is carefully managing the case to try to avoid negative publicity, and she takes that message directly to the military law liaison provided by the Pentagon to explain the case (who is necessary in part because of the lack of public documents).
"She's a little combative with the military expert," said Nathan Fuller, who writes about the case for the Bradley Manning Support Network. "Doesn't take any bulls***."
The access problems in the Manning case may seem Kafkaesque to reporters and others used to the civilian court system, in which dockets and transcripts are available by default as a well-settled matter of law. But Gerstein, who has covered several military courts-martial before, said these problems are "entirely typical."
"It's all based on the idea that this is some sort of ad hoc justice meted out on a battlefield, which is nonsense," Gerstein wrote in an email. "It's all professional lawyers and they ought to operate with the same degree of transparency, at a minimum, as civilian federal courts do."
O'Brien would like to force the military courts to be more open -- and in effect put herself out of the court recorder job. She's written a declaration in support of a federal lawsuit seeking more openness in the case. The Center for Constitutional Rights brought the lawsuit, which targets the government and Lind, on behalf of journalists like Kevin Gosztola, who has been blogging on the Manning case nearly every day for Firedoglake.
In its response to the suit, the government has contended, somewhat ironically, that greater transparency and more public documents aren't needed because O'Brien "took such excellent notes." Yet even as that lawsuit proceeds, the first fruits of the concerted push among journalists for more transparency may be appearing: Last week Lind issued a pair of rulings that were actually printed out.
But O'Brien isn't packing up yet. She plans to keep on issuing her exhaustive transcripts until the military voluntarily takes over that task or is forced to in court.
"Fundamentally for me, this trial is about the freedom of the press, and that includes not only what is happening within the trial but also the coverage," she said. "I believe the public has a right to know about what is happening in the courtroom."
If official transcripts begin to be issued, O'Brien knows what she'll do next. "There are about five stories I'm dying to be able to cover."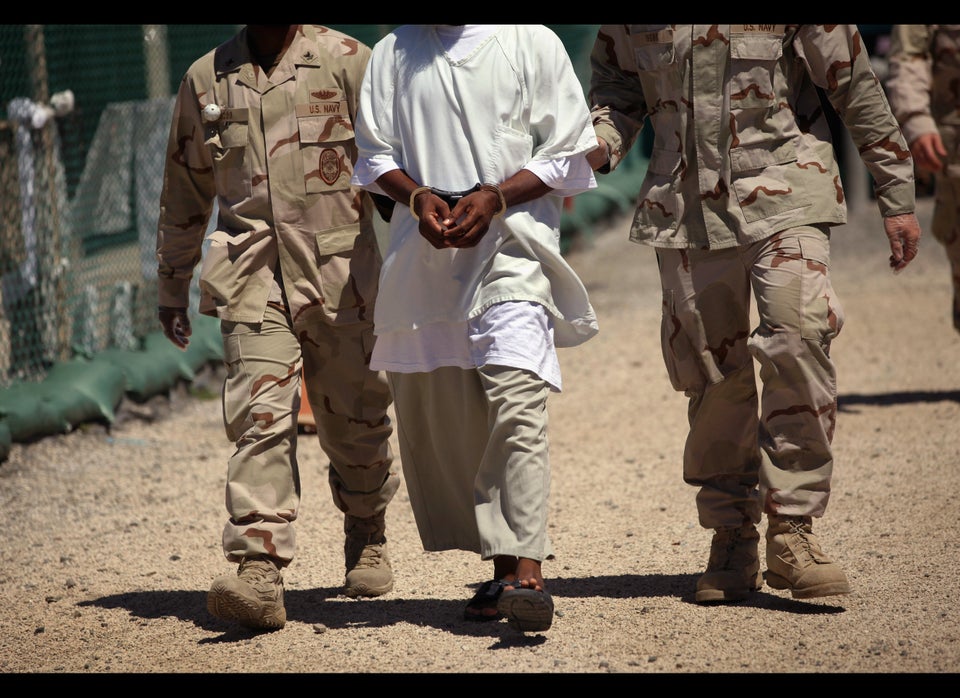 Guantanamo Bay Revelations From WikiLeaks
Popular in the Community