*Scroll down for a slideshow of McQueen, his designs and reactions to his death. *
A British coroner's official told an inquest Wednesday that McQueen hanged himself in his London apartment after leaving a note nearby. Read the full story here.
UPDATE (2/15):
Days before his death, McQueen told Harper's Bazaar Australia that he was in the middle of a nasty breakup with a man whose name he had tattooed on his arm, the New York Post reports. McQueen called him "a bastard who went back to Australia and I was left looking at his name." McQueen also allegedly left several suicide notes to explain his actions to his friends.
But some friends of McQueen weren't entirely shocked by his death. One told the Independent UK: "Lee was saying he wasn't interested in fashion any more, that he hated it--this was in a professional meeting. Not interested. He seemed to be declaring he was over fashion. As soon as I heard that, I thought it sounded ominous. The thing he has always managed to fall back on has been his design genius. Without that..."
Fashion designer Alexander McQueen has taken his own life at age 40. His office confirmed his death, saying: 'It is a tragic loss. We are not making a comment at this time out of respect for the McQueen family.' He was found at his home in London. The UK Sun reports that he hanged himself.
McQueen's mother Joyce died on February 2nd. The next day the grieving designer tweeted "i'm letting my followers know the my mother passed away yesterday if it she had not me nor would you RIP mumx." A minute later he added "but life must go on!" On Sunday he tweeted "sunday evening been a f****** awful week but my friends have been great but now i have to some how pull myself together ..."
Anna Wintour reportedly left the BCBG show in a rush on Thursday morning after hearing the news. She later released a statement saying "He brought a uniquely British sense of daring and aesthetic fearlessness to the global stage of fashion. In such a short career, Alexander McQueen's influence was astonishing -- from street style, to music culture and the world's museums. His passing marks an insurmountable loss."
McQueen's close friend Kate Moss issued a statement through her rep on Thursday: "Kate is shocked and devastated at the tragic loss of her dear friend Lee McQueen. Her thoughts are with his family at this sad time. We would also ask that Kate's privacy is respected."
Moss was a bridesmaid when McQueen married documentary filmmaker George Forsyth in 2000.
McQueen's secondary line, McQ, was to be presented Thursday, the day of his death, as part of New York Fashion Week. KCD, the PR company handling the show, says the presentation is canceled.
The invitation: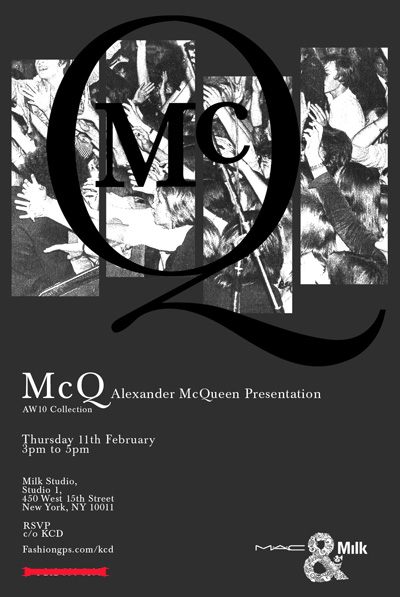 AlexanderMcQueen.com posted this message:


McQueen's store on West 14th Street in New York was was temporarily closed on Thursday morning. (See photo in slideshow below.)
From the Associated Press:
Company spokeswoman Samantha Garrett said McQueen's body was found in the morning but that she had no information "in terms of circumstances."

Police did not directly comment when asked about how McQueen died, but said officers were called by the ambulance service at 10:20 a.m. (1020GMT) to an address on Green Street, in central London, and found a 40-year-old man dead. They did not name him but said next of kin had been informed.

The force said a post-mortem would be held but that the death was not being treated as suspicious.

McQueen's death came days before London Fashion Week, although he was not scheduled to show in the British capital.

McQueen was scheduled to present his latest collection on March 9th at Paris Fashion Week.
Lee Alexander McQueen, the son of a taxi driver, was born in East London in 1969. He apprenticed on Savile Row as a teenager before attending Central Saint Martins College of Art and Design. It was his graduation collection that caught the eye of stylist Isabella Blow. The two became remained close friends until Blow committed suicide in May, 2007. Read more about Isabella Blow here.
McQueen's sudden death robbed the fashion scene of one of its most innovative and successful young designers. He made his name first in London, then wooed audiences in Paris, New York and Milan to take his place in the upper echelons of the designing world.

His clothes were sexy and distinctive, dramatic and different, perfect for red-carpet presentations and late night rock gatherings.

Acclaim and honors came in waves to the talented, bearded man favored by celebrities like Madonna, Lady Gaga, and Naomi Campbell. He was named British Fashion Designer of the Year on four separate occasions.

Despite the accolades, McQueen clung tenaciously to his privacy, turning down most interview requests and shying away from the post-show limelight other designers craved.

Known for his dramatic statement pieces and impeccable tailoring, he helped raise the profile of British fashion and was recognized by Queen Elizabeth II in 2003 when she made him a Commander of the British Empire for his fashion leadership.

His pieces were coveted and treasured by stylish women across the globe.

"McQueen influenced a whole generation of designers. His brilliant imagination knew no bounds as he conjured up collection after collection of extraordinary designs," said Alexandra Shulman, the editor of British Vogue.

Hal Rubenstein, a fashion director for InStyle magazine said McQueen started out tough and angry -- in his work and attitude -- but softened over time as he felt more appreciated by the industry.

McQueen, he said, was a master of integration of technology into fashion.

"He changed the way so many of us see shows."

Vivienne Westwood, perhaps Britain's most revered designer, said she was "incredibly sorry" to hear of McQueen's death.

Little was immediately known about the circumstances surrounding his death, which came as the fashion elite was gathered in New York for a series of catwalk shows.

Recently posted comments on his Twitter page showed signs of anguish over the Feb. 2 death of his mother.

He said he wanted his mother to rest in peace and said, "But life must go on!!!!!!!!!!!!!!"

Using an obscenity, he added that he had had an "awful week" and said he had to "some how pull myself together and finish."

A presentation of McQueen's secondary label, McQ, had been scheduled for Thursday's opening day of New York Fashion Week.

McQueen had never been expected at the show, which was quickly canceled.

The designer received his early fashion training at the Central St. Martin's College of Art and Design, long recognized for its fashion-forward approach and encouragement of Britain's talented young designers.

He learned the finer points of traditional men's tailoring at two famous, conservative Savile Row houses: Anderson and Sheppard and also Gieves and Hawkes.

"He was 16 when he came here," said John Hitchcock of Anderson and Sheppard. "He was a boy from Essex, he wanted to learn tailoring. He was a little bit different -- he was very ambitious."

He said McQueen's success had inspired the next generation of designers.

After his Savile Row stint, McQueen started to develop his trademark, more theatrical designs, working with several other brands before first starting his own label in 1992.

He quickly earned a reputation for innovation that lasted until his death. His last name soon entered the fashion lexicon and become synonymous with new and cutting edge.

The company he founded was purchased by the Gucci Group, and he retained creative control of his own brand.

His runway shows -- more often like performance pieces because they were so dramatic, and sometimes, bizarre -- were always a highlight during the Paris ready-to-wear fashion week.

One of his previous collections included a show built around the concept of recycling, with models donning extravagant headwear made out of trash. His last collection, shown in October in Paris, featured elaborate and highly structured cocktail dresses. Critics raved.

His edgy creations have been seen on numerous red carpets, worn by A-list actresses, including Sandra Bullock and Cameron Diaz.

Lady Gaga recently made waves when she wore McQueen's spring 2010 lobster-claw shoes in her "Bad Romance" music video.

McQueen's death came days before London Fashion Week, an event McQueen had skipped in recent years.
McQueen is survived by his father and three sisters, Janet McQueen, Tracey Chapman and Jacqui McQueen, and brothers Tony and Michael McQueen.[32]
A post-mortem is scheduled to take place on 15 February.
Related