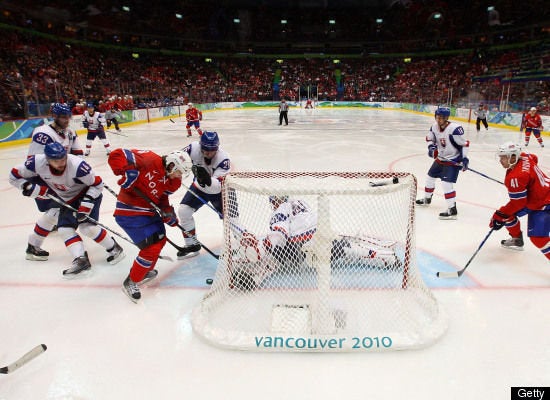 Let it be said rather plainly. I think Alexander Ovechkin is the best NHL player bar none right now. I am not alone in this assessment.
But, his behavior from dodging the sports press in Vancouver, to pushing a fan ... has been poor sportsmanship no matter what pressure, excuse or Milbury-insult is launched from a host's seat.
Well, sadly it has continued as per a RIA Novosti correspondent who taped Ovechkin until he finally came up to the camera guy and added another situation to his personal Vancouver resume.
When Evgeny Fatkin asked Ovechkin for an interview, the hockey star answered by saying "Do you want me to break your camera?
He did not wait for an answer and broke the camera display.
"I was holding the camera in my right hand," Fatkin said. "When Ovechkin approached, I put [my arm] down, and he broke the digital display with his right hand," he said.
Following the incident, Ovechkin reportedly smiled, left the bar and disappeared."
There has been criticism from this season that Ovechkin has been reckless in his play, even causing Washington owner Ted Leonsis to take him aside to ask him about it. Many have come to his aid and side saying that he is "just having fun".
However, if you tie all these things together this season ... under the white hot light of the Olympics and a season of some questions, might that image be cracking just a bit?
Is something up with Ovechkin beyond just the loss, or now being reckless with his own image and how he handles paparazzi and fans?
There might be more to all of this, or maybe not. But for a guy who is a vibrant personality and a marketed face to a game, something seems to be crumbling just a bit.