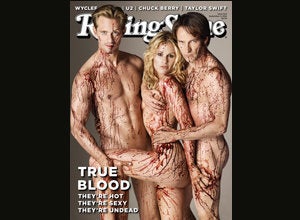 Alexander Skarsgard goes sockless. "I don't want a sock around it, that feels ridiculous," he told the magazine. "If we're naked in the scene, then I'm naked. I've always been that way."
Stephen Moyer is more modest and opts for a sock but just out of regard for others. "I've got nothing to hide," he said. "I just think it might be embarrassing for the crew."
His fiancee, Anna Paquin, wears a "patch" on her privates.
The show's creator, Alan Ball, has no patience for stories of celibate vampires.
"To me, vampires are sex," he said. "I don't get a vampire story about abstinence. I'm 53. I don't care about high school students. I find them irritating and uninformed."
Popular in the Community