Don't call chef Alexander Smalls' relaunch of one-time Harlem hotspot Minton's Playhouse a comeback. Call it a revival.
That's how the South Carolina-bred restaurateur refers to his return to the New York City restaurant scene. "The food is how I made my reputation -- what I call southern revival cooking with low-country notes," Smalls said of his latest project.
In addition to reviving Minton's, formerly known as the 1930s/1940's jazz mecca Minton's Playhouse, Smalls is opening another Harlem eatery, The Cecil, which shares a kitchen and is named after the hotel where Minton's once thrived. (Both projects are in partnership with media mogul Richard Parsons and his wife, Laura.)
Like the establishments Smalls is bringing back, his reputation precedes him.
"My first restaurant in New York, Café Beulah, introduced New Yorkers to my version of low-country cooking, which is the food of Charleston, the Gullah Islands, Savannah, that part of the world where you had a fusion of French Creole, African and the far east," Smalls said. "The food was a lot of game, a lot of seafood, but it has a regional character all its own. My idea was the bring that north ... and I'm continuing the story."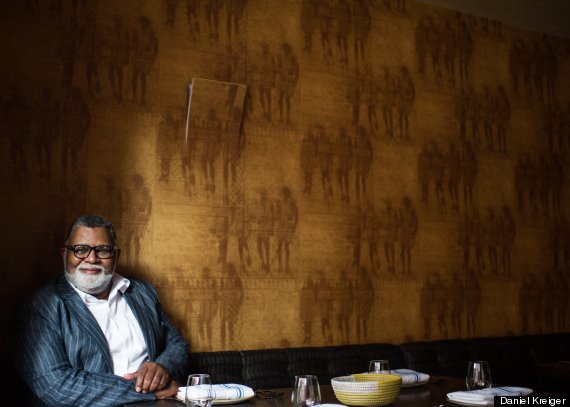 The menu at Minton's will be rooted in Small's low-country heritage but more refined, he said, describing the restaurant's four-course, white linen, jacket-required service. He also intends to offer a 5 p.m. seating to cater to theater-goers.
It's all a far cry from the watering hole Minton's once was. And while this is Harlem, and Smalls' menus do nod to his Southern roots, don't even think about calling it soul food.
"We are miles away from soul food," Smalls said. He prides himself on a well-known aversion to the term when it's used in reference to his cuisine.
"I feel that oftentimes this expression is used for people of color who cook, and it's limiting when you have spent yourself in culinary school and traveled the world and people always want to bring it back to an ethnic posture. ... If I had made Italian food, somebody would [call it] 'Italian with soul,'" he joked, recalling a national TV appearance where he had to defend his position alongside Harlem soul food queen Sylvia Woods.
Instead, Smalls says he's stepped outside his own conventions, celebrating the foodways of the African diaspora on The Cecil's menu with "vibrant, flavorful, full-personality dishes" like beef suya served with papaya and mango and a Skuna Bay salmon roll wrapped in rice skin with azuki beans and African rice.
The restaurant's signature (and perhaps most outstanding) dish, however, is a crispy, cinnamon-scented guinea hen. Drawing once more on his extensive knowledge of African-inspired cuisine, Smalls explained how the bird, a mix between a duck and a chicken, has been marinated in a cinnamon brine.
Or it's simply "what some people would call fried chicken," he said.
Check out another of Smalls' menu offerings below.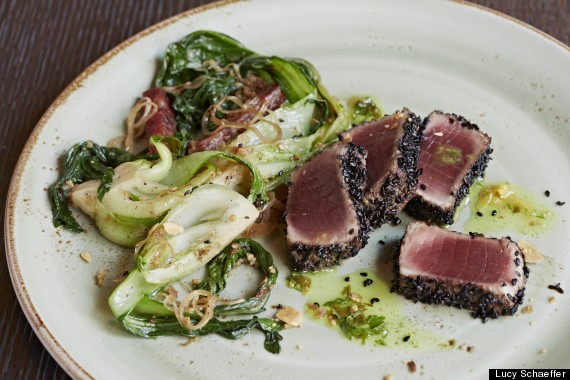 Black Benne Seed Ahi Tuna
Tuna
2 pieces sushi grade tuna
1 cup benne seeds
I clove garlic, finely chopped
1/4 piece ginger, finely chopped
1 shallot, sliced
2 bok choy
2 pieces Chinese pork sausage, cut into matchsticks
For Tuna: Season, salt, and roll tuna around in benne seeds. Once coated, sear in a hot pan with 4 teaspoons of oil. In a separate pan, toast garlic, ginger and shallot. Add Chinese sausage and bok choy.
Yuzu Vinaigrette
1 piece sliced shallot
1 cup grape seed oil
1 tsp turmeric
1/4 cup yuzu
1 tsp fresh cilantro
Salt and pepper to taste
For Vinaigrette: Slice shallots and sauté in grape seed oil. Toast turmeric for 2 minutes. Once turmeric is toasted, add in yuzu. Season with salt and pepper; add in cilantro to taste. Serve room temperature over tuna.
The Cecil opens Monday, Sept. 23 at 210 West 118th Street in New York. Minton's, at 206 West 118th Street, is slated to reopen its doors next month.
Popular in the Community