Today, experimental composer/guitarist Alexander Turnquist releases his fourth album Hallway of Mirrors—a beautiful and haunting 35-minute wash of sound, best played in full. "There's no spot on the record where the pedal on the piano isn't down. And the pedal on the vibraphone is down the entire time. The overtones really make up the music." Amidst harmonics, resonance, hyperspeed 12-string finger-picking, violin and bowed vibraphone, listen closely for traces of Steve Reich, Italo Calvino, and running.
Turnquist is young—23—and serious, at least when it comes to music. At 15 he began spinning solo guitarists like Kaki King and Alex DeGrassi, learning various techniques by ear. At 17 he augmented his right hand with acrylic nails for enhanced finger-picking ability on the 12-string, which certainly hasn't gone unnoticed. "When you're a 17-year-old boy, it's not very common to have long fake nails. Especially when you're growing up in a conservative area [Boise, Idaho]. So I definitely got a lot of shit about it and have heard every single joke. But, you know, it just feels natural, when it's part of your hand, playing what I play. I fingerpick really fast at times, and I don't have to worry about these things falling off. I go get them done every three weeks. I have to have them filled in—they're plastic tips and then they put this powder and liquid acrylic over the top. Basically fancy lady nails, they're just really thick."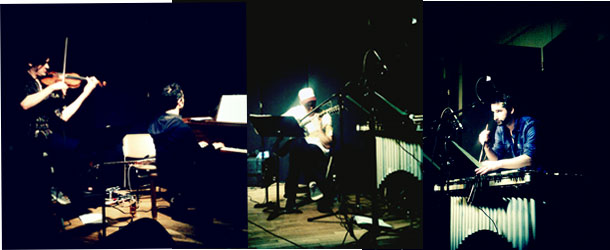 Photo left to right: Christopher Tignor (violin), Liam Singer (piano), Turnquist, and Theo Metz (vibraphone), performing Hallway of Mirrors at the Hudson Opera House on 5/13/11. Photos by Alexandra Marvar.
Fake nails are rarely the mark of a purist, but in this case it may fit. And beyond built-in fingerpicks, there are other ways Turnquist goes to great lengths for a natural sound—Hallway's instrumentation is absent of anything electronic, and its recording was done with analog tape and double-tracking methods. Mixed in a cavernous former Lutheran cathedral off Hudson, New York's main stretch, engineers Henry Hirsch and Bram Tobey relished the natural reverb. "We spent hours playing back some of the low-end on my guitar through a speaker in the church, and then [Tobey] built a microphone set-up in the middle of the room to capture the playback of that frequency in the speaker, re-record it on the mic, and then print it back onto the tape, just to get the sound of the room."
The challenge of a perfect-sounding room extends to live performances. Turnquist shifts uncomfortably at the thought of having to amplify his guitar. "Plugged in, it never sounds the same as when I'm just playing it in a room by myself." And playing at bars to a chattering crowd "goes completely against the kind of music I play." He relates to other performers who deliver intricately crafted, detailed, and at times very quiet music to an audience. "I was talking about this with Mike Tamburo, and I remember him saying, "the audience is either completely with me or totally against me." When you're trying to set a mood with your music, capture listeners' attention, take them to a different place—which is sort of what long-format meditative music does—it's hard to stay focused as the performer when there's a lot of outside noise kind of competing with the volume level. It's different for a rock band because they have the volume to totally drown people out." His frustration at the challenge of performing his work live gets validated by a story about one of his much-admired musical influences, the late Jack Rose: "He would totally be halfway through a song, and he would just stop playing until the audience would realize something up and get quiet, and he'd just be like, 'Look, do you want to hear this? Because there's no point in me playing my heart out to nobody.' And people would actually stop and listen."
Turnquist plays his heart out live in New York City this week. And if you're inclined to chatter during shows, maybe just pick up the CD.
Hallway of Mirrors is out on VHF Records May 17, 2011. Turnquist performs tonight at Cameo Gallery and tomorrow at Trash Bar, both in Williamsburg, Brooklyn with chamber-pop virtuoso Liam Singer.
Calling all HuffPost superfans!
Sign up for membership to become a founding member and help shape HuffPost's next chapter